Elementor v2.6 introduces the Icon Library, which includes an update to the Font Awesome 5 library.
---
The first time you attempt to use a widget that includes the Icon Library, you'll be presented with a Font Awesome Migration popup.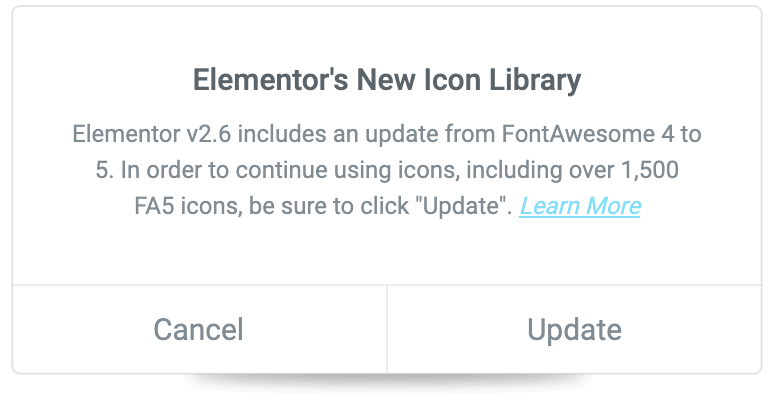 This popup explains that Elementor v2.6 has moved from FA4 to FA5 – which includes more than 1500 icons. It also lets you know that some FA4 icons design has changed when updated to FA5.
When hitting Update you'll be redirected to Elementor > Tools page (No worries, your work will be automatically saved):

Here you will be warned that by clicking the Migrate to Font Awesome 5 button, you understand that this action is not reversible and cannot be undone by rolling back to a previous version.
If you agree, click the Migrate to Font Awesome 5 button, where you'll be prompted with the last popup reminding you this action is irreversible: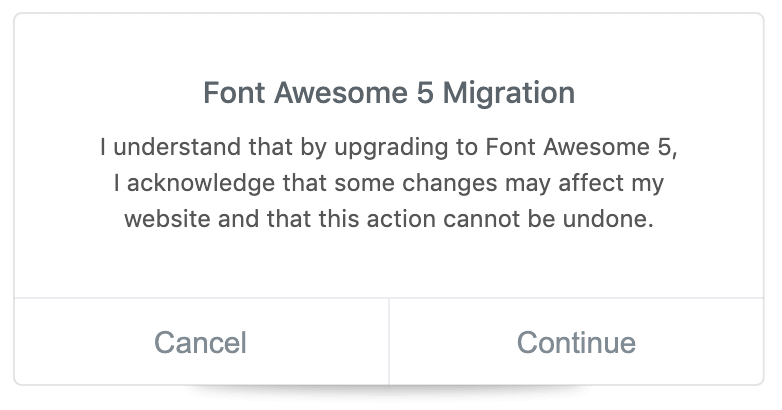 Click Continue. You'll be redirected back to your page.
This will complete the migration process, and you are now free to use the new Icon Library on any widget that has icon controls. Once the Font Awesome upgrade is completed, the Font Awesome Upgrade TAB under Elementor > Tools will disappear.
Tip: Go to Elementor > Settings > Advanced and make sure Load Font Awesome 4 Support is set to Yes so that your Font Awesome 4 icons will still display properly when using Font Awesome 5.
See the full widgets list below.
Note: If you don't update to FA5, Elementor widgets that use FA4 icons will still continue to work, but you wouldn't be able to edit them.
---
List of Elementor widgets that use the Icon Library:
Button Widget (Free)
Accordion Widget (Free)
Icon Box Widget (Free)
Icon List Widget (Free)
Icon Widget (Free)
Social Icons Widget (Free)
Toggle Widget (Free)
Call to Action Widget (Pro)
Reviews Widget (Pro)
Flip Box Widget (Pro)
Form Widget (Pro)
Price Table Widget (Pro)
Post Info Widget (Pro)
---
Good to know:
1. FA4 was first launched in 2013 and used 675 icons. FA5 was released in 2017 and is newer with better speed, more icons, font families and more.
2. What is shim.js? Font Awesome version 5 changed some icon names. There is a JavaScript code that runs in every page and converts the FA4 icons to FA5. It allows you to keep v4 icon names on v5.
3. You must upgrade to enjoy the Icons library and keep adding new icons.