Elementor supports the native WordPress '<!–more–>' tag, which helps determine the preview text that is shown for blog posts in archive pages. Alternatively, Add the Read More widget to your Elementor-designed posts to set the cutoff point for blog posts on standard WordPress archive pages.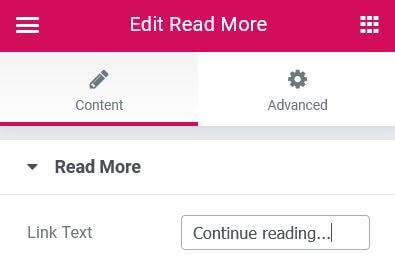 Content
Read More
Read More Text: Enter the link text such as Read more…, Continue reading, etc.
---
Advanced
Set the Advanced options that are applicable to this widget
Note: This widget only affects themes that use 'the_content' in standard WordPress archive pages. It has no effect on Elementor-designed archive templates. In these templates, you have to use the tag itself.