Join 5,000,000+ WEB CREATORS
The #1 WordPress
Landing Page Builder
Create unlimited custom landing pages and reach your marketing goals with a powerful all-in-one landing page builder. No restrictions, no coding.
Build Any Landing Page You Can Imagine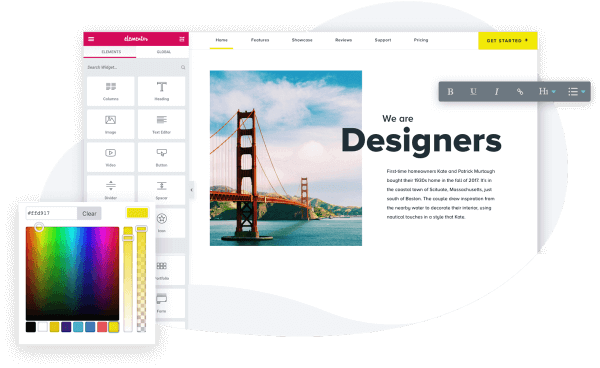 Build Professional Landing Pages Faster Than Ever
Simplify your workflow with built-in marketing tools and ready-to-use templates. Create countless landing pages for any marketing campaign without any coding or design skills.
Create High-Converting Landing Pages for Your Clients
Seamlessly design eye-catching landing pages that drive leads, traffic, and conversions. Customize and optimize your landing pages and turn your marketing goals into revenue.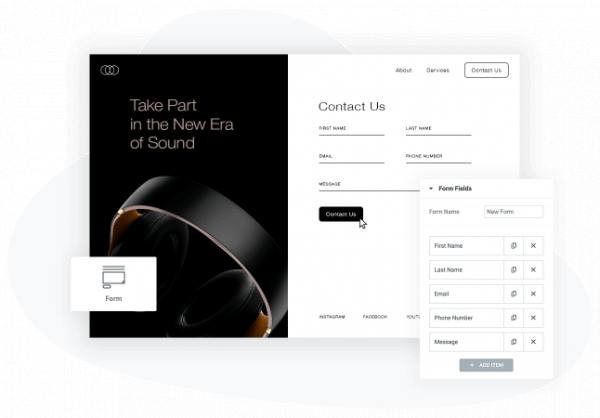 "I ❤️@elemntor took a few minutes to put up a landing page with working form. Look ma no coding necessary".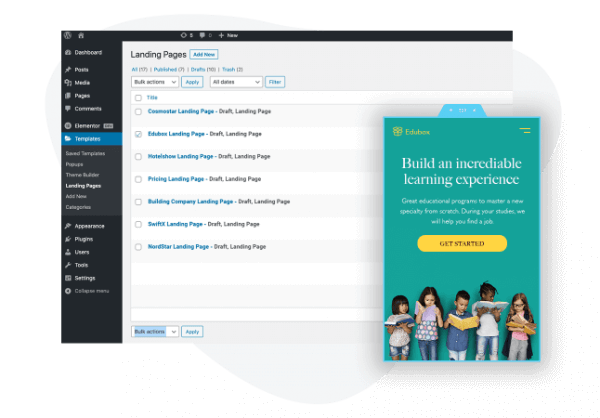 Streamline Your Marketing Efforts
Build, manage, and maintain your landing pages with one powerful platform. Simplify the way you manage your marketing campaigns. No need for extra plugins, integrations, or costs.
The Only Platform You'll Need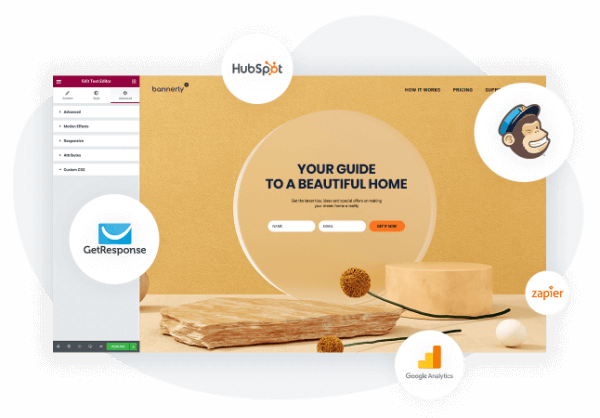 Integrates With Your Favorite Marketing Automation Tools
Everything you'll need including top automation tools like Google Analytics, HubSpot, Mailchimp, GetResponse, and many more.
Your All-in-One Marketing Solution
How To Create a Successful WordPress Landing Page
Works Perfectly On
Any
Existing
WordPress Website
1. Add the Elementor plugin to your WordPress Website
2. Activate The Plugin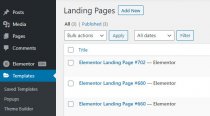 3. Add a new Landing Page on Elementor
4. Start building your dream landing page
Landing Pages Built With Elementor
Check out our amazing list of landing page designs built with Elementor and get inspired. 
Use built-in widgets like contact forms, countdown timers, and social media buttons to increase your conversion rates.
Frequently Asked Questions
What is Elementor?
Elementor is a drag and drop page builder plugin for WordPress, that works on any theme and allows you to create and edit landing pages without code via a visual editor.
What types of landing pages can I create with Elementor?
You can build and design any kind of landing page: lead capture pages, sales pages, splash pages, squeeze pages, and more.
Can I connect Elementor to other sales or marketing tools?
Yes. Elementor has numerous integrations with the best sales and marketing tools out there which include tools for email marketing, SEO optimization, A/B testing, video and audio uploads, and much more.
See our most powerful integrations here.
What's the difference between Elementor Pro vs free?
Elementor's Free version offers limitless design possibilities. Elementor Pro, however, empowers you with more professional tools that speed up your workflow, and allow you to get more conversions and sales.
See full comparison here.
Is Elementor free?
Yes, absolutely. The core version of Elementor is free and unlimited, you can build as many landing pages as you like to take your A/B or split testing to the next level.
Can I really customize everything on the page?
Yes. With Elementor, you can customize absolutely everything. You can also add and customize popups (with Elementor's Popup Builder) Forms (With Elementor's Form Builder) and more.
What is Elementor Pro?
Elementor Pro adds even more features and widgets to Elementor core by allowing you to create multi-step forms with our Form Builder, pixel-perfect popups with our Popup Builder and many other revolutionary features.


Do I need a website for a landing page?
No, a landing page is a single, stand-alone page that doesn't require a full website. A landing page can be a temporary solution, something you use while you build your website or it can be all you need, the choice is yours.
Turn Your Visitors Into Leads
Join 5,000,000 of professionals who use Elementor to build landing pages faster and better than ever before