The Taxonomy widget gives you a powerful way to control the items appearing in a Loop Grid, filtering them by categories and tags. This increases website usability and visitor engagement.
Prerequisites:
The Taxonomy widget is currently an experimental feature, therefore you must activate it. To activate it, see Elementor experiments.
The Taxonomy widget can only be used as part of a Loop Grid. Therefore, in order to use the Taxonomy widget, make sure the Loop Grid is active:
Create a Taxonomy filter
You can add more than one Taxonomy Filter widget to a Loop Grid, allowing visitors to filter by multiple characteristics (For example, all posts categorized as How-to with the tag of Important.
To create a taxonomy filter:
Create a Loop Grid. For more details, see Build a Loop Grid.
Add the Taxonomy widget to the Loop Grid. For more details, see Add elements to a page.

In the panel, under the Contents tab, expand Layout. 
From the Selected Loop Grid dropdown menu, select the Loop Grid you want to filter. 

From the Taxonomy dropdown menu, filter by category or tags. A menu of categories or tabs appears in your Loop Grid.

When visitors click on a category or tag in the menu, only posts related to that category or tag will be shown in the Loop Grid. After filtering, they can click All to see all posts again. For example, if they want to see only Funky posts, they can click on Funky. To see all posts again, they should click All.
Control and style how you filter the items in the Loop Grid.
Choose which Loop Grid to filter, and what options are used for filtering.
Go to the Content tab, and expand the Layout section.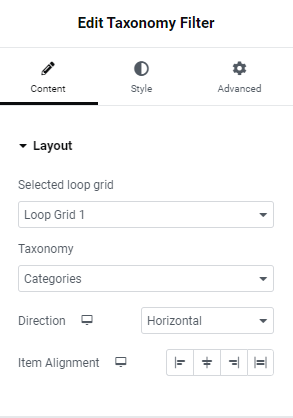 Control what appears in the Taxonomy menu.  
Go to the Content tab, and expand the Settings section.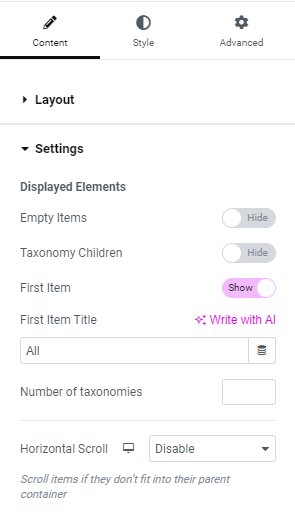 Control the appearance of items in the taxonomy menu by clicking the Style tab.  Go to the Style tab, and expand the Items section.