Introduction
The Post Excerpt widget grabs and displays a short section of a post. It is generally used in an archive or Loop Grid.
Where is the excerpt taken from?
The excerpt can be taken from one of two places – the excerpt text box or the post itself.
Create excerpts with the text box
Every post has the option to include an excerpt in the excerpt text box. This excerpt needs to be added manually.
There are two ways to add the excerpt manually – through the WordPress dashboard or through the Elementor Editor:
Add an excerpt through the WordPress dashboard
Open the post in the WordPress editor
Click the Post tab.
Enter the excerpt text in the text box.

Add an excerpt through the Elementor editor
Open the post in the Elementor Editor
Generate excerpts using the post text
The other option is to generate the excerpt automatically from the post itself as described below.
Example: Adding a Post Excerpt to a Loop Grid
Using the excerpt text box
In the example below, we'll add a Post Excerpt to a Loop Grid.
You must have at least one post and the post should have a post excerpt.
A post excerpt will appear in the template. When you save to the template, all the posts that contain post excerpts will have these excerpts displayed in the loop.
Note: You can also include a post excerpt in a Heading or Text Editor widget by using a dynamic tag.
Using the post content
Obviously, creating a post excerpt is a time-consuming task. To make the process more efficient, you also have the option of automatically creating a post excerpt from the content of the post itself. To do this:
Add the Post Excerpt widget to the loop.
If you don't select a number of words, the excerpt will contain the entire post.
The Post widget will now use the content of the post to create the post excerpt. However, if there is a manually created post excerpt, the widget will use that post excerpt instead of taking content from the post.
Other options
Open the Advanced tab to add more options: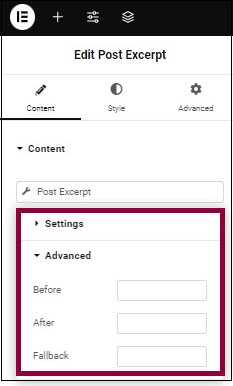 Before – Add content before the post excerpt.
After – Add content after the post excerpt.
Fallback – Text that will be used in case there is no post content.
Next steps
Learn more about the Loop Grid and creating a post archive.
Read the tutorial showing how to Create a Single Post Template