Elementor's developers continually work to improve both the free core version of Elementor as well as Elementor Pro. New features, bug fixes, and security hardening will always be a priority. To take advantage of these changes requires updating your Elementor plugin(s). Learn how to safely update Elementor by following these instructions.
Note: It is important to keep both the Elementor and Elementor Pro plugins up-to-date. Updating one without updating the other can cause your site to break.
Always Start By Backing Up Your Elementor Site
This is the one step that is most critical. Most people will never need to restore their site from a backup, but on the off chance that an update causes issues with your site, you'll want to be able to quickly restore it to its pre-update status. So don't neglect taking a backup of your site before you begin the update process. This is true for all updates – not just Elementor updates. Any time you update any plugin or theme, or WordPress itself, run a backup first. The few seconds or minutes it takes is worth it in an emergency site situation.
How To Create A Backup Of Your Site
If you own an Elementor Cloud Website, backing up is a snap. Learn how to backup your Elementor Cloud Website.
Many plugins are available to help you easily create a backup of your site. A few we like include UpdraftPlus, Jetpack Backup, and BackupBuddy. You can read more about these plugins and the entire backup process in general in our blog post: How to Backup Your WordPress Site.
Update On A Staging Site First, When Possible
To prevent unexpected problems on your live site, it's a good idea to test updates on a staging server first. A staging site is essentially a copy of your live site, where you can test changes and updates without affecting your live site. If all goes well, then you can apply the update to the live site with a little more confidence. To learn more about staging sites, see our Monday Masterclass: Setting up a Staging Environment for WordPress Websites
How To Update Elementor and Elementor Plugins
There are actually several ways to update WordPress plugins, Elementor's included. The most common way is to go to Plugins > All Plugins and look for the plugins that have updates available. These are easily recognizable as they are highlighted and stand out from the rest of the plugins in the list. They will look similar to this: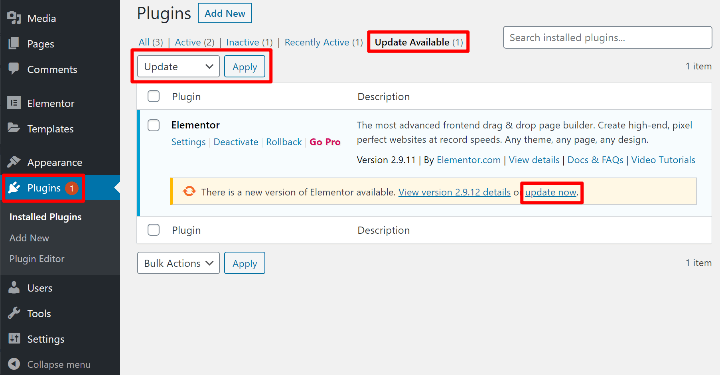 Simply click the update now link in the plugin's description to proceed.
For a complete list of ways to update your plugins, as well as themes and WordPress core files, see our blog post: How To Update WordPress Safely, especially the section titled How to Update WordPress Themes and Plugins.