When editing text on your site you may experience text that is not changing color as expected. This can be caused by several factors that we will explain in this document.
Text Is Inheriting The Source Style
This is one of the most common causes for text not changing colors. If you are copy / pasting content from an external source such as another site or from Word documents, the text may be inheriting the styles from the source. To troubleshoot this, click on the text tab of the text editor to see the raw text. If you see unwanted HTML styling such as <span> </span>, this is causing the issue.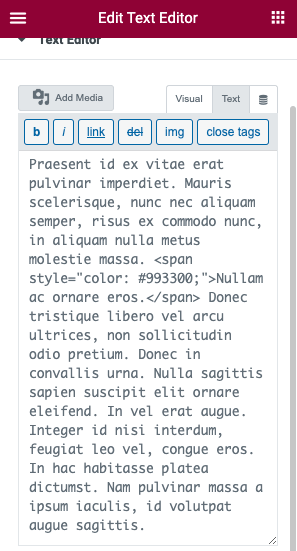 Solution
Paste your content into the Text Editor in the text tab to remove all formatting. You may also right click and "Paste Special" on a PC, or "Paste and Match Style" on a Mac.
Elementor Default Styles Conflicting With Theme
Elementor has a set of default colors and typography settings. These may be conflicting with your Theme or Theme Builder styles.
Solution
Navigate to Dashboard > Elementor > Settings and tick the checkboxes to disable the Elementor default colors and fonts (shown below)
The Theme Has Default Color Settings
Some themes have advanced customizer settings for controlling the colors and fonts. You may need to reset these settings in order for the Elementor styles to take effect.
Solution
Navigate to the Customizer of your theme in Dashboard > Appearance > Customize or from the WordPress Admin bar. Refer to your themes documentation for the location of these settings.