Introduction
Learn how to optimize your Elementor hosted website for SEO (search engine optimization) and draw more visitors to your site.
How did you find your last good restaurant? Chances are you typed "food near me" into your phone or browser's search bar. Good SEO can make sure your visitors find you before the competitor.
Attracting visitors to your website
Now that you've built your site, the real challenge begins, how to get visitors to your site. Probably the most important tool in attracting visitors is SEO – Search Engine Optimization.
Basically, this means arranging the content on your site in such a way that when someone searches for the subject of your website, the type of products you sell or the services you provide on your site will show up as one of the top search results.
Boosting Your SEO – Without Plugins
Traditionally WordPress sites have relied on plugins to help boost their SEO scores. However, to a large extent, you can get the same results simply by ensuring that you've built your site and created your content properly. Following are some tips you can use to improve your site's SEO:
The SEO Title
The SEO title, also known as the meta title, is the heading that appears on Google search results pages. This title is heavily considered by Google when it comes to determining a page's content.
When you create a new page, Elementor will assign in a title such as "Elementor #16." Obviously this will not do much to help your SEO. You should make sure to change the title to something relevant. You may do so by clicking on the gear icon at the bottom of your editor to reveal the Page Settings.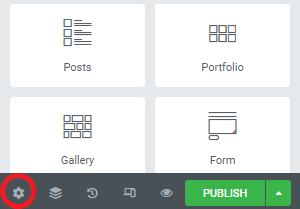 Content Optimization
It's important to remember that search engines are there to help their users, not you. This means that sites providing users with valuable information will be ranked more highly. So by helping users with pertinent information, you not only help them, you boost your SEO.
For the best results, we recommend identifying the specific challenges that your target audience is experiencing. If you produce content that helps them resolve these problems, you're well on your way to building a loyal audience while giving search engines a good reason to send their users to you.
It may also help to analyze your competitors. For example, you might use a tool such as Link Explorer to identify competitor content that has attracted a large number of backlinks. Backlinks are great for SEO, so this is a sign of a successful content marketing strategy. By producing similar content, you may also secure valuable backlinks and boost your SEO.
Your content should feature all of your keywords, plus any relevant synonyms. You can also make it easier for search engines to understand your page's content by using conceptually-related terms. These are known as Latent Semantic Indexing (LSI) keywords.
You can perform keyword research using tools such as Ahrefs, KWFinder, and Keyword Explorer. SEMrush also provides useful Keyword Overview and Keyword Magic tools.
When it comes to perfecting your content, we suggest using the Hemmingway editor. This free online app highlights lengthy, complicated sentences and many other common errors. By following Hemmingway's suggestions, you can create content that's easy for search engines and humans to understand.
We also suggest scanning your sub-headings to make sure they have a logical flow. Ideally, visitors will understand your page's content just by skimming the sub-headings. This can help them decide whether to commit to reading the entire page.
Finally, when it's time to publish your content, try to include at least one relevant CTA. SEO is all about driving traffic to your website, but CTAs are essential for converting your visitors into customers.
Internal Links
Google uses internal links to determine the importance of a web page within your site's hierarchy. In addition, internal links help users to navigate to other relevant content and sections on your website.
When creating new content, it's smart to link to your older content wherever possible. This is easy to achieve in Elementor. Whenever you're creating a URL, Elementor will automatically suggest relevant content that you can link to: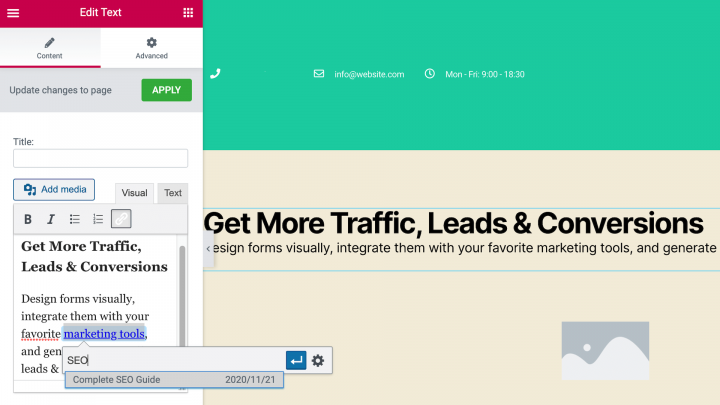 It's important to note that broken links can have a negative impact on SEO. Therefore, after creating internal links, we'd also recommend monitoring the health of those links using a tool such as Screaming Frog's SEO Spider.
Internal Links: New Content
In addition, don't forget to update your older content with links to your new content. You can quickly find relevant content on your website by performing an internal search.
For example, if you're writing a post about the best SEO plugins for WordPress, you could search for any previous content that features the phrases "search engine optimization" or "top WordPress plugins". Then you can link to those pages in your new post.
Outbound Links
Outbound links are hyperlinks from your website to another site. By creating outbound links, you can help search engines understand how websites and pages are related to each other.
Outbound links may not boost your SEO directly, but they can improve visitors' experience by helping them find relevant, interesting content more quickly. This can boost your reputation as a valuable resource, and potentially earn you repeat visitors. You may even receive some backlinks from the websites you link to.
You can transform any Elementor widget into an outbound link simply by selecting that element, and then typing your chosen URL into the Elementor Panel: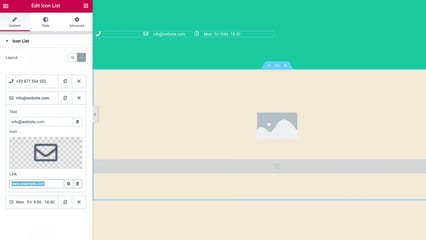 To get the most out of outbound links, it's important to point to reliable, trustworthy sources.
Mobile Optimization
Mobile accounts for approximately half of web traffic worldwide. This means that if you don't optimize your website for mobile devices, you could be alienating over 50 percent of your audience.
Mobile responsiveness can also impact your SEO. If your website doesn't display or function correctly on mobile devices, it will affect the UX. This can impact several important ranking factors, including session duration and the number of pages visited.
You can test your website's performance using Elementor's Responsive Mode. This is a mobile editing solution that previews how your website will look and function on smartphones and tablets. You can also use this tool to optimize your website for mobile devices. This includes specifying different formatting tablets and mobile devices.
To launch Elementor's Responsive Mode, select the mobile icon along the bottom of the Elementor Panel.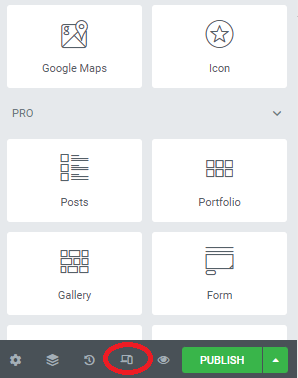 You can then choose from Desktop, Tablet, or Mobile at the top of your screen:

The Elementor editor will now preview how your page or post will appear on your chosen type of device. After optimizing your website, we recommend testing its performance on mobile devices using a tool such as Google PageSpeed Insights.
Site speed
Google uses page speed as a ranking factor in both its desktop and mobile search results. If you're going to rank highly, it's essential that your website performs well across all devices.
You can use tools like Pingdom, GTmetrix, or Google PageSpeed Insights to check the speed of your pages.
It's also a good idea to test your website on a regular basis, especially after you've updated your site. This helps you identify and resolve any performance problems promptly before they damage your SEO.
The title will also be used to create the slug line, which is incorporated into the URL and also a significant factor in boosting SEO. The best titles accurately reflect the content in as few words (up to 5) as possible. It should also catch your audience's attention and make them want to click on your snippet. Be sure to include relevant target keywords in that title.
Featured Snippets
A featured snippet is when a result appears at the top of Google's search results, highlighted in a separate box. Featured snippets aim to answer the user's query straight away, and typically achieve high CTRs. According to a recent study, ranking for the featured snippet increases your organic traffic for that search by 677%.
Google Search Console doesn't show any information regarding featured snippets, so you'll have to use a third-party tool. We recommend using Ahrefs' Site Explorer to identify the keywords you currently rank for and then using Ahrefs' filters to view only the pages where Google displays your content as a featured snippet.
There are also steps you can take to maximize your chances of earning featured snippet status. When defining a term or concept, use a question and answer format, and provide a clear and precise definition.
Rich Snippets
Rich snippets display extra information between the URL and the description in Google's search results. Reviews, recipes, and events often generate them. They can help your content stand out from the crowd, which can boost your CTR (click through rate).
Google retrieves rich snippet information from structured data in the page's HTML. If you want to benefit from rich snippets, Elementor's star rating widget has built-in support for rich snippets and Google structured mark-up capabilities: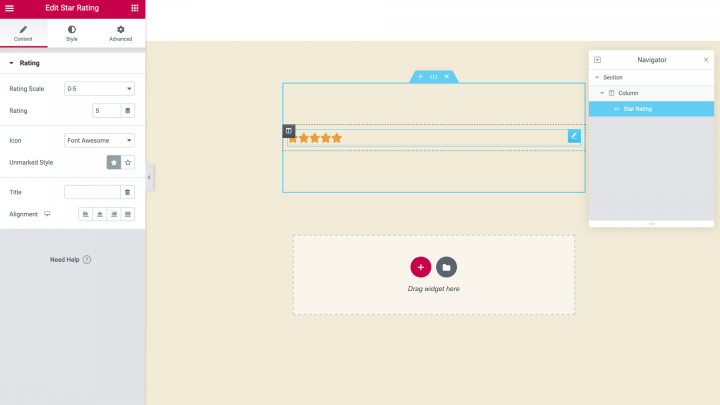 You can also create advanced pages that generate rich snippets by using our Theme Builder.
Summary
If you have followed all the above steps, you can expect your website to start drawing traffic within a few short weeks. Today's search engines are much smarter and faster than they used to be. Years ago, a web creator could expect to wait months before seeing their results in search engines.