Introduction
The smallest, but possibly the most important building block of Elementor is the Widget. In this step we will learn the Basic widgets that the Elementor Cloud Website editor provides.
What are widgets?
Widgets are building blocks for your website. The most simple ones are the Heading Widget, Text Editor Widget, Image Widget, and Button. By using these five widgets alone, it can already provide you with the blocks for a very basic intro section, hero section, or call to action.
The Elementor Cloud Website editor already has all the basic widgets you need to get started. From these basic widgets, you may then choose from an ever-growing selection of design, layout, marketing, and eCommerce widgets, designed to meet your every need.
The basic widgets
The Elementor Cloud Website editor panel has a section called Basic. This section contains the simplest, but often the most important building blocks of your design. This is where it all begins.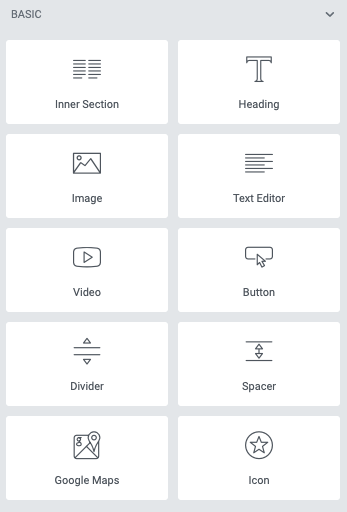 Going in editor order, and not in order of simplicity, are the following widgets and how to use them.
Important: In order to use the Elementor Maps Widget, you must first create an API key and place it in Elementor > Settings > Integrations. To learn more, see this article.
Summary
Now that you have an idea of what each widget does and how it can be used on your page, you should now be able to create a new section on your page, and use the widgets to make a basic layout for the section.
What's next
Learn more about designing with the editor.
Learn how to add content and save your work.