Introduction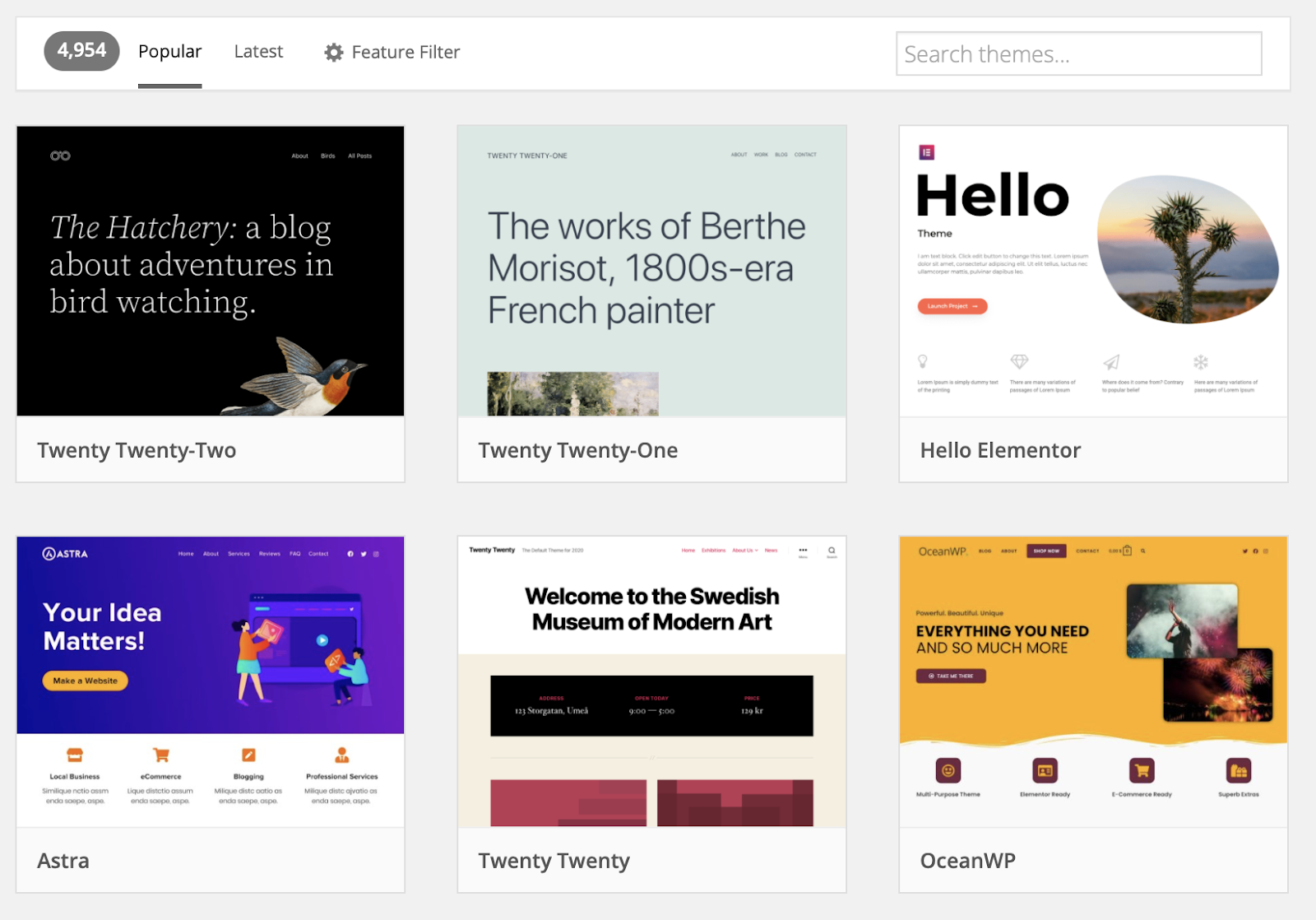 In the days before WordPress, building a new site was a daunting challenge. You needed design skills to envision a page and programming skills to turn your vision into a reality.
With WordPress, you can build a beautiful, customized website for your blog, photography site, portfolio, or even an eCommerce business–no coding required. One of the tools needed for this revolution was the WordPress theme.
In this article, we'll go over the features and functions of WordPress themes. Let's get started!
What is a WordPress Theme?
A WordPress theme is a collection of files– style sheets, images, graphics, and code– that determines how your website or blog looks and feels on the frontend. That's what visitors see when they view your website. These themes giver your website structure and are a necessary part of any WordPress website. They underlie everything from the overall layout to the color of your buttons and your hyperlinks.
In contrast to plugins, which control the functionality of your WordPress site, themes control how the content is presented. If you want to change how your site looks periodically, it's best to leave all the essential features to a plugin so you can preserve the functionality even if you switch themes.
What can WordPress themes do?
Themes help take the content and data WordPress stores and display it in the browser. You customize the actual content and data that's displayed while the theme determines how it is presented. Of course almost all themes allow you to customize how things are displayed to varying degrees.
WordPress themes allow you to:
Create a WordPress website
Place content on the page
Control which devices and actions display your content
Include design elements such as images and videos
WordPress themes are certainly powerful, but a great theme is much more than color and layout alone. The best themes improve user engagement while remaining beautiful.
However, when you are working with themes, you can run into difficulties. For instance, when your vision of how you want your website to look or function clashes with what the theme allows.
This can be especially problematic for Elementor web creators. The tools Elementor provides allows creators almost unlimited possibilities to build exactly the site that they want, and many do not want to be constrained by a theme. However, to build a WordPress website, you must have a theme.
To solve this dilemma, Elementor created the Hello theme, to give creators the maximum flexibility possible.
Learn more about the benefits of the Hello theme.
Final words
Now you know what a WordPress theme is and why the Elementor Hello theme is the best to get you started on your web building journey. To get the most out of Elementor, check out the Elementor Academy for helpful learning resources. If you come across any issues or need help, please contact our Support Center.