Why do visitors need a pin code to see my site?
By default, Elementor hosted websites are locked. Visitors to your website are blocked from viewing it by a lock screen that requires entering a pin code. This enables you to work freely, without the pressure of someone looking over your shoulder (or at your site) without you knowing it.
Site Lock also prevents search engines from discovering your site. This way your SEO score won't be affected unnecessarily.
Going live
When you are ready to go live and make it discoverable, simply remove the Site Lock so potential visitors can see it without having to enter a pin code.
To view your site lock's passcode, click the eye icon. To copy the passcode to your clipboard, click the Copy icon. To reset the passcode, click the Reset icon.

Where can I find my pin code?
In your My Elementor dashboard, click the website card and select Manage this website.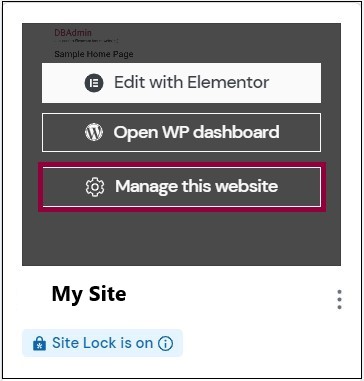 Under Site Lock, slide the toggle button to switch it on or off.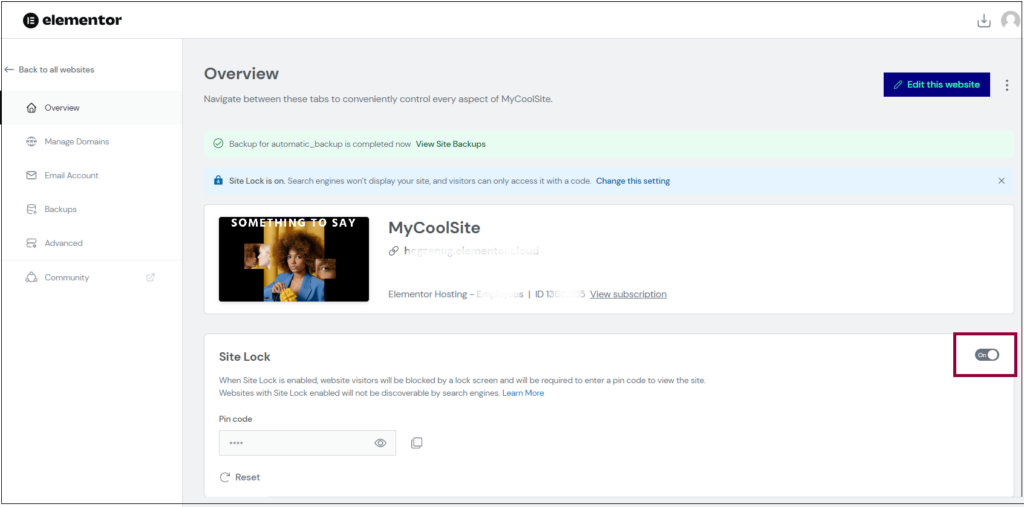 Note: To fully enable search engines ability to crawl your website you must also navigate to the WordPress Dashboard > Settings > Reading and uncheck the "Discourage search engines from indexing this site."
What is the difference between Site Lock and Maintenance Mode
Site Lock is a feature of Elementor hosted websites, which blocks traffic at the server level. It will display a default Elementor page and prompt users to enter a pin code. You cannot customize this page. Elementor also offers a Maintenance Mode and Coming Soon feature. This allows you to temporarily block visitors to your site by displaying a custom page, while allowing access to editors. You may fully customize this page to feature a countdown timer or collect email addresses for early adopters. Learn more in this blog post.