Landing pages optimized for conversion, and are often used to create lead capture pages, sales pages, splash pages, squeeze pages, and more. Elementor's Landing Page Builder flow coupled with the landing page templates found in the Template Library enables you to quickly and easily create landing pages either from a set of pre-designed templates provided by Elementor or those that you design yourself.
Landing Pages is a stable experiment and is active by default on new websites.
To Manage Landing Pages
Go to Templates > Landing Pages
Click Add New Landing Page to view a set of pre-designed landing page templates.
Click the magnifying glass icon to preview a template.
Click Insert to select a template to use.
Note: Elementor Landing Pages are a Custom Post Type in terms of WP hierarchy. You cannot set these as the homepage of your website in Settings > Reading or your Customizer as they are not WP pages. You may save your created landing page as a Template in your library, then create or edit a WP page called "Home" and import that template to the page. This new page can be set as the homepage.
Tip: If you prefer to start from scratch rather than using a pre-designed template, press the X in the upper right corner of the template library to close the window and start with a new blank page.
How to Change the Slug of the Landing Page
After publishing your Landing Page, you may notice that the Page name or Permalink Slug needs to be edited. To change the page name, or slug follow these steps.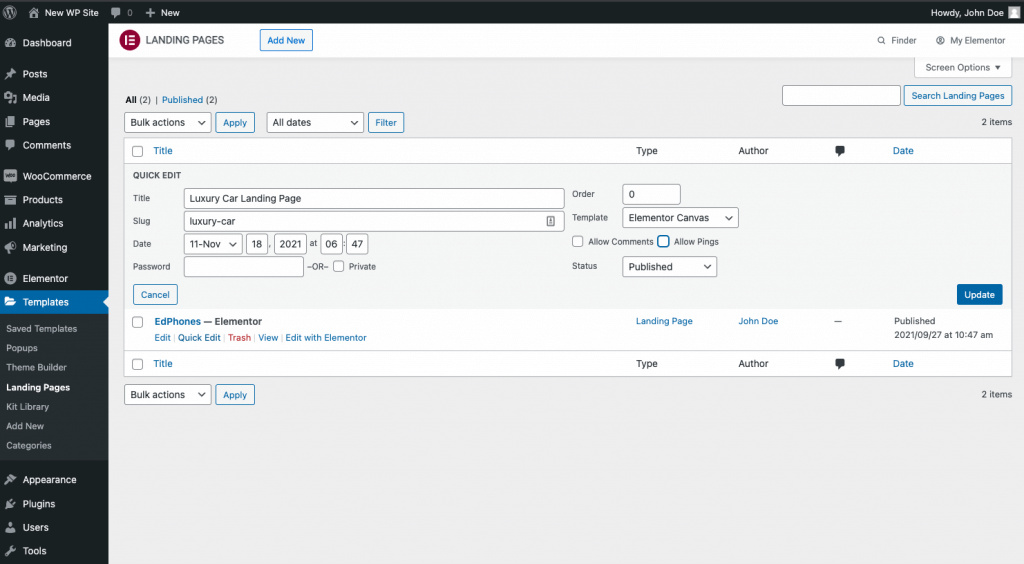 Navigate to Dashboard > Templates > Landing Pages
Under the title of your Landing Page, click the Quick Edit link
Edit the Page Title as desired
Edit the Slug (permalink) for your landing page in all lower case with no spaces. Hyphens should be used between words (example: luxury-car)
Click the Update button and view your Landing Page with the new proper URL.
Next Steps
Try building your own landing page by following our guide.
To get the most out of Elementor, check out the Elementor Academy for helpful learning resources. If you come across any issues or need help, please contact our Support Center.