Introduction
When you have finished editing a page or post with the Elementor Editor, you can exit to either the WordPress dashboard, the post or page you were editing, or to a list of all the site's posts or pages. You can set your preference the first time you exit the editor and change it later on.
Choosing an exit strategy
The first time you click the exit button, a modal window appears. From this screen you can set your new default exit destination.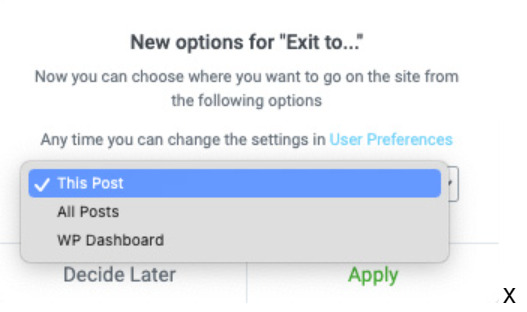 If "This Post" is chosen, you will return to the WP editor of the current Post or Page
If "All Posts" is chosen, you will return to the list of Posts or Pages depending on which you are editing
If "WP Dashboard" is chosen, you will return to the main dashboard screen of your website.
Change the setting
You may change the default Exit destination page in your User Preferences screen. You can reach the by clicking on the hamburger menu and selecting User Preferences.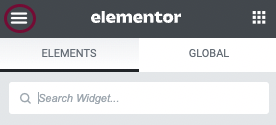 You will find the setting near the bottom of the preferences. Select your new preference from the dropdown and save your changes.