The appearance and options of the Page Settings may vary somewhat according to to the page content.

Title

Rename your page by entering a new name Title text box.
Status

Use the dropdown menu to change the publishing state of your page.

Your page can have one of four statuses:

Draft: Still being worked on, not ready for visitors. Only accessible to those with proper permission.
Pending Review: Waiting for someone with publishing permission to make it accessible to visitors.
Private: Not for public viewing. Only available to those with proper permission.
Published: Visible to website visitors.
Excerpt

Add a short description of the page's contents. Can be useful when creating archive pages.
Featured Image

You can add a featured image to represent your page. A featured image. These images help boost your SEP score and are often shown when displaying search results.
Order

A numerical value assigned to the page. Can be useful especially if you're arranging your pages in a hierarchy.
Allow comments

Toggle to allow visitors to leave comments about your page. Good for visitor engagement.
Hide Title

Some creators prefer working on an empty canvas.

Toggle to Yes to prevent the page title from displaying on the canvas.
Page Layout

Use the dropdown menu to select how you would like this page to display on the canvas.

Default: The default setting is determined by the site settings.

Elementor Canvas: Shows the page layout without showing the the header and footer. This layout is good for landing pages and other pages where the header and footer may not be displayed.

Elementor Full Width: Show the page laid out across the full screen while displaying the header and footer.

Theme: Shows the page as defined by the theme layout.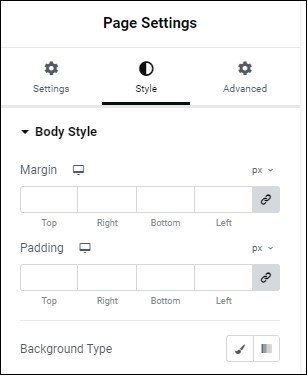 Margin and Padding

Using Margins and Padding to help control the page layout.

For more details, see Padding and margins.
Background Type

Give your page a background. This background can be a color, image or video.

For more details, see Create a Background.