Elementor integrates with the free version of HubSpot completely automatically. There are a few steps you should make to make the integration work as intended.
Making Sure HubSpot is Setup Correctly
Login to your HubSpot account and go to your Profile, then click on Marketing > Forms > Non-Hubspot Forms. Turn on Collect data from website forms and then click the Save button
From your WordPress dashboard, install and activate the HubSpot All-In-One Marketing plugin.
Go to the HubSpot menu item from your dashboard and connect the plugin to your account, then click Start exploring
Edit your Elementor Pro form and from the Additional Options tab, give the Form ID a name.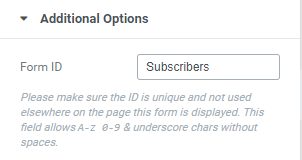 That's it! Easy right?
Testing That the Integration Works
1. Save your page, and go to the live version
2. Enter testing details into the form, and click on submit. You should see a confirmation message. If there is an error with the integration, and you are logged into the site as admin, you will see the description of the error, so you know exactly what went wrong with the integration.
4. Now, log into your HubSpot account and go to Marketing > Lead Capture > Collected Forms. Make sure the form name for the form you just submitted appears in the list.

5. To view the new contact that was just submitted, go to Contacts > Contacts. That contact will now be monitored by HubSpot.