In order to save pages as a template to re-use in your website or kit use the following method: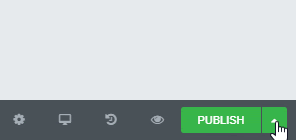 Click the up arrow located to the right of the Publish / Update Button located at the bottom of the panel
Choose Save as Template
Give a name to your template and save

Your page will now be in your template library and available for use in your project or exporting to another site as a JSON file.
Tip: If you need to clone templates, you can use the above method. Save the template as a new name. Repeat the process as needed. The cloned templates will be in your library for editing. This is similar to "Save As" on a computer.