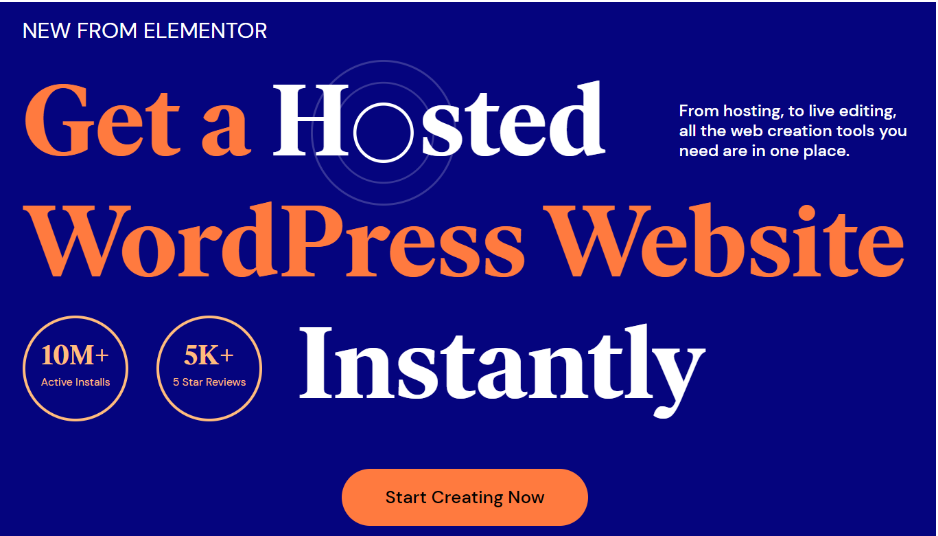 Deciding what type of web hosting you need for your business is one of the biggest challenges that comes with establishing an online presence. You have so many options, but they all vary in price and features. You also need to work fast to create your website, so how do you figure out which option to go with?
Here at Elementor we offer web hosting solutions in line with any other high-end hosting. Where we stand out is in our all-in-one solution. Unlike others, you get complete website building and publishing tools, along with a world class web-hosting solution. This means you get powerful site creation tools all from one source, giving you a seamless experience.
In this article, we'll discuss different types of web hosting services, their advantages, and disadvantages, and help you decide if Elementor hosting is right for you.
Let's get started!
Different types of web hosting
As your business grows, the resources required to host your website also increase. Some clients require multiple servers for fast website hosting while others require a budget-friendly web hosting subscription to host essential information. Different web hosting types are available for a wide variety of scenarios. Let's look take a look:
1. Shared hosting
Shared hosting plans share web server resources between multiple users, which has its advantages and disadvantages. The cost to maintain the web server is divided among multiple users, making it a value-for-money option. That said, sharing resources between multiple users can negatively affect website performance during times of heavy traffic and increase your vulnerability to cyberattacks.
Advantages
Affordable and easy to set up
The shared hosting provider takes care of server maintenance
Disadvantages
Little to no control over shared web server
Slow website performance
2. Dedicated hosting
Dedicated web hosting services provide you with a private dedicated server to host all your content. Unlike shared web servers, dedicated web servers don't share resources among multiple users, making them fast, secure, and highly configurable.
The biggest downside to dedicated web hosting is the cost of housing a dedicated server. Dedicated servers are relatively expensive as they're exclusively created to meet specific needs.
Advantages
Better uptimes and faster speeds
Full control over the server
Disadvantages
Requires technical knowledge
High maintenance costs
3. VPS hosting
A Virtual Private Server (VPS) web hosting plan combines dedicated and shared web hosting features. The website content is hosted within virtually-partitioned sections on the web server to mimic a dedicated server while still sharing the server among multiple users.
VPS hosting provides businesses and website owners the ability to customize their storage resources on the web server without necessarily needing a dedicated server.
Advantages
Provides features of dedicated hosting but at a lower cost
Higher uptimes and speeds than shared web hosting
Disadvantages
Cannot handle high traffic due to resource sharing
Only a few aspects of the server can be controlled
4. Cloud hosting
Unlike regular web hosting services, cloud hosting takes a different approach when it comes to storing your website content. All your website files are stored on a network of computers called the cloud. All server computers under the network share computing resources to allow various organizations to operate freely.
With cloud hosting, you can deploy all the resources that are spread across the cloud. This increases your site performance and reduces the chance of any downtime in the event of server failure.

Cloud hosting uses multiple layers of protection for data, network, and physical servers and provides various data encryption, recovery, and isolation solutions.
An important aspect of this security is isolation. Although your site shares resources it runs in virtual isolation, meaning it's almost as if your site is running on its own server. This isolation helps decrease the chances of security exploits and latency issues on your website. For instance: if any other website goes down at the hosting location due to hacker attacks, your website won't be affected.
In addition, cloud hosting is implemented by specialists, ensuring your website has been published on servers that have been hardened against cyberattacks The servers have been penetration tested to ensure no attack vectors exist. Cloud hosting serrelies on the company's reputation for protecting client websites and ensures 100% service uptime is achieved.
Cloud hosting protects websites against:
Cybersecurity threats via a firewall
Downtime due to hardware failure by using a network of servers
Advantages
Easily scalable
Segregation of website traffic improves performance
Virtual server isolation (such as Elementor's) stops the exploits of other hosted site impacting yours.
Distributed network reduces DDoS attack vulnerability
Disadvantages
Limited access to the server settings for security and traffic optimization

Elementor hosted websites: an all-in-one solution ?
We hope the article has provided you with some much needed clarity on what web hosting is, the different types, and what to consider before selecting a provider. We believe that, in most cases, users are best off with an all-in-one solution like Elementor Websites that takes care of all your web hosting needs from A to Z. Whether you want to create a simple portfolio website or run a small business, Elementor hosting offers a full range of hosting services and site building tools for a flat annual fee:
Private hosting via the Google Cloud platform
WordPress pre-installed
Cloudflare CDN for DDoS protection of your WordPress site
Elementor Pro for building and editing your WordPress website
Premium technical support
and much more
Check out additional Elementor website features or contact us for more information.