When you register as an Elementor user, an Elementor dashboard is created for you. This happens automatically when you purchase Elementor Pro or an Elementor hosted website.
The My Elementor dashboard gives you one easy location where you can manage and edit all your Elementor sites.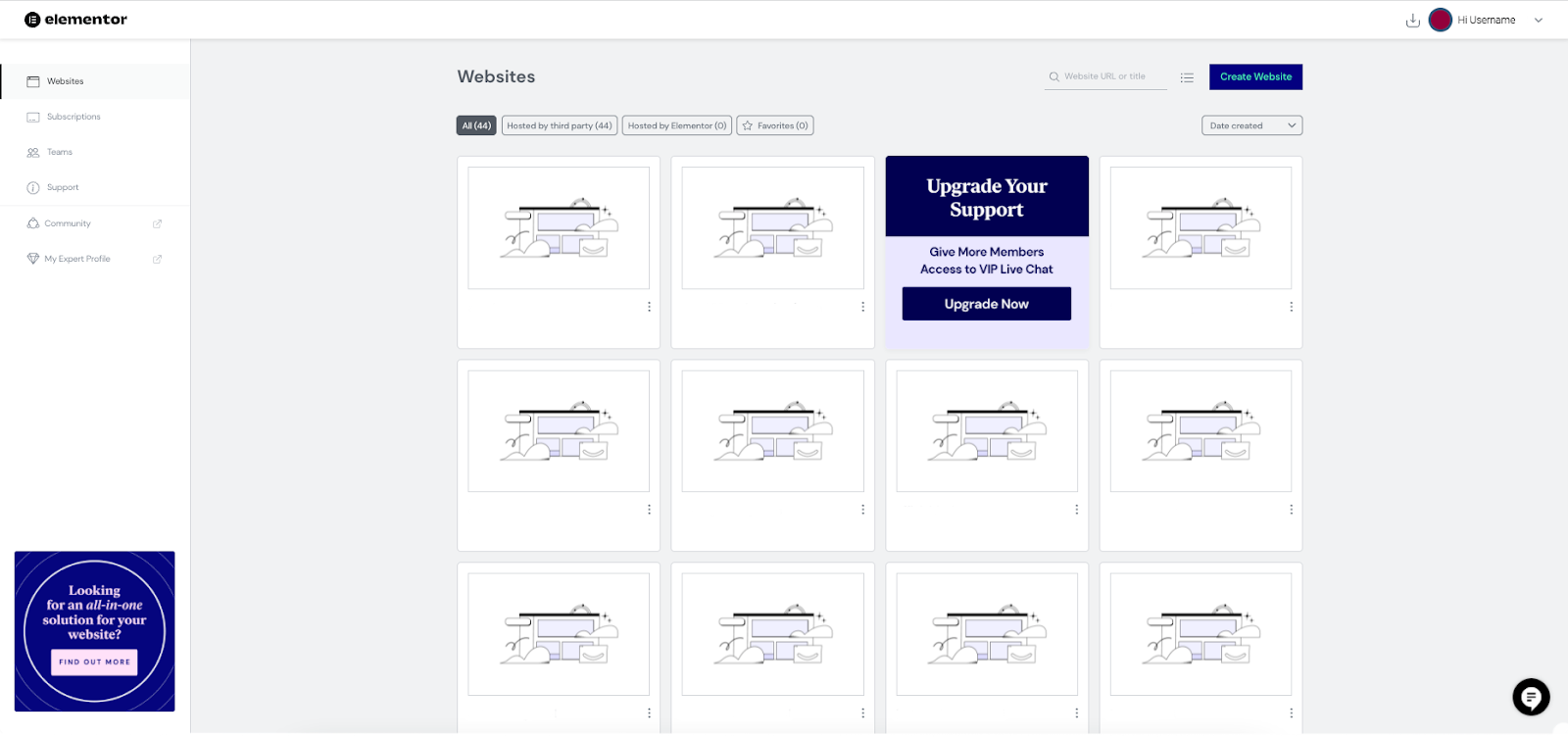 Note: All editors and admin on your website need to create an Elementor account to connect to/use the Library. Read more about this here.
Controls and features
Search
Click the Search icon to quickly find one of your websites by searching for either its url or title.

Display Options

Click the display icon to switch between viewing your websites in either Cards view or List view.
Create website
Clicking on Create a hosted website to create a new Elementor hosted website using an existing subscription or by purchasing a new subscription.

Filtering Options
If you have many sites connected to a Legacy Expert, or Agency plugin account, as well as Elementor hosted sites, you may toggle the filters shown here. If added, your favorites may also be shown.

Additional filtering options
From here you may toggle to filter by site name, or date created, as well as sorting by ascending or descending.

Card view
In card view mode, hover over any site and click the link to:
Edit with Elementor
Manage this Site's settings
You can also see if Site Lock is active or if your subscription is about to expire.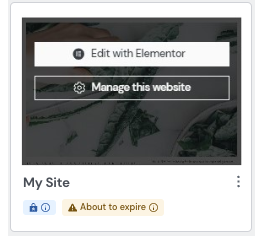 List view
In list view mode, the links will be displayed as buttons.
The cog icon will take you to your site management settings
The Edit with Elementor will open your Homepage in the Editor
The Open WP dashboard will open your website's WordPress dashboard

Additional options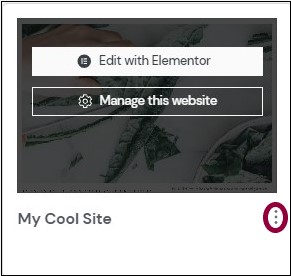 Clicking the site's ellipsis icon will open a modal with additional options: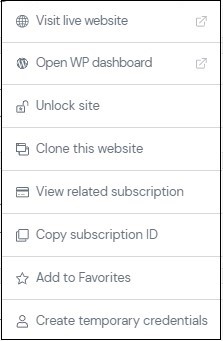 | | |
| --- | --- |
| Visit live website | Go to your website and experience it as a website visitor. |
| Open WP dashboard | Access the WP Admin screen |
| Unlock site | Turn off Site Lock. For more details, see Learn what site Lock is. |
| Clone this website | Make an exact duplicate of your site. |
| View related subscription | Every Elementor Hosting site is associated with a subscription. Click View related subscription to access the details of this subscription. |
| Copy subscription ID | If you contact support, they may need your subscription ID. Click to copy the subscription ID to your clipboard. |
| Add to Favorites | If you're responsible for maintaining a number of websites, you can group the most commonly accessed websites and mark them as Favorites. Click to add this site to the Favorites list. |
| Create temporary credentials | If you contact support, they may need to access your site using temporary credentials. Click here to generate these credentials. |