One of the great benefits of owning an Elementor Cloud Website or subscribing to Elementor Pro is premiere level support.
In certain circumstances, Elementor support staff may need to access your website, using WordPress admin credentials. In order to keep your information private, we will not ask you for your password. Instead, you can generate temporary credentials which will be used by our staff to access your site for support purposes only.
This process is composed of two steps:
Generting a new WordPress user
Notifying Elementor Support of your temporary WordPress credentials
Note: These credentials will be permanently deleted from our databases after 72 hours.
Generating a new WordPress user
To generate temporary credentials, you'll first need to create a new WordPress user:
Go to your site's WordPress dashboard.
From your WordPress dashboard, go to Users > Add New.
This will bring up the Add New User form.
Fill in the following:

Username: Use [email protected]
Email: Use [email protected]
Password: We recommend using the password WordPress automatically generates. Make sure to copy this password.
Role: Select Administrator

Click Add New User.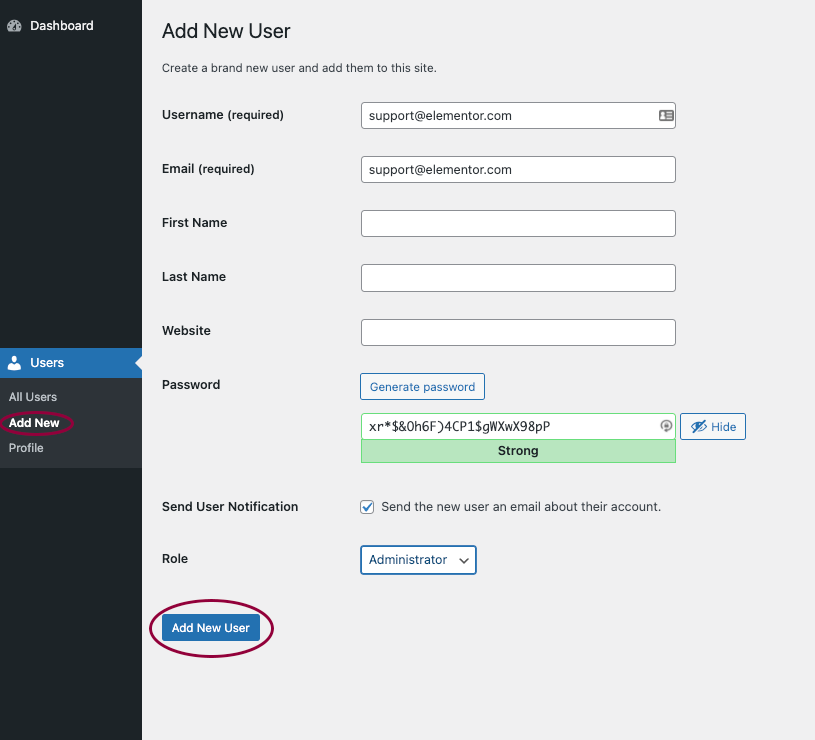 Notifying Elementor Support of your temporary WordPress credentials
You're now ready to notify Elementor Support of these temporary credentials:
Go to my.elementor.com and connect to your My Elementor dashboard.
Click the ellipsis on your site's control panel.
Select Create temporary credentials.
Fill in the following fields:

Username:

[email protected]

Password: Fill in the password you selected when you created the new user.

Agree to accept the website access terms.
Click Send.
Your Elementor support agent will now be able to access your website and take care of your support request.
Removing the Temp account
Once Elementor Support has solved your issue, you may then delete this user account. Learn how here.