If you have an existing Elementor website, or wish to use older templates from the library that use sections, do not worry. Pre-existing sections, columns, and inner sections will still continue to function as always and may be edited.
Containers are an Experiment
Flexbox Containers are first being introduced as an alpha experiment, and should be used with caution, and not on a live website. When the experiment is turned on, you will be able to add new Containers to a page, instead of Sections, Columns and Inner Sections. You'll also be able to add Containers to an existing page that was previously built with the section-column layout.
Container FAQ
How to enable/disable the Container
To enable/disable containers, navigate to Dashboard > Elementor > Settings > Experiments.
What happens if I decide to deactivate containers?
If you deactivate the experiment, every Container you created will be removed from your website, you will be able to return them if you reactivate the experiment and restore a previous revision.
Can I have sections and containers on the same page?
Yes. In the navigator you will see that containers are marked with an icon. Container outlines and editing handles are also a darker shade of blue. This allows you to make the transition to containers at your own pace.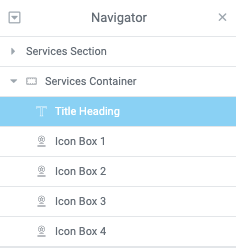 Can I still create sections after enabling containers?
Not directly. While it is not possible to create a new section (only containers), you may duplicate an existing section or save to your template library and import/edit as needed if your design requires it.
Need Support?
Our support staff is standing by to assist Pro and Elementor Cloud users. If you are a free user, you should join our Facebook communities and learn from others just like you.