Websites is a grid of all of your Elementor websites, including the websites in which Elementor Pro has been activated/ connected and those in which the Elementor Library has been connected.
Any sites activated or connected with a Pro license will have the Pro label on the website card. Any site without the Pro label will be one in which it was connected to via the Elementor Library.
Note: If a site is connected to your account via library connect, it will NOT appear as Pro, regardless of whether it has Pro or not. (i.e. If the user connected via Library connect to a site that is connected to Pro via someone else's subscription, it will NOT appear as Pro).
Websites Dashboard
The top right of the Websites Dashboard consists of a Search bar and the ability to display websites as either cards or as a lis.
Search
Click the Search icon to quickly find one of your websites by searching for either its url or title.
Display As Cards or List
Click the Display icon to switch between viewing your websites in either Cards view or List view.

Note:
For security reasons, your website's WordPress based Admin system has its own credentials, in addition to your Elementor credentials.
Your site's WordPress username is automatically created while you create your site and is a derivative of your email. The email associated with your site, with which you can login to your site, receive email notifications and retrieve password is, of course, the email address associated with your Elementor account. The password is set by you, and should be kept somewhere safe.
When you create your website Elementor will automatically assign you a temporary domain on elementor.cloud; We also give your website a temporary name ("My Website"). You can and should change your site's name at any time through the WordPress admin.
Click The Cog of Any Cloud Site To Access Cloud Site Details
Clicking the card or the site's cog will open a new screen with that site's details.
Cloud Site Details
Link To Live Site
Click the domain name to go to the site.
Link to WP Admin
Click Edit Website to go to the WordPress admin area for the site.
Add Custom Domain
Click the Add Custom Domain button to connect your own custom domain to this Elementor Cloud hosted site. In the popup, You will need to copy the information to add to your registrar DNS records. Once you have completed this step, click the green button that says "Got it, Next"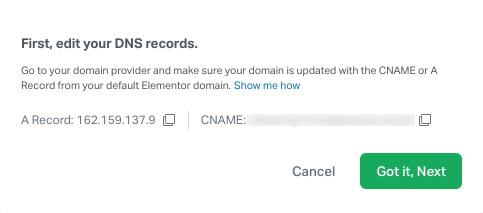 In the next step, enter the domain URL and click the Add Domain button to proceed. Click to read more about the process.
---
Site Lock
Slide the toggle button to On, to protect your site with a Site Lock passcode. When site lock is on, visitors going to the site URL will be blocked by an Elementor designed lock screen and will need to enter a passcode to view the site. If the site lock is on, it is also not discoverable to search engine crawlers.
To view your site's lock passcode, click the Eye icon. To copy the passcode to your clipboard, click the Copy icon. To reset the passcode, click the Reset icon.
---
Site Backups
A daily backup is automatically generated. You can click the Export icon to export any backups or click the Restore icon to restore your website to any backup shown in this list.
Click the Backup Now button to create an additional current backup of your site. In the popup, enter a name for the backup and click the Save button to proceed.
---
Debugging & Troubleshooting
Several advanced tools are available here to help you troubleshoot and debug problems. See full descriptions of how to use each in the links below.