No matter where we are or what we do for a living, once we've changed the clocks for winter daylight saving, hearing the term 'Black Friday' gets our pulse up and running.
For most of the online world, the notion of Black Friday weekend came out of nowhere, some 15 years ago. Since then, this gargantuan retail opportunity has continued to grow exponentially, benefiting all avenues of business.
Should I Invest Resources in a Black Friday/Cyber Monday Campaign?
As customers, it's pretty obvious that we can't afford to miss out on such an opportunity, but what about online business owners and marketers? 
Should small or medium businesses (SMBs) dedicate huge chunks of their resources to go up against the giants of the industry? Or should we wait until the giants have finished slugging it out to win customer's attention and have lost their competitive momentum?
The short answer is yes. As a business owner, you shouldn't wait because Black Friday is worth the risk.
The retail data analytics company Sensormatic Solutions predicts that Black Friday will remain the busiest shopping day in the United States in 2021. Almost half (48%) of shoppers plan to spend the same amount of money or increase spending from 2020 to 2021. 
And considering the burst of sales the holiday shopping season saw in 2020, the outlook for 2021 looks very positive.
Last year, retailers saw a record number of online Black Friday shoppers, which passed 100 million for the first time. Despite the closure of brick-and-mortar stores, the pandemic didn't have a significant negative impact on consumer gift-purchasing behaviors.
Moreover, 77% of shoppers indicated an interest in supporting small businesses during the 2020 holiday shopping season.
For SMBs, it's important to consider not just Black Friday but the period known as Cyber 5, which runs from Thanksgiving through Cyber Monday and includes Small Business Saturday.
Trends Impacting Black Friday and Cyber 5 This Year
First things first, before you put on a brave face and undertake those risks, it's helpful to know how the 2020 pandemic has impacted consumer behavior and what to expect for the "new normal" of shopping.

Here's a look at some of the key takeaways from Mintel's 2021 Global Consumer Trends Reports: 
Increased focus on mental health and wellbeing opens the door for innovative brands.
More concerns about large corporations abusing data and technology.
Increase in consumer demand for brands that support social changes.
Consumers are seeking brands that positively impact their local community.
Value shifts towards essentials, minimal consumption, affordability, convenience, and durability.
Accelerated demand for sustainable places.
Increased dependence on digital experiences to connect brands to consumers.
Some retrospect about how consumers shopped online for Cyber 5 2020 as shared by Radial:
Consumers spent $10.84 billion on Cyber Monday and $9.03 billion on Black Friday.
Black Friday and Small Business Saturday gained more share of Cyber 5 spend than Cyber Monday Sales.
Small Business Saturday brought in 68.2 million online shoppers – an increase of 17% (or almost 10 million consumers) compared to 2019.
Online-only shoppers increased by 44%, totaling 95.7 million consumers.
More than 50 million consumers shopped online and in-store, while just over 40 million individuals shopped in-store only.
And now, for what's expected in 2021: 
Black Friday will remain more of a week of shopping deals rather than a day.
Consumer concerns about labor shortages and shipping delays will prompt an earlier start to the peak holiday shopping season.
All major retailers are expected to close on Thanksgiving Day 2021.
Online shopping on Thanksgiving Day is expected to increase due to fear of popular items selling out by Black Friday.
Combined online sales for Thanksgiving Day and Black Friday are expected to top $17 billion.
Although we're still navigating the new normal and discovering which pandemic-induced trends are here to stay, we cannot afford to sit on the sidelines.

At the very least, our goal should be to gain awareness, drawing as many users as possible into the top tier of our sales funnels. This way, the next time they come across our now familiar brand, there's an increased likelihood they will follow through the funnel, resulting in interest and commitment.

This reward is achievable.

Better yet, working with WordPress means we don't have to over-commit our resources to accomplish it.

However, we need to bear in mind the impressions we create during this weekend will influence our businesses over the coming months, which is why we need to be strategic.

Starting as early as October, customers and marketers from all over the physical world will face one another in the field of online commerce. Each armed with strategies based on years of experience, savvy, and intuition.

Inevitably, customers learn to see through banners, popups, and catchy copy. While many customers have become skilled at finding the best bargains online, marketers are forever trying to play the SEO game and beat Google's evolving system of algorithms.

Some marketers will change tactics and begin campaigning special offers weeks before Thanksgiving to get ahead of the game.

However, you might be better off launching a creeping campaign, establishing awareness among customers over Cyber 5, using minimum resources, and then slowly cranking up the campaign over the coming weeks until the end of the year.
8 Black Friday Marketing Strategies for 2021
Here are some top marketing strategies to consider to have your best Black Friday yet and capitalize on the full Cyber 5 shopping holiday.
You can't talk about Black Friday without discussing promotional pricing. After all, it's what the holiday is known for. 
According to a survey conducted by Offers.com, consumers will be more focused on deals and value in 2021. However, they still plan to spend the same amount of money or increase spending on non-essential items.
In other words, although consumers continue to spend, they're focusing on finding value and searching for deals instead of impulse spending or shopping for fun. 
So, leveraging Black Friday sales and deals can be a crucial revenue driver when it comes to preparing for the peak 2021 holiday shopping season. 
Given the decrease in impulse spending, businesses should consider running deals throughout Cyber 5, not just on Black Friday. That gives holiday shoppers more time to research products and plan purchases. 
Alternatively, you can use rotating deals each day of Cyber 5 to encourage online shoppers to return to your website throughout the week for more value.
Consider using the "free gift with purchase" Black Friday promotion to add a sense of urgency and decrease cart abandonment rates.
2. Leverage Landing Pages
Revamping your entire website and updating product pages for the holiday season might seem like too big a project to attack. Unless you have the resources of Walmart or Amazon, you need to be smart about where you invest your money for Black Friday.
Personalization helps you get more bang for your buck so you can keep your profit margins up during the holiday season. So, if you want to maximize conversion rates without doing a complete overhaul, you can use landing pages. 
Landing pages help you focus your audience's attention on featured products and deals. They also let you create tailored content to target specific demographic groups within your customer base and boost sales.
Learn how to build an effective landing page with our guide here. You also want to make sure that your landing page is optimized for mobile viewing so you can capture holiday shoppers browsing on their phones.
3. Win With Web Design Built for Sales
Optimize your website to ensure you take advantage of the increase in online shopping this holiday season.
It's well worth the time you spend going through your website, page by page, and improving the load-time, even if you're just shaving off a second.
For example, if you're using Elementor, take advantage of the fact there are several widgets (e.g., Forms, Popups, Lightbox, etc.) and options in Elementor's integrations settings designed to reduce the necessity of some standard plugins.
Utilize our full website kits, which come loaded with all the elements you need for a full website. Additionally, make the most of Black Friday by accessing our dedicated marketing-oriented kit in our new Seasonal Kits section.
Seasonal Kits are grouped into popular holidays and events, with Halloween and Christmas assets out soon. Choose from individual Landing Pages, Sections (such as Countdown Timers, CTA, Hero Sections, Banners), Popups, Stickers, and Lottie Animations.
Fully customizable and professionally designed, Seasonal Kits help you quickly launch marketing promotions, push consumer activity, and drive sales.
Pick your design wisely to ensure your website's server is ready to handle a possible flux of visitors, without sacrificing functionality. Black Friday and Cyber 5 help boost traffic to your website, so make sure your website can handle a spike in visits to avoid losing out on sales.
4. Commit To Click and Collect
Last year, Click and Collect (or Buy Online and Pickup In-Store) sales grew 106% totaling $72.46 billion, and it looks like the trend is here to stay.
Buying online and opting for in-store or curbside pick-up lets shoppers buy gifts conveniently from home while also limiting worries about shipping delays. 
Offering flexible purchase and pick-up options can help you stay competitive during the holiday shopping season. 
Software providers such as Square online offer solutions to help you set up Click and Collect for your store. 
To prepare for the holiday rush, make sure you have a dedicated pick-up area in your store and make it easy for consumers to find it. 
5. Sell With Social Media Marketing
When Black Friday and Cyber 5 come around, you want to ensure you stay top of mind with your consumers. Big brands and ecommerce businesses will be running holiday shopping campaigns, so you must make your brand visible. 
Recommending your top giftable products on social media can help you increase brand awareness and drive more sales. 
Last year, 45% of people who discovered a new product on social media purchased it as a gift for someone else. 
Much of brand discovery happens when consumers need to purchase a product for someone else. So, you can get the most out of your social media strategy by creating gifting-centric campaigns. 
6. Embrace Email Marketing
According to Campaign Monitor, email marketing accounts for 20% of holiday website visits. Not only that, but consumers who purchase through email spend 138% more than those that don't receive email offers.
By now, consumers expect Black Friday deals. It's one day out of the year where many people go to their inbox to search for coupons and discount codes. Black Friday emails often result in the highest open and click-through rates. 
If you're not sending a Black Friday marketing campaign to your email subscribers, you're missing out. 
However, you can capitalize even more by sending email marketing campaigns throughout Cyber 5, encouraging people to visit your online store each day.
After all, as we mentioned above, experts expect to see an increase in online spending on Thanksgiving Day and Small Business Saturday. 
Not every marketing campaign results in a same-day purchase. Although many purchases occur during Cyber 5, the holiday shopping season runs from November through December. 
You still have opportunities to capture new email subscribers and nurture your email list after the big day. 
Retargeting campaigns can be particularly effective in 2021, given the aversion to impulse spending. Shoppers in 2021 will be more deal-focused, and many will want to research products and plan their gifting. 
That means you need to stay top of mind after Thanksgiving week. Consider using an abandoned cart automation email tool or widget to capture consumers who need a little more time to think.
You can also leverage email sign-up forms on your website to capture new leads so you can offer deals and recommend items throughout the entire holiday season. 
8. Capitalize With Cross-Selling and Upselling
Getting someone to your store or online shop can take a lot of work. So, you want to make sure you capitalize on each visit. 
Cross-selling and upselling products help you increase your average order value and get more value out of each visit you drive from social media or email.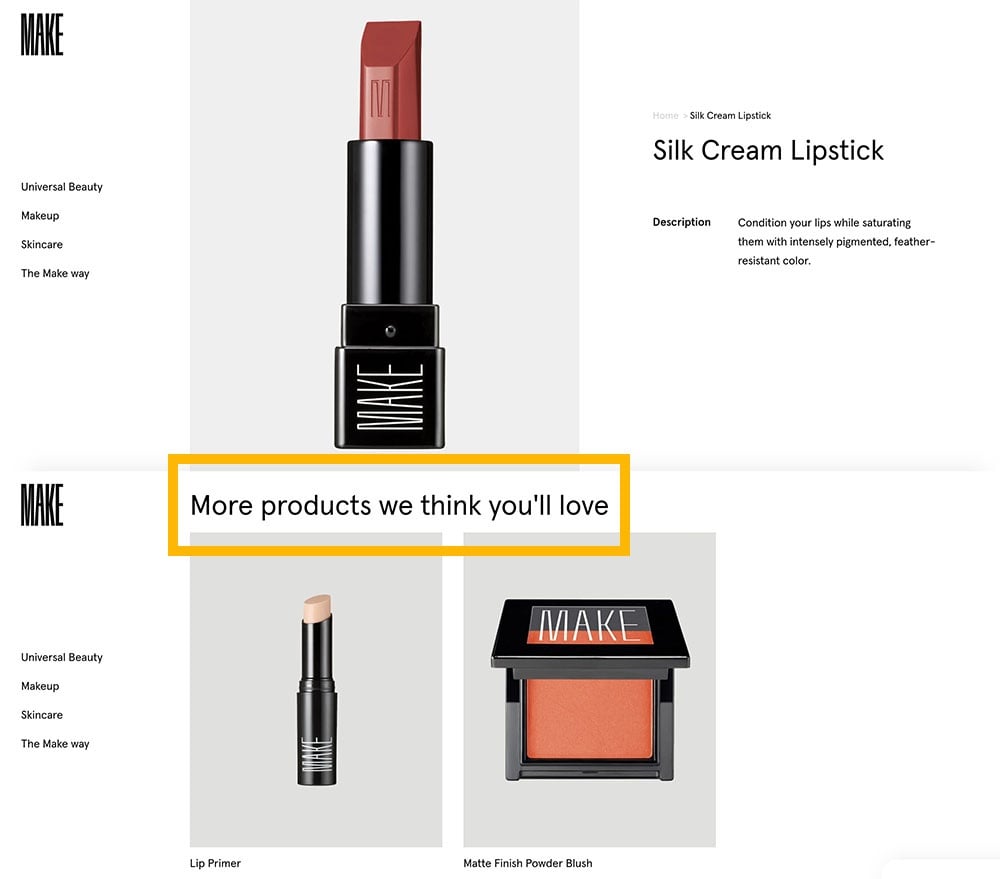 With consumers focused on deals and value for money in 2021, cross-selling can be a particularly effective revenue driver. 
As with past years, come November, we get hundreds of emails, messages, and queries from Elementor users regarding advice on setups, designs, plugins, developing and executing online campaigns for Black Friday weekend. 
This year we've decided to put together a cheat sheet. The list below is a compilation of masterclasses, podcasts, and tutorials, with everything you need to know and more. 
Please feel free to add any advice, links, and tips for other users in the comments. Hopefully, together, we can create a wonderful online resource for others looking to make the best of the tremendous yet challenging business opportunities during Black Friday and all of Cyber 5 in 2021.