By Ryan Robinson
If you're hoping to grow your blog's readership over the coming year, you can't afford to ignore email marketing as a core component of unlocking major growth.
Why? An email list is one of the best assets a blogger can ever invest in.
Unlike relying on traffic from Google or whichever social media platform is in vogue this year, email marketing is the only channel that provides you with a direct connection to your readers. You get to control when you want to send out an email update, what that message contains and even how you frame it to your audience.
So if you want to learn how you can increase the size of your email list, generate more qualified leads and eventually more sales by structuring a winning blog email marketing strategy, then you're in the right place.
Over the past five years of my blogging journey, I've grown my own email list to over 122,435+ subscribers that receive my weekly content updates and digital product offers. My email list has been beyond instrumental in my ability to make money from my blog.

In this guide, we'll begin by talking about how to define clear goals to pursue, create a list of actionable steps to getting there, find the right email service provider, then walk through growing and monetizing your list.
Let's get into it!
1. Define Clear Email Marketing Goals
Did you know that in 2022, the number of emails sent worldwide is expected to increase to 333.2 billion?
Yeah. Email marketing works, but your readers' inbox is also a pretty crowded space.
That's why you need to clearly define the objectives of your email marketing campaign. It's hard enough to compete with other brands and products, but it's infinitely more difficult without a clear set of goals in mind.
While we're focusing on email marketing goals, we highly recommend you review your blogging goals as well. Ideally, your email marketing strategy will help further your key blogging milestones and traffic goals.
Here are four key questions to help define your email marketing goals.
– Why do you want to send emails to your readers in the first place? 
Do you want more traffic? Increased engagement? To monetize your blog? Increase registrations for monthly events? I highly recommend writing out your immediate short-term objectives and long-term goals they lead to.
– What action do you want your subscribers to take?
If you answer the 'why' from above, it'll help you clarify what you want your subscribers to do. Simplify that action for your readers and make it as easy as possible for them to take action the way you want them to. For example, if you want to increase readership, you may send out a newsletter with the link to a popular blog post highlighted in a different color (as seen below).
– What's uniquely great about your emails? If you want your subscribers to act, you need to understand why they should care. What benefits do they gain? What pain points do they solve? If they read your blog posts, how will it help improve their lives?
If you can answer these questions, it will help you curate and put together a thoughtful content marketing strategy for each email you deliver.
A great example is Trello's email newsletter. They understand that their users are teams that work together on projects, so they focus on issues concerning decision-fatigue and the benefits of goals sharing. Instead of using typical CTA buttons like 'Click Here' or 'Read More,' they've replaced them with unique and relevant copy.
– Which metrics should you track?
While open rates and click-through rates are common metrics to track, I recommend tracking your call-to-action (CTA) as the primary success metric for your email campaigns. If the CTA is to boost blog viewership, you need to measure the number of clicks you received from the email campaign, that went to your blog. Alternatively, if the CTA was to share on social media, you should track how many people shared your content on their social channels.
A great email marketing campaign today requires clear goals—and listing those objectives before starting to craft your campaign can help you create more actionable steps to move forward in the right direction.
2. Create a Plan Of Action
After you've put together your email marketing goals, you'll need to construct an email marketing strategy and draft out a clear plan of action to execute on that.
There are many ways to do this effectively. Start with the basics by picking the right software for your needs, understanding who you're targeting, what type of content you'll be sending out, and setting an email marketing schedule you can stick by.
Identifying your Target Audience
If you've already started blogging, there's a good chance you know your target audience well. We recommend segmenting your readers even further, separating them into multiple categories from interests, location, engagement, behavior, etc.
Segmenting your audiences will help you send more relevant and personalized emails to different groups of people, which will result in higher click-through and open rates. The statistics don't lie. According to MailChimp, segmented emails resulted in 14.31% higher opens and 100.95% more clicks than non-segmented campaigns.
When it comes to defining your content, you need to know the type of email content you'll be sending out, what format it should be in and why you're sending it out in the first place. Here are a few different types of emails you can explore:
There may be instances where you'd like to sell an eBook, course, or tickets to a live event—maybe you even want to let your readers know about a new partnership you have with a major brand. I recommend mixing informative content with your less frequent promotions so that your relationship doesn't come off too sales-heavy.
Extensive Guides, Interviews and New Content Emails
If you recently published a new piece of amazing content, highlight it in an email. Give your readers a brief overview of your blog post with a bold call to action so they'll click through to read if they're interested.
If you want to check out a few other forms of email content examples, take a peek at these clever SaaS emails to gather even more inspiration.
Constructing a Content Calendar
It's important to mark key dates for your email marketing strategy. These dates can be monthly reviews you're doing on popular products, weekly specials that come out, or even daily blog posts certain segments of your audience may be interested in. You can also take into account special dates like public holidays, festivals, or even new product launches that are relevant to your blog. To simplify things, I recommend you start by sending an email at least once or twice each month (at minimum) to update your readers on your newly published articles and keep them engaged.
When it comes to email marketing, consistency is key. Build a schedule, so you're sending out emails on the rights days and time in the month. In your schedule, make sure you factor into account the process of developing, creating and scheduling your emails. It can be a lot of work, but it'll help you build a strong readership that you can eventually monetize. 
3. Choose The Right Email Marketing Service Providers
So, you want to create a winning email marketing strategy for your blog. But you also realize it's going to take a lot of work setting up, designing, scheduling and analyzing your emails.
This is where email marketing service providers (ESPs) come in to play—and how well they integrate with your WordPress theme & page builder of choice.
ESPs are companies that provide bulk email marketing services. While there are many ESP online, we're going to look at two of the most popular options for bloggers in 2019: Mailchimp vs ConvertKit. 
MailChimp: MailChimp is free to start using, making it truly the best option if you're a brand new blogger today—because I'm a firm believer that you should only invest in paid tools once your growth warrants it. Their prices increase as your email list grows. What I love about MailChimp, is that it's user-friendly, great for beginners and has strong email templates you can leverage. It can also integrate with more than 100 applications from Google Analytics, Canva, and even Elementor. On the other hand, its reporting tools are slightly elementary and built slightly more for eCommerce businesses (not with bloggers in mind.) But if you're starting and you're on a tight budget, you should definitely consider MailChimp.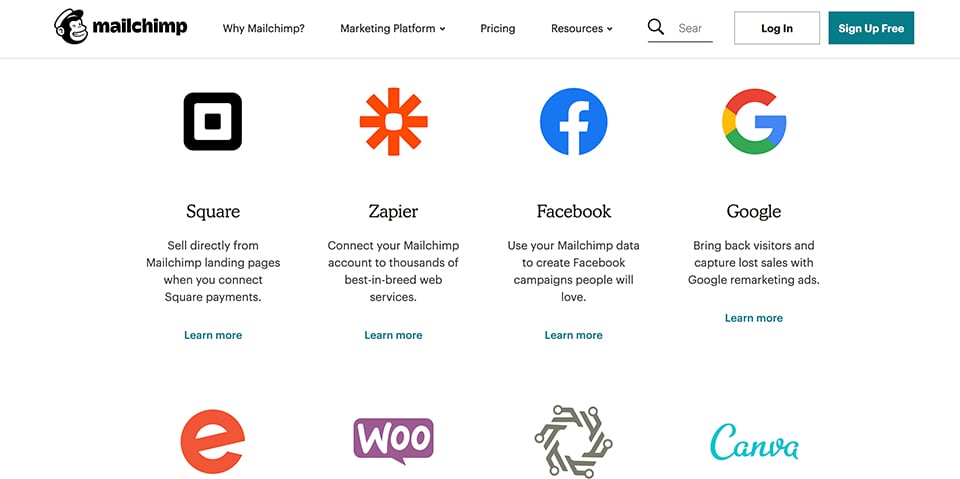 ConvertKit: Unlike MailChimp, ConvertKit is built specifically for bloggers, podcasters, YouTubers and other online creators, with some of the best features, tools, and processes to ever hit the market in terms of ESPs. Unlike Mailchimp, ConvertKit is subscriber-centric, which means your subscribers aren't members of a specific "list" in your email marketing tool—rather they're tagged and segmented according to the actions they've taken on your blog and within your emails, which gives you much more flexibility when it comes to targeting your audience. Their advanced visual automation makes it easy to view the sequences of emails you've set for your readers too. The only downside to ConvertKit si that they don't offer a free plan, but they do have a free trial.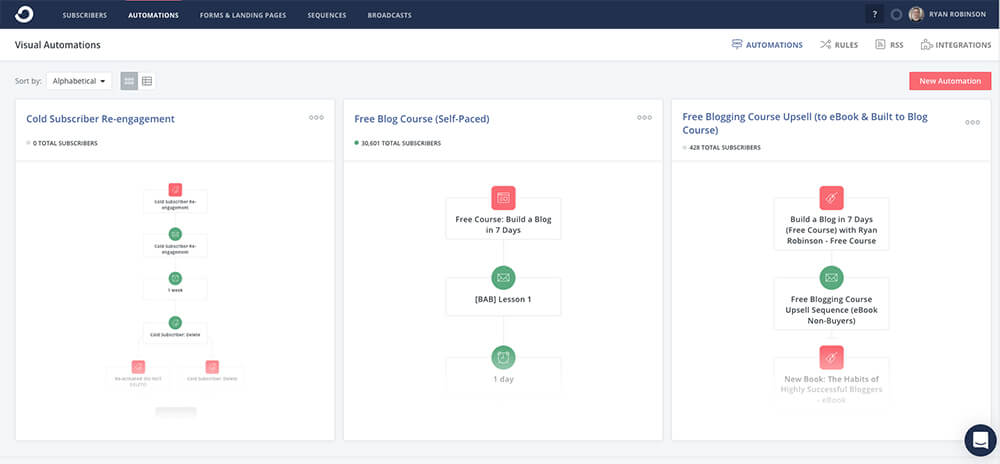 Both of these email marketing service providers have their strengths and weaknesses. The right choice for you also varies depending on where you're at in your blogging journey today—how many subscribers you have, the purpose of your blog, the budget you have for email marketing, and even how well you're monetizing your content.
At the end of the day, I recommend you start with a free plan on Mailchimp to test the waters with your blog email marketing and upgrade to a more advanced tool suite like ConvertKit once your budget allows. 
You'll likely find that as your subscriber count grows (and your revenue increases), you may need to switch to another tool that has more advanced features.
Honorable Mention:
BayEngage from TargetBay is an excellent choice for bloggers, online retailers, and other e-commerce businesses.
The email marketing platform provides an easy, affordable way to create, manage and send engaging email campaigns to your readership in a snap. BayEngage offers a free plan that includes a powerful suite of email automation, A/B testing campaigns, robust analytics, 300+ ready-to-send email templates, pop-ups, and millions of free stock images that can be used at any touchpoint in the customer life cycle journey.
It is essentially an email autoresponder that helps you send emails based on subscribers' online behavior. BayEngage also provides 24×7 email and chat support to scale up.
4. Optimize Your Blog To Gain More Subscribers
Did you know that the average email opt-in rate is an abysmal 1.95%?
That means that if there are 100 visitors on your blog right now, less than two will probably subscribe to your email list.
While these numbers seem bleak on the surface, thankfully, there are many things you can do to optimize your blog content and increase subscriber sign up rates. 
Make it easy for readers to sign up:
Minimize the number of clicks and form fields as much as possible, to make it feel easier to sign up. And instead of having a dedicated signup page, you should always strive for embedding an email form directly into your posts and pages. 
Readers choose to subscribe because they enjoy your content and receive value from it. Ensure that anyone who visits your blog gains a lot of value by writing high-quality blog posts that are not only accurate but more detailed and transformative than that of others competing on the same topics.
Lendio's blog on Short Term Loans is a great example of this principle in practice. Their content takes into account the reader's personal experience and point of view by providing a breakdown of what a short term loan is, how it works, and, ultimately the process of applying for a loan.
If you have difficulty constructing high-quality content for your audience and find yourself frequently distracted, consider a writing app that can help you zone in and focus. Here's a review of the top writing apps to try out this year, so that you can get more of your best writing done.
Landing pages are designed to lead your visitors to take a specific action. While marketers and small businesses often use them, bloggers can also leverage landing pages as well. 
For example, while Housecall Pro is a Saas platform that helps service professionals, they've designed a landing page specifically for plumbers. The landing page is designed to capture emails, so it focuses specifically on having viewers opt-in their email addresses. They've included a CTA button in bright blue, on the top-right and center of the page.
There are many changes you can implement to optimize your blog in order to capture more email signups. Ranging from thoughtful content upgrades to giveaways, exit-intent popups, educational courses and much more—if you're offering readers more value than your competitors, they'll be incentivized to choose your products over others.
5. Write Successful Emails
Maybe you have some experience with writing great content for your blog. 
Even if that's the case, writing a successful email is a little different. 
To help you out with this transition here's the basic anatomy of a marketing email, so you can craft well-written emails for your subscribers.
The subject line is the gatekeeper of an email. It solely determines whether the reader will open the email or not. 
Subject lines also set reader expectations concerning what's going to be in the email. As Cole Schafer, founder and copy chief of Honey Copy puts it, "spend double the amount of time crafting the right subject line as you spend on writing the body of your email—because if they don't open the email, it doesn't matter."
Here's a subject line example that works wonders and sets the relationship off on the right foot. Thanking your new subscriber for joining, and telling them they're getting some free things. Just make sure you follow up on the statement by actually giving them something of value for free.
When it comes to the body of your email marketing campaigns, make sure you have a clear purpose of why you are emailing your subscribers. Always write in the second person. Your reader will most likely scan for the important points and then decide whether they want to take action. For even more ideas, take a look at Hubspot's guide to writing a compelling email copy.
Your call to action should be very clear and easy to identify. If you're providing a weekly update with links to a few different blog posts, you can highlight them in a different color. Alternatively, if you have one primary CTA, then you can make it into a button and choose a contrasting color, so it stands out more prominently.
If you're looking to differentiate yourself from other bloggers, go with a fresh, fun and exciting design for your emails. You can explore different layouts from the inverted pyramid, Zig-Zag approach, to a simpler one column style that's great for desktop and mobiles. 
Here's an example of an email from CopyBlogger that I love. Its body content is not only entertaining, but the call to action is extremely clear throughout the entire email.
6. Thoughtfully Monetize Your Email List
Email marketing is a fantastic channel when it comes to building a long-lasting relationship with your subscribers.
As you consistently add value, your subscribers will learn to trust you more over time.
And as Zig Ziglar puts it, "if they trust you, they'll do business with you."
If you're interested in monetizing your email list, here are two common ways many bloggers get started with generating revenue from their readership:
In short, affiliate marketing is an advertising model where you earn a commission every time someone purchases a product you're promoting—by following your affiliate link. If you want to monetize with affiliate marketing, begin by seeing which affiliate programs are available in your niche. There are many advantages to affiliate marketing, like earning passive income that pays off more over time as your content gets more readers. The downside is that you don't have control over the offer, product or service. It's also pretty competitive and some companies aren't always honest with their customers.
Sell a Membership Program or Digital Product
You can also sell your audience online courses, an extensive eBook or even provide exclusive membership access to gated content just for them at a one-time or recurring monthly fee. While premium paid content can be a great investment in the future of your blogging business, producing that extra content can be expensive and time-consuming. 
Although these two approaches can work very well for monetizing your blog over time, you do need to be careful with the relationship you're building with your readers.
If you push too many offers or promote your paid products too regularly, it can frustrate your readers and lead to a high unsubscribe rate.
Before you rush in and begin monetizing, take a step back and understand that successful monetization of your email list only works once you fully understand your sales funnel and have strong relationships built on substantial amounts of value.
If you're looking to form stronger relationships with your subscribers and get more readers to join your list, then heed this email marketing advice.
Start Creating Your Email Marketing Strategy
Email is the only channel that gives you direct access to your subscribers.
If this all sounds like a lot of work, that's because it is! But it's definitely worthwhile.
Over time, you'll find that email marketing will become your highest-return, lowest-cost channel for monetizing your blog—far above that of any paid advertising strategy.
Regardless of where you are today in your blogging journey, don't feel discouraged. Start with these small steps and build your momentum.
Looking for fresh content?
Get articles and insights from our weekly newsletter.