A website serves many purposes. You can advertise your business. You can sell your products. Or you can teach music lessons. You don't even need to spend serious cash. You can treat your website as a side business and run it as a hobby.
That doesn't mean that you shouldn't look at making a profit. There are a lot of evergreen website ideas that you can use to turn a profit from your website.
Read on to learn more about potential website ideas that you can start as your next side business.
What Do You Need To Get Your Website Started?
You can start building your website once you have the following: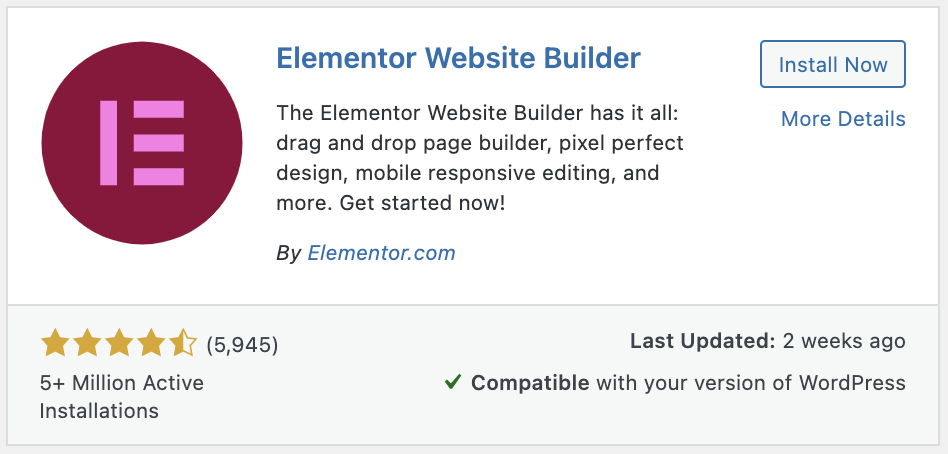 Website builder — A website builder helps you optimize your design and structure. Website builders usually have drag-and-drop interfaces you can use to build your website without writing a line of code.

Elementor is a great option as you will have more features than any other builder. And you won't go searching for a plugin now and then for every feature you need.
Now you know what you need to start building a website. But what should your website be about? Let's brainstorm.
22 Profitable Website Ideas for Your Side Project
Let's have a look at each idea one by one:
1. Ecommerce Store
Ecommerce has seen huge growth in the past two years. Adobe forecasts that it will reach $4.2 trillion globally by the end of 2021.
You can seize this opportunity by setting up your ecommerce store with WordPress and WooCommerce. You can extend your physical business or just start a side business.
You don't need to pass Amazon. You can just start it to benefit from higher control and no fees.
While you may think of ecommerce stores that sell products to customers, that's not it. You can focus on B2B, join the subscription box trend, or look into white label production. The only limit to ecommerce is your imagination.
You can sell physical items you enjoy making or digital products like ebooks and printables for a passive income.
While the startup costs will vary based on the niche you pursue, most stores need a website and a way to collect payments like WooCommerce.
2. Dropshipping
Dropshipping has exploded in popularity due to its low startup costs and ease of entry. As of 2019, it's one of the top five online business models for stores earning over $30,000 a year.
You can sell physical products without having to keep inventory. Order products after receiving payment from the customers.
When getting started, it's best to go with small, lightweight items to minimize shipping costs. Beauty products like jade rollers, vitamin C serum, and acne patches are popular. Fitness items like yoga mats and athleisure wear have done well too.
You only need a sales plugin like WooCommerce and a dropshipping supplier to run a dropshipping website.
Make sure that your items are approved for sales. Payment providers reject payments for some supplements and medical items.
3. Personal Blog
While earning from blogs depends on the niche and affiliate programs, blogs remain popular for a reason. You can write a blog on anything if you have the passion or expertise.
Some bloggers write personal stories or anecdotes from their own lives. Some bloggers mix their professional work with their brand and build a following this way. If you don't want to write about your personal life, you can also blog about a hobby or interest you share with others.
With search engine optimization (SEO) and topics people are interested in, you can get to the front pages of search engines. You can then earn from ad programs like Google Adsense or affiliate marketing.
If you develop a fan following, you can also expand your blog into a membership website with courses and ebooks. In other words, a personal blog gives you a lot of room to grow and customize.
4. Consulting Website
If you like to share tips specific to your profession or experiences in your favorite hobby, a consulting website is an attractive choice.
Add a resume and highlight your knowledge, so others get to know and trust you. Show social proof through testimonial carousel and case studies.
You can consult in person or online. Or you can offer premium content in the form of self-help courses or ebooks.
Use payment buttons to have your customers pay right on your website.
5. Recipe/Food Website
Did you start cooking more after the pandemic? More than half of respondents said they were eating more at home since the pandemic began, and many plan to continue the practice.
A food blog sharing your newfound favorites and family classics is a great way to connect with users around the globe. Or you can make the most of the recent trend of healthier eating and increased spice usage and craft your food website around these niches.
You can earn from affiliate programs of specific diets, or you can dropship cooking products. An electronic cookbook to supplement your income isn't off the table either.
Take inspiring pictures of your cooking to stand out from other blogs. Add images of ingredients to add value. And share videos too to help visitors replicate your recipes.
6. Photography
If you are a photographer, a portfolio website is a necessity for growth. It helps you showcase your work and put yourself across potential clients.
You can use Elementor's portfolio widget to showcase your creative skills. Make sure to include your contact information to attract local customers and links to your social media to gain followers worldwide.
You can also treat it as a side business and sell your photos.
Make sure to include high-quality photographs, but consider adding a watermark to protect them from theft.
7. Online Courses/Workshop Website
If you have teaching experience or expertise in an in-demand skill, you can sell courses as a side gig. You can generate passive income from pre-recorded videos. Or you can offer personalized one-on-one coaching.
A course website will need an about page, a summary for each course offered, a price table, and details of the membership service you offer.
You may also require advanced equipment depending on the course you plan to teach. A decent video camera and microphone are a must for a better teaching experience. Also, consider if you need another person to help you with filming or demonstrations.
You can design an online course website with quizzes, videos, membership services and allow customers to leave reviews.
8. Dating Website
People are always looking for new ways to connect, and a dating website helps accomplish this goal. Dating websites are becoming niche-specific, with users looking for individuals with similar interests and goals.
Dating websites are easier to make than you think. With Elementor handling the design and a plugin like BuddyPress, you can easily create a service people will pay to join.
You can specialize in a specific interest group or focus on offering customized matches.
You'll need to advertise your service to get people to sign up at the start. Once sufficient word of mouth comes into play, your users will handle the rest.
9. Affiliate Website
We've mentioned affiliate marketing already. But that doesn't have to be a small part of your website; it can also be the focus. Many successful affiliate marketing websites promote products to a particular niche and earn a commission off those purchases.
Affiliate websites need a home page and posts about the affiliate products and potential customers' pain points. For example, if you have joined an affiliate program for a clothing retailer, post about your favorite shirts they have on sale.
Add valuable information and quality pictures to encourage visitors to check your affiliate links.
In posts you add affiliate links, explicitly mention that you are an affiliate of the program to avoid violating country-specific rules and regulations.
10. Podcast
PwC forecasts Podcast ad revenue above $1 billion in 2021. Podcasts cover hundreds of subjects and reach millions of listeners.
You can start a podcast website to share your expertise on a relevant topic too. Popular genres include finance, true crime, education, and fiction.
To get started, you need a microphone, computer, speakers, and editing software — perhaps free like Audacity. Once you've recorded and edited your show, upload it onto a host like Podbean and distribute your show to popular apps like Spotify and Apple Podcasts.
With your website, you have the freedom to monetize it the way you want. You can sell merchandise and ad space or do affiliate marketing.
Create a landing page to educate your visitors on your niche and answer the most common questions. Additionally, you can add contact information for brands and listeners to get in touch with you.
11. Job Hunting Website
The job market has been erratic for the past year and shows no signs of going back to business as usual.
Do you have a lot of job hunting experience? Or do you own a business and know what to look for in an applicant? A job-hunting website could be the perfect fit for you.
Instead of trying to compete with large platforms, focus on smaller industries and groups. You can find many websites dedicated to helping particular job seekers out. If you have connections in the industry, use those to your advantage to list hard-to-find jobs.
Segment your job page into multiple categories for easier navigation. And cover the legal requirements to avoid being responsible for bad faith applicants.
12. Review Website
Do you love shopping? Help out other buyers with reviews of your favorite products.
Almost 90% of shoppers read a review before making a purchase. So this is an in-demand niche.
Stick to one to two similar categories like skincare and make-up or electronics and games to come off as an expert. Each review should have multiple pictures of the item in question and honest feedback that helps the buyers.
In addition to photos, try adding videos to your reviews to stand out and drive traffic. 54% of consumers want to see more videos from brands. Vlogging adds a personal touch that connects you with your audience.
This is an excellent idea to generate income from affiliate marketing and ad revenue. Additionally, you may receive some of your favorite products for free to review.
13. Travel Blog
Travel blogs are primed to make a comeback in 2022. Tripadvisor's Val Anthony mentioned that January 2022 bookings are twice as long as trips booked for the rest of 2021.
While travel blogs require investment in time and energy, you can try them out if you have some travel plans coming up. This is an excellent way to at least try and cover some of the travel expenses.
You can cover new restaurants that opened up and local attractions you visited or share your collective experiences. Include plenty of photos and videos to provide an immersive experience. Also, branch out to social media to expand your audience.
You can also stand out with updated information that considers the latest post-pandemic regulations. You can advise travelers on the best ways to adhere to the recent changes.
Once again, you rely on affiliate marketing and ad space for your income.
14. Coupon Website
Helping others save money can be a great way to make extra money yourself. Coupon websites are popular due to their low startup costs and flexibility. You simply choose the type of industry you want to work with and start looking for deals.
Some people negotiate deals with companies directly, while others work with coupon platforms like Sivan Social to offer deals faster. You and the buyer get rewarded for the purchase, while the concerned company gets advertisements from your website.
15. Design Portfolio
If you prefer an online side business, designing might be more your style. Whether you are into web design, graphics, or UX, a good portfolio is as important as a resume in this field.
You can make an art-focused website that showcases your portfolio, sells your work, and offers commissions to visitors. Your website design ideas can cover anything from gaming to fashion websites, as long as you highlight your work and make it easy for clients to get in touch.
Many designers use their website as an extension of their brand. If you create hand-drawn lettering, you can work this into the menus or headers. If you have an excellent eye for colors, have your website reflect that.
Show off your creativity with animations and a unique layout.
16. News Website
Love to keep up with the latest events and local stories? Start a news website. You can start with only a home page, contact info, and a form for users to submit reports.
Come up with exciting topics that will reach a wider audience. And establish yourself as a reliable news outlet to get regular user-submitted content.
You can earn money through ad revenue, or you can create premium, subscription-based content.
17. Tutorials or How-Tos
Tutorial websites help beginners learn new skills. If you are good at something, you can share your expertise via how-tos on your website.
This kind of website requires high-quality images detailing each step of the process. For a complicated task, you may also need supplementary videos. So you will benefit from a decent camera and microphone to provide valuable content.
You can sell your tutorials in written or video form. Or you can offer them for free with ad revenue.
Use social media share buttons to help spread the word and increase brand awareness.
18. Event Website
Every event is website worthy, whether it's a concert or a birthday party.
While you can use the event website to help with logistics like RSVPs, you can also make money. You can monetize your event by selling tickets with a service such as Ticketleap. You can get sponsors, or you can sell event merchandise.
Get in touch with local venues to see if you can work out an advertising deal too.
Functionality is important. So a countdown timer to get visitors ready or an embedded map with directions go a long way. For big events, consider a landing page.
19. Fitness Website
Are you a yoga trainer? Or do you have a passion for working out?
Fitness is always a popular topic: The global fitness and health club market exceeded $96 billion in 2019.
You can try anything from membership-only videos to personalized workout plans sent directly to your customer's inbox to earn income in this niche.
While building a fitness website, have clear terms and conditions to avoid liability if someone gets injured following your program. Make your prices easily visible and share some sample videos to help your customers gauge your offering.
Before and after photos of satisfied clients work well too.
The weight loss and wellness industry also fit closely and likewise has the opportunity for side income. Step-by-step diet plans or ebooks can help you pop up on search engines quickly.
20. Wedding Website
A wedding website might not be the first thing that comes to mind when you brainstorm website ideas to make money, but it can generate an income while helping couples tie the knot.
You can refer venues and catering services to make an income.
Or you can craft a website around wedding invitations, registry building, dress shopping, bachelor and bachelorette parties. All these offer referral programs and affiliates to generate income.
You can also write a blog on wedding planning and make money through ad space and affiliate marketing.
21. Delivery Service Website
Delivery services are booming as 2021 draws to a close. Online food delivery has almost doubled since 2017.
You can create your delivery website to benefit from this trend.
Define your geographic area and niche and get to work. As you grow, you can expand it by simply serving more regions.
While food delivery is most common, you can also try other niches like grocery shopping and running outside errands.
Make separate sections for business and customers on your website. And address their issues and pain points through graphics and detailed posts.
Display the delivery charges: whether a percentage amount, a flat rate, or a time-dependent quote. Also, terms of services should be visible to avoid any liabilities.
22. Dog Sitting and Walking
Do you love animals? Help pet owners gain peace of mind by watching their dogs or other furry companions while they are away.
Having your own website with testimonials, prices, and skills will help you stand out from others in the area. You could include a photo carousel of yourself taking care of pets. Have multiple contact forms listed and spread the word on social media.
Make sure to include any limitations you have for this service, such as allergies or a weight limit for pets.
Final Thoughts
Taking that first step to building your website can be scary with all the coding prerequisites. But with Elementor, you can let go of those fears. You only need to focus on building your website.
With Elementor, you can turn your side businesses into a reality. You can monetize a hobby like travel or designing, or you can build a whole new business with an ecommerce website.
Draft an idea and identify the type of website you want. Use a premade website kit to save time creating pages and work with a template that is best for your business model.
You can even make complicated dating websites with widgets and plugins that integrate with Elementor.
Spend less time on building and more on the content you create.
Get started with Elementor's intuitive drag-and-drop editor today to create a fully functioning website quickly.
Looking for fresh content?
Get articles and insights from our weekly newsletter.