As rare as it is to receive a physical, hand-written letter from a friend, it's 100 times rarer to get a promotional email that you actually enjoy. And it's not because email is dead, it's oversaturated and more often than not — not executed well. Over 144 billion emails are sent out each day, and marketers cite that email marketing is by far one of the most profitable marketing channels today. In fact, marketers who are sending out personalized, well-written, and targeted emails cite an average ROI of $36 for every $1 spent on email.
So what makes email marketing so profitable? We'll dive into all the ins and outs you need to not only understand what email marketing is all about but to come out as an email expert to start generating more revenue for your business.
What Is Email Marketing?
Email marketing is a direct marketing strategy that uses email to promote a business' products and services. Email marketing allows you to send information directly to your target customers without an advertising middleman.
In a world where organic social media marketing is increasingly becoming more difficult and digital advertising costs are rising, there's nothing more valuable than owning your own distribution channel to speak directly to your customers. In fact, the cost per click on Facebook is up 13% in 2022 compared to 2020, and the average organic reach of a Facebook page post is only 5.2%! That means if you have 1,000 followers on your Facebook page, you're likely to only reach 52 people on average!
The History of Email Marketing
In 1971, engineer Ray Tomlinson sent out the very first test email. A year later, Larry Roberts invented the first email management system, which allowed users to select, forward, or respond to emails. The first email blast recorded was in 1978 by Gary Thuerk, which according to reports generated $13 million in sales. In 1989, AOL launched with the iconic "you've got mail" sound bite.
Email became ubiquitous in the 90s and is largely email as we know it today. In 1998, Microsoft developed Internet Mail which later became Outlook. Hotmail was also launched in the same year, which became the most popular and most accessible form of digital communication.
One of the greatest milestones for email marketing was the introduction of HTML in 1998 to improve the visuals and experience of emails. It enabled marketers to add fonts, colors, graphics, and images as internet access and speeds began to improve. In 2009, responsive emails emerged that optimized emails for desktop, mobile, and tablets. We'll dig into why this is important later in this article.
Does Email Marketing Still Work?
Contrary to the occasional sensationalist headline like "email is dead," email is becoming more important for businesses today. It's one of the most cost-effective tools that also drives incredible ROI. It's an excellent channel to build direct relationships with your audience, drive traffic to your blog, promote your latest promotions, provide valuable information that drives a sale, and much more.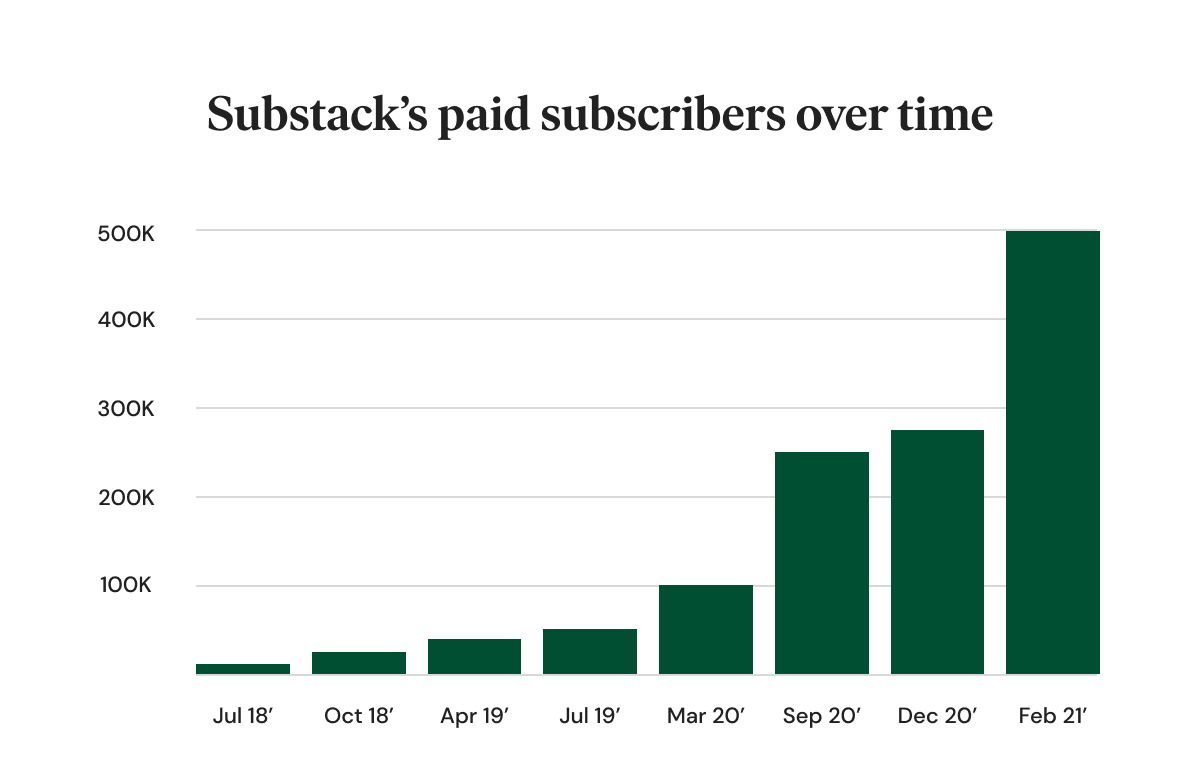 Let's take Substack as an example. The paid email newsletter platform that allows independent writers to build audiences over email at scale, has upended the media industry that was once so reliant on social media. Substack grew from 11,000 paying subscribers to over 500,000 in the course of three years. The growth speaks for itself.
The second example is Morning Brew, a daily morning business newsletter that was purchased by Insider Inc. in a cash deal worth about $75 million. They garnered a readership of over 2.5 million in just 5 years.
While there are millions of ways to design, segment, and compose emails — so let's now dig into how you can effectively run an email marketing program.
The 4 Types of Email Marketing
Emails are not only sent in one-offs to promote something. Oftentimes, marketers create automated email flows that are triggered by actions, timing, and behavior. These flows utilize a mix of different email formats, that can be largely split into these four categories.
1. Email Newsletters
These provide news, updates, and educational content on a regular basis to consistently engage with your email audience. This is a scalable way to increase your email list and stay top-of-mind without pushing a sales message.
2. Acquisition Emails
Acquisition emails are sales-focused emails that provide informative content about the value you bring to convince a prospect to purchase from you. The ultimate goal is to push leads down your conversion funnel faster in a very personalized and targeted way.
3. Retention Emails
Retention emails are designed to re-engage with cold leads or people who haven't heard from you in a long time. Retention emails can help kickstart interest or even nudge a prospect into purchasing if the time is right. These may come in several forms including:
Revival emails that re-engage churned users.
Upsells, renewal, and cross-sell emails to sell more to your existing customers and increase purchase frequency.
Product retention emails that help increase product usage and satisfaction.
4. Promotional Emails
Promotional emails help deliver an enticing offer or new product offerings to encourage prospects to purchase or subscribe to your product or service. It's a strategy that can help both upsell and cross-sell products to your customers.
How To Create an Effective Email Marketing Campaign Strategy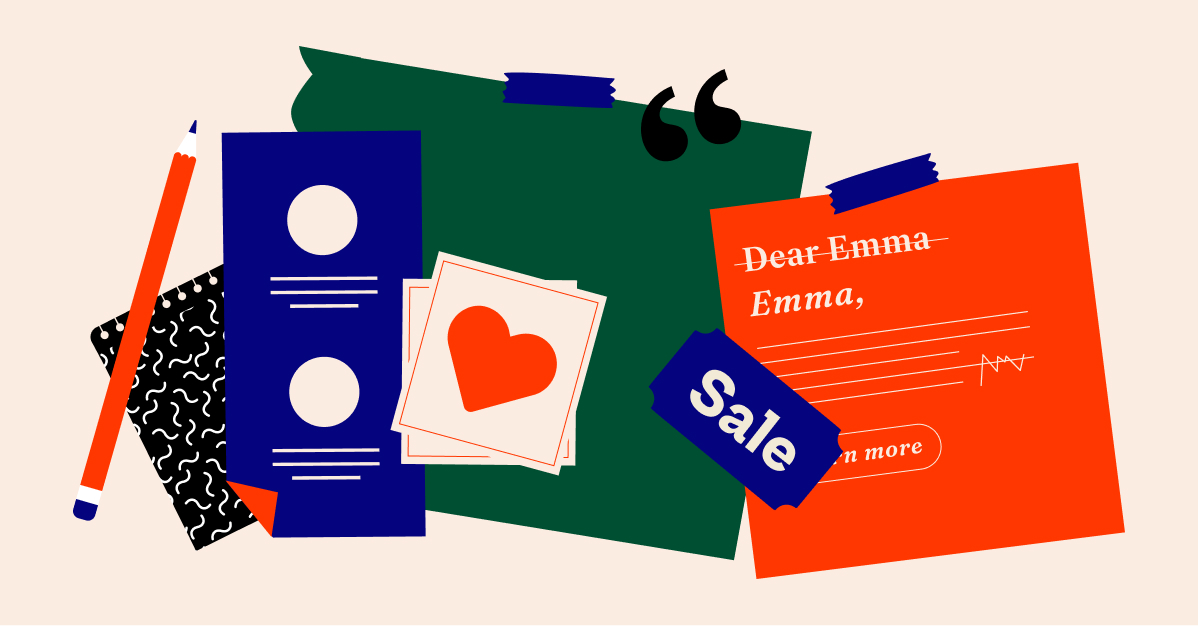 While sending out emails is simple, effectively running an email marketing campaign is far from that. You need to find ways to collect relevant emails, compose the right content, and deliver it to the right audiences at the right time. Here's how.
Step 1: Build an Email List
The first and arguably the most difficult step in building an effective email marketing campaign is to build an audience. If you don't have an existing email list, you'll need to start collecting a few emails in the following ways:
Create sign-up forms on your website or blog in exchange for newsletter updates, discounts, or a content upgrade
Enable an exit-intent popup that asks your website visitors to provide an email address in exchange for an offer
Offer gated content such as an ebook, long-form article, or exclusive webinar in exchange for contact information.
Execute a viral launch campaign that incentivizes visitors to enter their emails to enter a raffle or get early access to your new product. A visual leaderboard could help improve performance by gamifying the process.
Convert your social media audience by driving them to a squeeze page that both provides value and captures emails.
Step 2: Segment and Target Your Audiences
Now that you have an audience to reach out to, you need to ensure you're sending the right message to the right people, at the right time. A CRM software can be really helpful here, because your sales team may have some additional information about a lead or customer's demographics, behavior, and where they may be in your sales funnel. Ultimately, well-segmented audiences improve open rates and ROI, because you'll be able to address the specific challenges they may have. There are several ways to segment your audiences, but here are four of the easiest ways to do so:
Segment by industry. Where do they work? How much do they earn? What are their core business challenges?
Segment by company size. How is their organizational structure set up? Who are the key decision-makers?
Segment by location. Does the email have to be localized? What language should the email be? What is the best time to send this email?
Segment by funnel stage. How close is this segment to making a purchase? When is the last time we contacted them? What part of the sales funnel do they sit in?

Segment by user behavior. Did a user visit your pricing page? Did they sign up but not open the product within the last 24 hours? Is a user reducing their log in frequency?
Step 3: Craft the Perfect Email Subject Lines
Email is an art as much as it is a science. Sometimes your wittiest email subject lines won't be as successful as something more bland but straightforward. Luckily, email marketing is a highly iterative process that requires a ton of A/B testing.
Well crafted subject lines directly affect your open rates, which is one of the core KPIs of email performance. While there's no single best practice that'll work for everyone, here are a few things to keep in mind:
Keep it brief. We recommend 9 or fewer words and 60 fewer characters
Remove filler words and don't be afraid to bend grammatical rules
Avoid any spelling mistakes so you don't lose credibility (trust is everything)
Personalize the subject line by using their name or company
Avoid using all caps
Draw curiosity!
If you're stuck, consider using an email subject line tester or generator to help you with the process. I know — copywriting is hard!
Don't forget about the pre-header that appears in your inbox right after the subject line. In the same vein, it should be written as a continuation of your subject line to entice recipients to open your email.
Step 4: Include the Elements of a Good Email User Experience
How do you turn a good email into a great one? Follow these guiding principles.
Be scannable. Can someone rush through your email and digest the information within a few seconds?
Be mobile responsive. Are your emails easy to read on mobile? Does it have a subject length of 25-30 characters, use a pre-header text, concise copy, and images that are quick to load?
Have a clear CTA. Do you have a clear ask? Are you trying to promote a blog post? Get readers to download an app? Whatever your goal is, ensure your CTA is center stage.
Step 5: Test Emails, and Optimize Their CTR
Most email marketing platforms today come with A/B or multivariate testing tools that allow you to test out multiple variations of the same email. Here are the best ways to test them.
Test one significant variable at a time that will yield bigger results. If you test too many elements at once, you won't know what's driving performance.
Have a clear KPI to test. For example, do you want to test open rates, click rates, or bounce rates? Choose one at a time.
Ensure your emails are accessible on multiple devices by using an email QA platform like Litmus.
Run the test to a randomized test audience that is also large enough to reach statistical relevance. Here's a free tool by Survey Monkey to determine if your A/B test was a success.
Step 6: Email Marketing Automation
Email marketing automation is the process of sending emails in a sequence based on a specific set of rules to push them towards taking an action.
For example, if someone signed up for a newsletter and you would like to get more information about the reader, you may send a sequence of automated emails driving to a downloadable asset that requires them to fill out a form asking for more personal information. Sales teams can also automate follow-up emails based on if a reader opened the email, or if they haven't responded in a certain period of time.
The Benefits of Email Automation
Increased personalization: automation improves relationships with your audience because you can automatically tailor messaging based on their activity on their site or how they interact with your emails.
Scale output: it allows marketing teams to send more emails without having to repeat redundant tasks. Creating an email sequence built from a set of repeatable and testable rules scales well.
Improve retention: Time your messaging perfectly by automating follow-ups and sending offers to customers to come back and purchase from you again.
Types of Email Marketing Automation Software
The email software space is large, growing, and extremely complex. As you can see in this chart below, the email technology can range from software that ensures your emails are being delivered to your entire email list to complex email design tools.
We'll leave the full rundown of email software for another article, but let's talk strictly about email marketing automation software. This is software that allows marketers to send a series of triggered and timed emails to subscribers on their mailing lists. They oftentimes offer personalization, design tools, and tools to execute complicated workflows. The scale and availability of these features depend on the size of the business and are priced accordingly. Here are the most popular email automation software by business type and size:
Small to Medium Businesses (SMB): MailChimp, Moosend
Business to Business (B2B): AWeber, Sendinblue, Zoho Campaigns, Drip
Enterprise: ActiveCampaign, HubSpot, Constant Contact
4 Real Email Marketing Examples To Inspire You in 2022
Now that you've crafted your email marketing strategy, here are the four best examples to inspire your campaigns in 2022 and beyond.
A Touch of Humanity From Harry's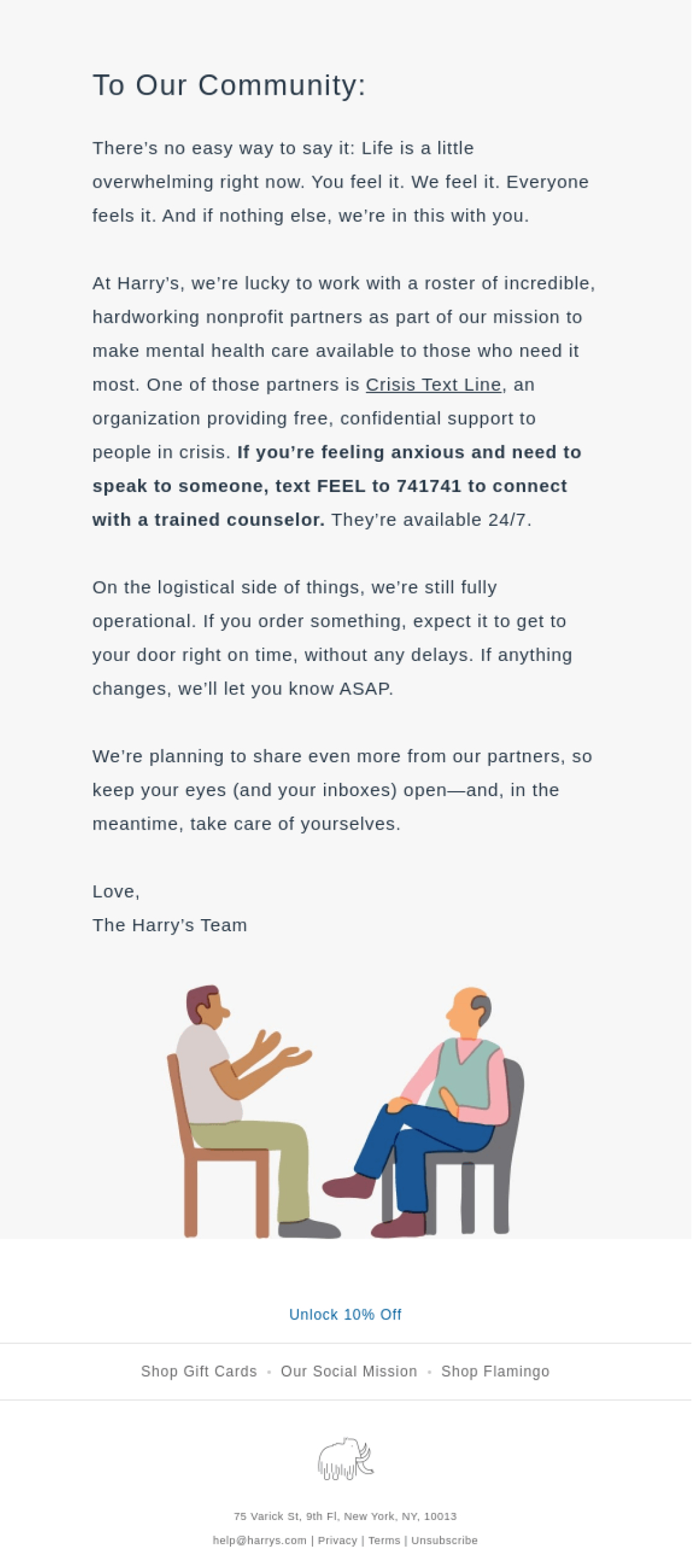 At the peak of COVID-19 lockdowns, Harry's perfectly navigated a very sensitive time to send out promotional emails. While many brands struggled to find the right messaging, their email was not only genuine but provided something actionable that helped their customers to show that they actually cared. They masterfully intertwined their message with a company update, informing customers that they are still fully operational and will provide reliable services throughout the pandemic.
Key takeaway: Actions speak louder than words. Provide actionable ways to help and avoid generic words of sympathy.
Casper: A Warm Welcome
Whenever a customer buys a Casper mattress, they send a personalized email welcoming a new, excited customer. They provided plenty of resources on how to get better sleep and how to better use the product to get the most of it. This not only enhances the purchasing experience but also lowers the customer's chances to have buyers remorse. After all, purchasing a mattress is one of the biggest investments you'll make in your home.

Key takeaway: Use email to enhance the onboarding experience. Make your customers excited to use your product to lower your chances for buyer's remorse.
Personalized Like Spotify
Spotify Wrapped is one of the most successful content marketing campaigns of all time. Not only is the actual experience on the Spotify platform great, but their promotional emails are also equally impressive. They provide a stunning design with personalized statistics that draws curiosity from the listener. There's a clear CTA that entices the reader to check out their Spotify-wrapped statistics. The copy is clear, concise, and straightforward.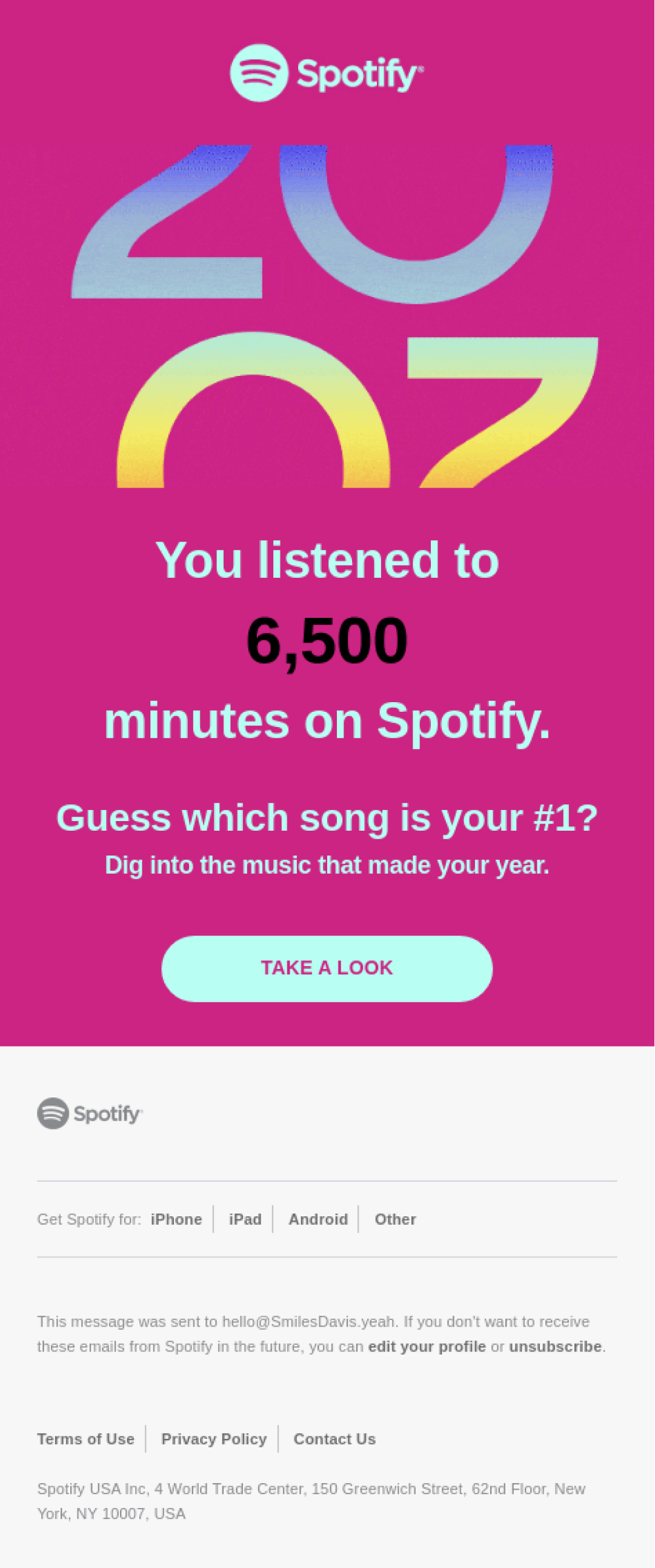 Key takeaway: Less is more. Personalize your content, catch your reader's eye with stunning visuals, and generate curiosity to click through to your CTA.
Gamify Your Emails Like Chick-fil-A
Chick-fil-A teased a new menu item with a word search email. In contrast to Spotify's bold and brightly-colored email, they followed their own brand voice to craft a fun, lighthearted, and engaging email to announce their new peachy summer drink.

Key takeaway: you don't always need something unique to say! Have fun and make it interactive.
Honorable Mention: HBO Max's Unexpected Mistake
The fat-fingered mistake that broke the internet is deserving an honorable mention because sometimes you have to leave opportunities for serendipity. HBO Max's intern accidentally sent out a test email to all HBO Max subscribers and the internet responded with overwhelming support. Sometimes the most unexpected happens, and it's your opportunity to capitalize on it. HBO Max's wholesome tweet was met with overwhelming support for the intern, who many sympathized with their own intern horror stories.
Wrapping It All Up
With over 144 billion emails sent out each day, marketers are taking advantage of one of the most profitable channels today. As you've read, email marketing is a lot more complex than some fancy graphics and copywriting, but involves a strategic mix of measurement, testing, and automation to be successful.
There are a lot of technical aspects if you look under the hood of email marketing like deliverability, inbox placements, and sender IP management. There are also strategies to avoid being marked as spam by sending highly relevant emails to the right recipients (which we'll cover in our next article). Consider consulting an agency, consultant, or freelancer specializing in email to help cover all your bases when getting started!
So that you're now familiar with how to build a successful email strategy, it's time for you to go out and build one for yourself. Whether you're producing newsletters, acquisition emails, retention emails, or promotional emails (or all the above), keep in mind to always be testing!
Looking for fresh content?
Get articles and insights from our weekly newsletter.