Get ready for the Ultimate Black Friday Web Design Pack that will skyrocket your sales on Black Friday. Our team of professional designers have created a huge set of banners and templates that present the perfect fit for ANY industry. All the sections you are about to see are available as flexible Elementor Pro templates, which you can use on your sites to get better results for your business and for your clients.
We've taken the best practices learned during our own special sales and created this Black Friday pack. This pack includes 4 sets, each one with 6 different layouts. Every set fits a different vertical, so you can browse through them and pick the one that best fits your website. We are simultaneously releasing an in-depth tutorial which shows you how you can use 7 of these sections to boost sales and get your site ready for Black Friday.
Fashion Online Store & Retail Set Black Friday Templates
Here is a fresh looking set inspired by the hottest fashion & beauty online stores and retail. The set features bright colored gradient backgrounds, bold headlines, an original coupon cutout and more surprises.
Want to promote a specific product? This set has been designed to showcase a single product along with its Black Friday sale. Pick any product you want to bring focus to and customize the sections so they present it beautifully.
Tech Style Black Friday Templates Set

Nano is a tech-oriented set inspired by top notch software product companies. This set is a great fit for SaaS products, online tools or other tech industries. The layout is simple yet delivers a strong marketing message to the customer.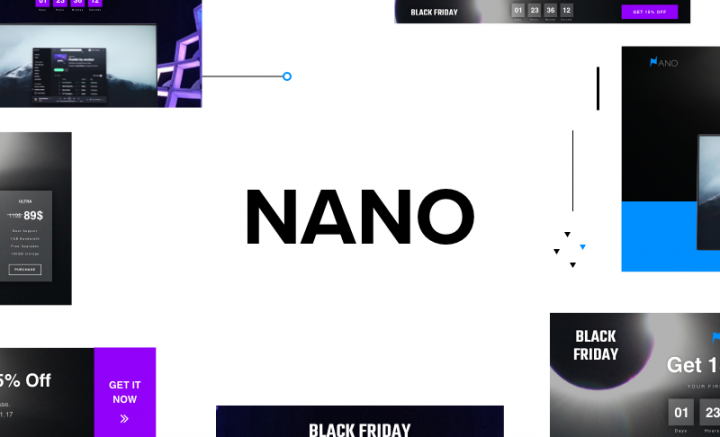 The dark color palette of this set makes it a great choice for promoting your Black Friday sales. The abstract design is great if your business doesn't offer a tangible product.
Nature Elements & Hi-Tech Black Friday Templates
Here is another tech Black Friday set, which offers a completely different design. The combination of nature and high-tech elements helps create a much more unique offer that showcases your sale in a creative way.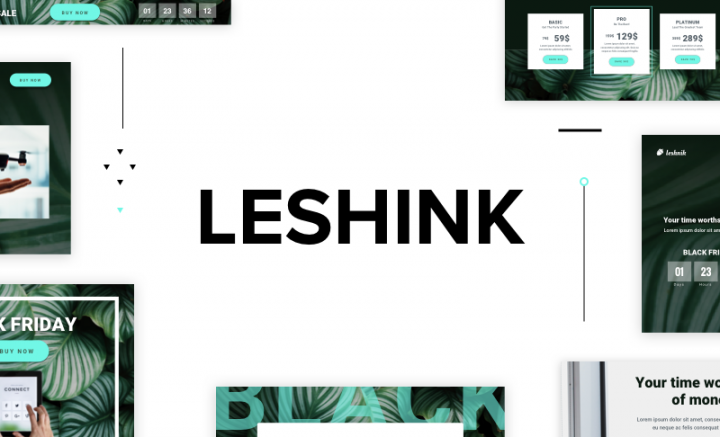 The coupon section of this set is especially remarkable. It showcases a sale text as a transparent title, a coupon cutout and a large textual background overlay of 'Black Friday'.
Pop-Styled Black Friday Templates
If you are looking for a set that's hip and trendy, look no further than our Lobster set. It has all the elements you need: a gorgeous model, stylish fashion items and the right colors and typography of course.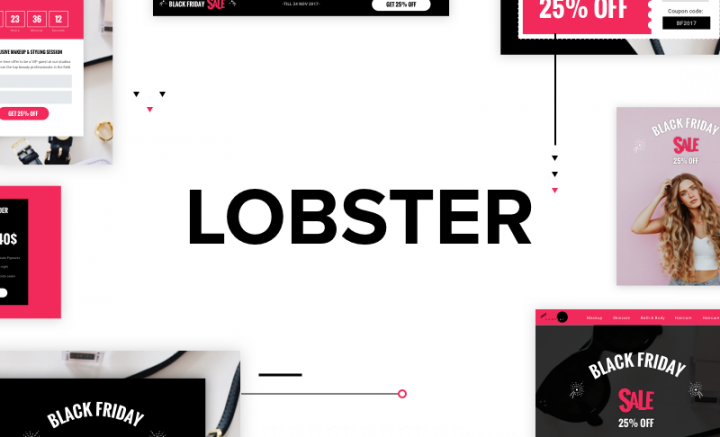 It's been proven again and again that nothing sells more that a pretty face. That's how we are programmed I guess. If you love pink as much as we do, be sure to use this set on your own website.
All Pro users can enjoy this special Black Friday Web Design Kit by inserting it from their Template Library. If you still haven't upgraded to Pro now would be a good time to do it. To make sure you get the templates, go to Dashboard > Elementor > Tools and click on 'Sync Library'.
Don't miss our in-depth tutorial that shows how to take these Black Friday templates and use them to generate more sales on Black Friday.
If you have a certain topic or widget you'd like to see in future Pro and Free templates, drop us a line and let us know.
Go ahead and insert this WordPress Black Friday template kit, and start working on getting your website ready for Black Friday!
Looking for fresh content?
Get articles and insights from our weekly newsletter.