Searching for the best WooCommerce theme to power your next e-commerce project?
In this post, we've collected 10 great themes to help you create a quick-loading, beautiful, conversion-optimized WooCommerce store.
Better yet, all of these themes work perfectly with Elementor, and most of them offer a free version on WordPress.org.
Let's dig in so that you can start selling!
What Makes the "Best" WooCommerce Theme?
"Best" is inherently a subjective thing, so before digging into the WooCommerce themes, let's talk about what a good WooCommerce theme should have and why we selected the themes on this list.
First and foremost, a good WooCommerce theme needs to load fast. Page load times are important for all WordPress sites, but especially for WooCommerce stores.
Not only do page load times affect your user experience and SEO rankings, but they can also have a direct effect on your store's conversion rate (and don't miss our guide on WooCommerce SEO).
So no matter how great a theme looks, it's not making this list if it isn't at least decently optimized for performance.
Second, there's flexibility. You want to be able to customize your theme's demo content to match your store. Most of these themes include detailed Customizer settings and/or Elementor integrations so that you can easily customize every little aspect of your store.
Finally, there's the WooCommerce integration itself. Almost every theme these days touts "WooCommerce compatible" on its feature list. But there's a big difference between "has basic CSS for WooCommerce products" and "creates a great shopping experience".
WooCommerce themes in the latter category go above and beyond with features like:
Optimized checkouts
Trust badges
Optimized carts (like a drop-down cart)
Off-canvas filters
Product quick view
Flexible sales badges
10 Best WooCommerce Themes in 2021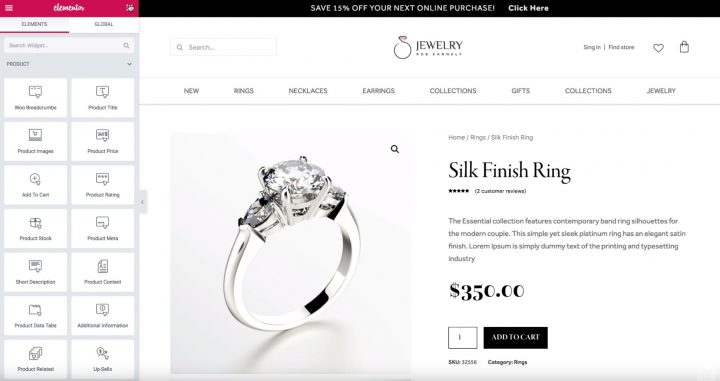 If you want the most flexible, lightweight way to design your WooCommerce store, you can use the Elementor Hello theme plus Elementor WooCommerce Builder.
Elementor Hello provides a super lightweight foundation. Then, you can use the dedicated WooCommerce widgets and templating features in Elementor Theme Builder to design your shop and product pages.
With dedicated widgets for individual product details, like prices and add to cart buttons, you have full control over exactly how your store's shop and product pages look.
One thing to consider with this approach, though, is that you'll need to use CSS to style your cart and checkout pages. If that's a dealbreaker for you, you can still pair Elementor WooCommerce Builder with one of the other lightweight themes on this list.
That way, you can use a dedicated WooCommerce theme to control your cart and checkout pages, while retaining the flexibility of Elementor's WooCommerce Builder to design your product and shop pages.
For example, Elementor WooCommerce Builder pairs perfectly with the next three themes on this list (and you can still use it with all the other themes, too).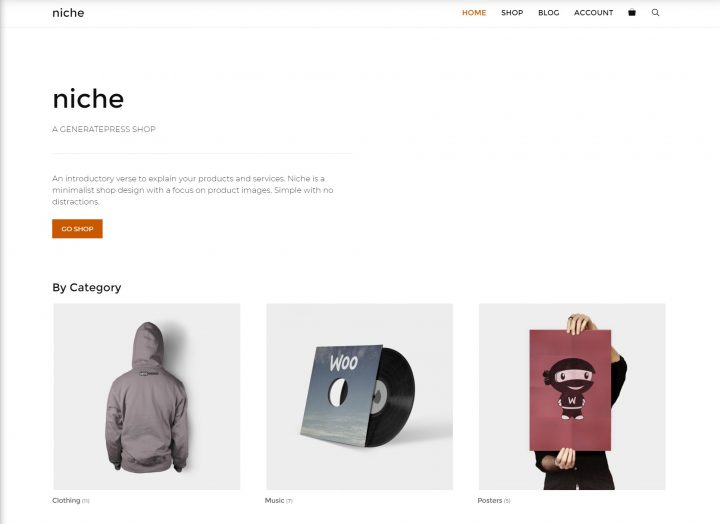 GeneratePress is a popular lightweight multipurpose theme with WooCommerce compatibility.
In addition to tons of general options, GeneratePress also gives you detailed WooCommerce settings in the WordPress Customizer where you can configure everything from the drop-down shopping cart to a distraction-free checkout mode.
GeneratePress also has some other nice WooCommerce features like:
Display add to cart panel on scroll.
Customizable upsell/related products columns.
WooCommerce breadcrumbs.
GeneratePress includes pre-built demo sites based on Elementor, but the only e-commerce demo site relies on the block editor (though you can still pair it with Elementor).
The core GeneratePress theme is available on WordPress.org, but you'll need GP Premium for access to the WooCommerce settings. GP Premium costs $49.95.
Neve is a quick-loading multipurpose theme with full WooCommerce compatibility and importable demo sites powered by Elementor. 
If you want to see Neve in action on a pretty big WooCommerce store, you can check out the GhostBed website.
Neve offers full WooCommerce compatibility in its free version on WordPress.org, but for the deepest WooCommerce integration, you'll want to spring for Neve Pro.
Starting at $39, Neve Pro adds on a WooCommerce Booster module that gives you tons of new options in the Customizer to control your shop, product, and cart/checkout pages.
Neve also includes a number of WooCommerce-friendly importable demo sites, including many that are powered by Elementor.
Jupiter X is a gorgeous multipurpose WordPress theme with over 270 pre-built templates all powered by Elementor and Jupiter X's detailed customization settings.
It's not quite as lightweight as something like Astra or OceanWP, but it should still be fast enough for an e-commerce store and it makes up for that with some truly gorgeous demo sites.
In fact, you get 40+ e-commerce demo sites, the highest number of options of any theme on this list.
To further control your store, you get tons of e-commerce-specific features in the WordPress Customizer.
Jupiter X only comes in a premium version – it will cost you $59 for the theme and all the demo sites.
Woostify is a lightweight WooCommerce theme that's 100% focused on e-commerce. In its approach, it's kind of like Astra and OceanWP…but it only does e-commerce, while those themes handle non-ecommerce sites, too.
As such, Woostify comes with a number of ecommerce-specific features like:
Ajax add-to-cart (with slide-out panel).
Built-in product variation swatches.
Autocomplete product search.
Product quick view.
Buy now button (takes users straight to the checkout page).
Urgency countdown timers.
Built-in size charts.
Beyond all those features, Woostify also includes a number of pre-built demo sites for different niches. The great thing is that many of these demo sites are built with Elementor, which makes them easy for you to customize. 
The core version of Woostify is available for free on WordPress.org. Then, Woostify Pro starts at $39.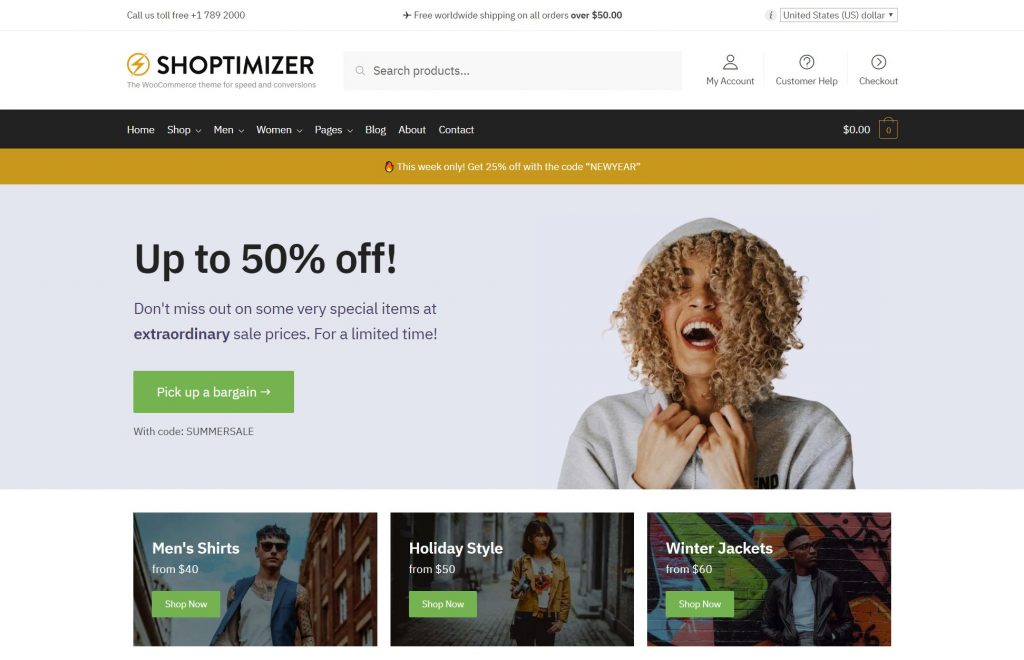 Shoptimizer is not a multipurpose theme. Instead, it's 100% focused on WooCommerce.
Beyond having a lightweight footprint, one of the most notable things is its focus on conversion rate optimization. It implements a number of data-backed techniques designed to boost sales. For example:
An optimized distraction-free checkout.
Nice microcopy under the add to cart button where you can add details on shipping and return policies (common causes of shopping cart abandonment).
A sticky bar with product details and an add to cart button that displays as users scroll.
Trust badges on the shopping cart and checkout page.
Sales countdown timers.
Animated stock counters (e.g. "only 12 items left").
Autosuggest product search.
All the demo content is also built using Elementor, which means that it's super easy for you to customize everything using drag-and-drop.
Shoptimizer only comes in a premium version. Its list price is $99, but you can typically find it on sale for ~$59.
Astra is another lightweight WordPress theme that offers tight integrations with both WooCommerce and Elementor.
In addition to plenty of WooCommerce-specific features, Astra also comes with pre-built WooCommerce demo sites, many of which are powered by Elementor for easy customization.
Astra offers WooCommerce-compatibility in the free version on WordPress.org. With that version, you'll get:
A user-friendly drop-down cart.
Dedicated controls for your shop page in the Customizer.
Custom sales bubbles.
Mobile-friendly e-commerce design.
If you upgrade to Astra Pro, you'll also get extra WooCommerce features like:
More checkout options – distraction-free and two-step checkouts.
More gallery options on the single product page.
Infinite scroll for products.
Product quick view.
Off-canvas sidebar for product filters.
View all the Astra e-commerce demo sites powered by Elementor.
The core Astra theme is available for free on WordPress.org. Astra Pro starts at $59.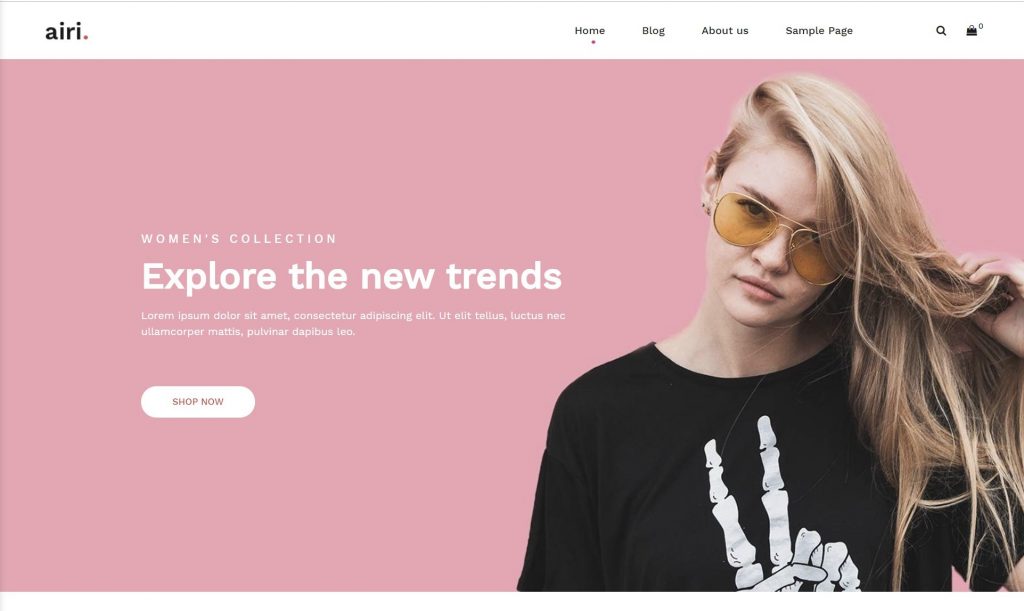 Airi is a lightweight multipurpose WordPress theme with built-in support for Elementor and WooCommerce.
It doesn't offer quite as many WooCommerce-specific features as the other themes, but it does come with a really well put together importable WooCommerce demo site, powered by Elementor.
If you want something lightweight and minimal that you can build on with Elementor, Airi is a great option.
Phlox is a flexible theme specifically designed to pair with Elementor.
First off, Phlox comes with several different importable e-commerce demo sites, all of which have great modern looks. They're also all built with Elementor, which offers easy customization as needed.
Beyond its good-looking e-commerce demo sites, Phlox also comes with:
Multiple product page layouts.
Product quick view.
Drop-down shopping cart.
Add to cart notification.
The core Phlox theme is available for free on WordPress.org.
You also get access to a few different important demo sites for free (though some are paid, as well). Beyond that, Phlox Pro costs $39.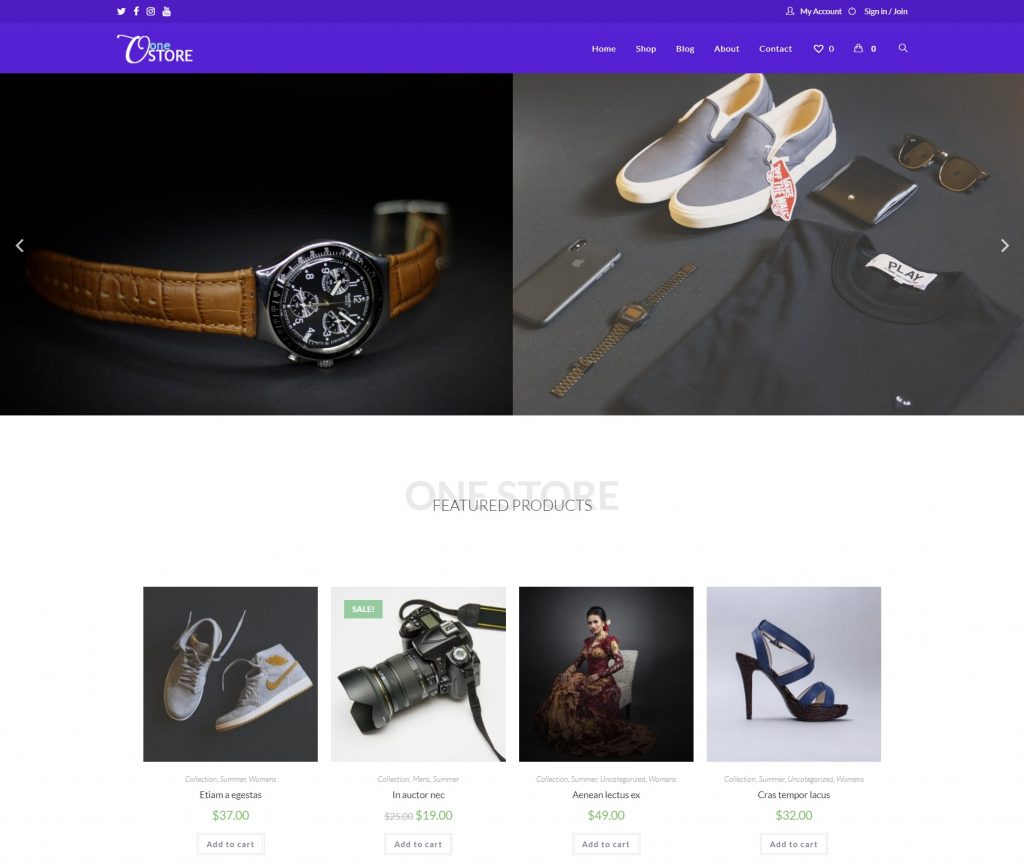 OceanWP is a lightweight, flexible WooCommerce theme that comes with plenty of ecommerce-specific features and demos.
First, you can choose from four different WooCommerce demo sites, all powered by Elementor. Then, OceanWP also comes packed with tons of dedicated features for WooCommerce including:
Drop-down cart.
Off-canvas sidebar for product search and filter.
Floating add to cart button/bar (appears as users scroll down the page).
Distraction-free checkout and multi-step checkout variants.
Product quick view.
A popup that opens after a user adds an item to their cart.
OceanWP generally comes with heaps of customization options in the WordPress sidebar, plus full compatibility for Elementor.
The basic OceanWP theme is available for free on WordPress.org. Then, the OceanWP Core Extension Bundle starts at just $39.
All of these themes provide a great foundation for your WooCommerce store – the only question is choosing the one that's right for you.
If you want to build your own design from scratch, you can use Elementor Hello theme and Elementor WooCommerce Builder to design your store using Elementor's dedicated WooCommerce widgets.
Or, if you prefer a solution that's ready right out of the box, all of the other themes can set you up with importable demo sites and tons of helpful WooCommerce features. All of them also work great with Elementor, and many of them even use Elementor for demo content.
Now, over to you – have you used any of these WooCommerce themes? If so, which one is your favorite?