Yesterday we started our birthday sale, offering 25% off all Elementor Pro plans, including upgrades. Before we start our year in review, I invite you to visit our Pro page and grab your copy before the sale ends.
I can still remember the buzz we felt back when we launched. This first year has been ever so amazing. We have released so many new features, overcame so many obstacles, made so many friendships… It's been quite an experience.
It's easy to take everything for granted, but the fact is that the course Elementor took has been a very fortunate one. We are very grateful for how things turned out. This is why I wanted to take the opportunity to look back and recall the major milestones that were significant to Elementor's success.

Elementor's launch seems like a distant memory now. The unintentional Product Hunt launch, the mentions in WebDesingerDepot and Codrops…
I think initially the WordPress community didn't know what to think of our unknown crazy company.
"Who do you think you are, wanting me to entrust my entire site design in your hands?" I'm sure that was a thought that passed through a lot of people. Luckily, we managed to sweep enough trusting early adopters that would later assist in our exponential growth.
Back in August, we revealed our unique template library. We tried to differentiate the library both with the high-level of the predesigned templates, as well as the reusable personal templates which offered import and export possibilities.
Recently, the template library reached almost 100 templates, offering a wide variety of page types and subjects. I also have to mention the 25 landing page templates, which were the first time we used premium stock images and were very much liked by our users.
Top 5 pre-designed templates:
Total number of pre-designed template downloads: 264,551
Launched in September, Elementor's Mobile Editing feature was one of the first visual editing tools for making websites mobile responsive without coding.
It was challenging to launch this feature because there is a lot of confusion around responsive web design. Almost every WordPress theme claimed to be fully responsive, but the truth of the matter was that when the user created a new piece of content it looked horrible on mobile devices.
Users didn't initially understand the importance of visually editing for mobile compatibility. As the months went by this feature became more appreciated, and today many users incorporate it as a vital process when adding new content to their website.
Publishing a new page? Make sure you run in through the tablet and mobile views to make sure nothing looks weird (something always does).
With Elementor, we did something rather unconventional and released the pro version in December 2016, six full months after launch. This is by no means a best practice, and I strongly recommend launching your free and premium products simultaneously. For us, though, it was crucial to wait, since we wanted to release a fully baked product that would make enough of an impact.
We started with just a bunch of pro features, and have since added Price Table, Flip Box, Share Buttons, Cards and a list of other features that have expanded the pro capabilities.
Which Pro feature do I like the best, you ask? That's like asking me to choose a favorite child! If you twist my arm I'll have to admit it's a tie between the form widget and the posts widget. The form because it is still the only truly visual way to design forms in WordPress without coding. Posts because you can design an entire blog on the frontend, including pagination.
I also have to mention here the Embed Anywhere and Global Widget features, which enable you to embed Elementor in different areas of your site. This feature will soon be improved and extended.

There is no doubt that what helps make every page builder useful is its list of widgets. In Elementor, we decided to launch the free Elementor with no less than 24 widgets.
This list of free widgets has since grown to no less than 28(!) free widgets. These are widgets that you get right off the bat when you install Elementor. Let us not forget the Pro widgets, 15 in number and still counting. This makes a total number of 43 widgets, each one produced with great effort and care.
The Elementor interface incorporated all our product values: speed, live editing, ease of use & high-end design. This has been the single product element we spent the most time and resources on. There have been a lot of deliberations regarding each and every setting and element that constitute the interface.
Throughout the year the interface has remained fairly consistent. I am happy to show you a sneak peek of the new Elementor interface that is set to launch in the next couple of weeks.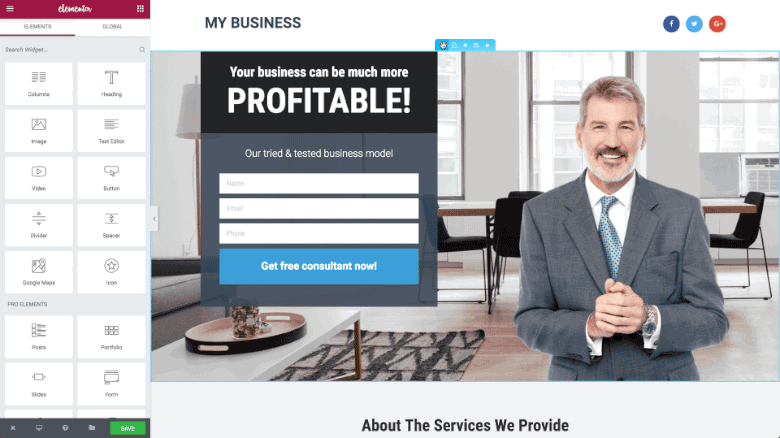 High-end Design has been one of the core values we focused on for our brand. Since the launch, we have added several unique features that were specifically formed around improving the design of WordPress websites. These features included:
We have many plans regarding adding other new and innovative design-oriented features in the near future.
WordPress Toolset & Workflow
As Elementor grew as an integral part of the WordPress website workflow, our users wanted more and more functions built into the plugin.
Today, Elementor manages to reduce a long list of plugins from the WordPress installation. It has become more than a page builder and helps manages many WordPress functions.
Here are the most popular functions, outside the realm of page building, that Elementor helps handle:
This is also a field we plan to extend and expand in the near future.
As mentioned, we have great plans to develop every aspect of Elementor. Here are just some of the things planned:
More templates, a filtering system, and a few more surprises
Providing mobile editing for every newly added feature
Extending the Global feature to control more areas in your website
A menu widget and galleries carousel
The new interface improvements
Element Hover feature (just around the corner)
Control over 404 pages
You can expect to see the same level of dedication that helped us reach our goals in the first year. We plan to continue to develop Elementor, full speed ahead, and make WordPress design better for everyone!
We'd love to get your feedback regarding this past year. How has Elementor affected your website creation process? What would you like to see added or changed in the plugin in the future? Please write to us in the comments below.
Looking for fresh content?
Get articles and insights from our weekly newsletter.