Get FREE WordPress templates, with Elementor's built-in template Library. Over 100+ stunning free & Pro templates are already available in the Elementor Library.
When we first released Elementor, people wrote us saying they couldn't believe such a powerful page builder could be offered for free. But now, we are making Elementor considerably more powerful. This includes a new feature that helps speed up not only the single page design but your entire website workflow. We call it Template Library.
With Library, you can implement beautifully designed page templates with a single click. You can also save and reuse your own page designs, and combine different sections to create entirely new page designs. In this post, I would like to give an overview of the different possibilities that Library offers.
What is Template Library?
Template Library is the place where you can save the design you've created with Elementor as a template, and reuse it on a different page in the site or in a whole different website.
You can save the entire page design, as well as save a single page section. When you save the page or section as a template, an exact copy is made, including every element: images, layouts, texts, styles, and widgets. You can then insert your templates into every page and website with one click.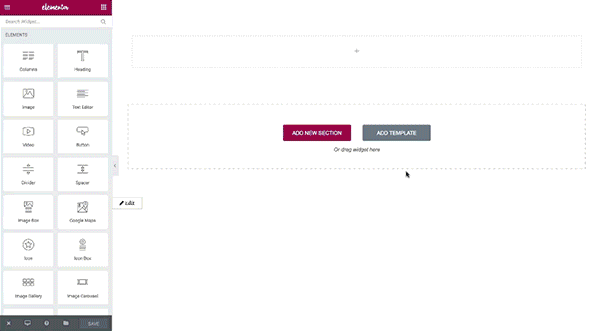 Pre-made WordPress Template Beauties
The Library also comes with 20+ predesigned WordPress templates (and more templates yet to come). These are beautifully designed pages which our team of professional web designers has worked hard to design. Using the pre-designed templates is extremely helpful. It allows you to skip the step where you stare at a blank page and think of how to get started. It gives you the head start you need to skyrocket a new design.
This is also a great way to learn how to design with Elementor. You can trace any element made in the pre-designed page, and get familiar with the various settings required to create it. Choose a template, change the content and styling to fit your site, and customize every element on it, to add your own touch.
It doesn't matter if you are a beginner, or a master web design expert,  Library has a template that will fit your need.
Save and reuse a complete page, or a single section
Saving a complete page is great, but more often than not you won't need to recreate an entire page design. Instead, You only need to reuse a specific section that you have already created. This is why we have made it possible to save single sections and reuse them on new pages.
Use this feature to combine different sections you've already made to create an entirely original page design. Most websites have repeating sections on different pages. Being able to save sections as templates lets you utilize every section you make for different pages and websites.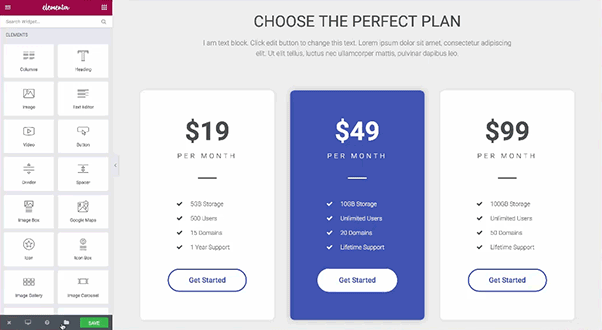 6 scenarios where Library comes in handy
Here are 6 examples where Library comes in handy and helps you optimize your workflow.
Create your own library of winning templates. Instead of starting from scratch every new project you start, you can create your library of templates, and reuse them for every new website you create.
Start off with a pre-designed template. Browse the various templates our professional designers have prepared for you, choose one of them and insert it with one click.
Duplicate your templates. Let's say your website offers various services, and you want to add another service page. Simply use the service page template you saved earlier to add the new service you wish to add.
Build a complete website faster. After you finish designing a homepage, save the page as a template and use it as the foundation for your other pages: contact, about, services etc.
Export / Import. With Library, You are not confined to use templates just on a single site. Export the templates on one website to create new pages for an entirely different project.
Mix and match different sections. Combine sections from different pages to create entirely new page designs. The ability to save sections is really powerful and allows for endless page design possibilities.
The best page builder just became better
Are you ready to supercharge the way you design your WordPress?
Elementor Library is already available on the Elementor plugin, so feel free to download the latest version and enjoy a long list of professional WordPress templates. Choose from one of our pre-designed templates, or save your own designs. This is just the beginning, and we plan to expand Library with more templates and features in the near future.
… It's absolutely FREE!
I look forward to hearing how Library improves your workflow and design process. Feel free to send over any feedback you have in the comments.
Looking for fresh content?
Get articles and insights from our weekly newsletter.