WooCommerce conversion rate optimization (CRO) is a vital part of increasing your ecommerce success. Your conversion rate is the number of sales you make compared to the number of sessions on your WooCommerce website.
Tracking your conversion rate optimization enables you to test how your website does at encouraging sales. You can focus on ways to increase it, thus increasing sales and repeat customers.
While SEO optimization will help, optimizing for WooCommerce requires a mixture of marketing and internet expertise to create the ideal storefront for your customers. You'll want to work on both UX and UI as we'll explore further.
Keep reading to learn more about conversion rates and how they relate to your industry, how you can use Google Analytics to analyze customer behavior, why you should do A/B testing to experiment with your store, and what elements to include in your shop to encourage sales. 
How To Measure Your Conversion Rate
Knowing your conversion rate is the first step in being able to boost it. Google Analytics states a "goal conversion rate" is the number of conversions divided by the number of sessions, times 100.
To give an example, if you have 500 website visitors, and 30 of them make a purchase, you have a very healthy conversion rate of 6%, where 30/500 x 100 = 6%.
You can set different conversion rates for different goals. After all, it's not only about your sales conversion rate. You can also track those who visit your store compared to the overall website visitors, users who add a product to their cart but don't check out, or sign up for your email list.
You can easily set up a goal to track in Google Analytics. Find the URL of the page you want to follow and pick goals to match. A good example would be monitoring how many users reach your website's "thank you for your order" page.
All you have to do is go to your Admin board > View column > Goals and add a new goal to track (provided you have the Editor role).
What Is a Good Conversion Rate for Ecommerce Sites?
Your conversion rate will vary based on many factors, including industry, price, brand, and traffic source. A study by Growcode showed that the average ecommerce conversion rate in 2021 is 2.27%, where some industries were more likely to convert than others. 
However, your personal conversion optimization goals may also influence that conversion percentage. 
For instance, you could deem product views or sessions where users add products to shopping carts part of your conversion goals, which would boost your overall conversion rate. 
Just ensure your goals are realistic and that you account for factors that may inadvertently influence your overall success. 
For example, mobile visits have a lower conversion rate than desktop. Before dismissing mobile, though, you should determine where your traffic comes from. If most visitors find you via mobile, making your website responsive should be one of your top priorities.
10 Ways To Boost Your WooCommerce Conversions
WooCommerce conversion optimization means focusing on increasing sales in your online store in proportion to the number of visitors you receive. You don't necessarily need more traffic, but you want more of your browsers to buy a product from you.
With that in mind, let's go over 10 practical ways to boost your WooCommerce conversions.
1. Personalize Your Pages
Shoppers expect a degree of personalization. Segment your audience based on location and use a translation plugin to display content in their language.
You can also use Elementor's dynamic tags to personalize even more. Easily link to add-on products to upsell or use tags that catch a user's attention. A dynamic tag that addresses a returning customer by their name is more compelling than a generic welcome message.
Moreover, consider adding automated email marketing to target cart abandonment. Getting an email a day or two later reminding them of this action (especially if it includes a coupon) might push them to complete the checkout process.
2. Make Your Ecommerce Site Mobile-Friendly
Remember how we mentioned that the mobile conversion rate was lower than desktop? It's also important to note that 56% of sales are from mobile devices. 
You need your online store to be as responsive as possible. Always test the UI on mobile, and make sure the speed is up to standard.
Ensure your store is as easy to navigate on the phone as a desktop to improve your WooCommerce conversion optimization. Elementor's responsive editor lets you create custom breakpoints for multiple devices, giving you complete control over how your website appears on any screen.
While editing, you can see your website as your viewers would, no matter which device you want to simulate. Drag and drop elements around to create the design you want with dozens of compatible themes that are mobile responsive by default. 
A clear user interface (UI) impacts your conversion rate. Consider the following:


Is your call to action (CTA) clear? 
Is your "add to cart" button in a hot spot? 
If necessary, make visual changes to your product pages. Clear, fast-loading product images, seamless navigation, and contrasting colors help sell your pieces. 
Consider testing a tool like Hotjar to see which areas of your appeal most to users. A heat map can help you make design decisions based on user experience.
With Elementor, you can visually build and edit the same store your customers see. UI focused on functionality and clean design can help an ecommerce store immeasurably.
Reviews have a HUGE impact on your conversion rate. A study from North Western's Medill Spiegel Research Center found a 270% increase in conversion rate for a product with five reviews vs. a product with zero reviews. 
Add a plugin like Customer Reviews for WooCommerceto let customers review their purchases. Verified buyer reviews help ensure you don't have bad reviews from non-buyers. After all, these reviews can play a significant role in your WooCommerce conversion optimization.
The process of getting these customer reviews can be a bit intimidating, but sending customers a follow-up email a week or two after their purchase is a great start. 
You can incentivize satisfied customers with coupons if you need to get reviews fast, but try to keep things honest. 
Social proof can convince customers to complete their transactions, but fake reviews can turn people away.
Every extra step at check out is another place for potential customers to leave. WooCommerce has one-page checkouts and guest checkouts, so customers don't have to fill out tons of pages of information every time they purchase products. 
Let customers use guest checkout or check-in with an established social media account like Google or Facebook. Aim for no more than three to five pages to complete the checkout process, although that will vary depending on the product.
6. Optimize for SEO and WooCommerce
WooCommerce SEO is a bit different from the rest of your website. You have a few key areas to edit, including two product description areas, slugs, and metadata. 
You can always include metadata for your images and keep them fast-loading, but make sure you don't neglect the descriptions for your products. Include all relevant data not only for customers but also for search engines.
Do you know those little links or lines of text at the top of many websites? Those are called breadcrumbs, and they help you find your way around unfamiliar landing pages. 
Similar to SEO, breadcrumbs make it easier for users to navigate your website, discover new categories of products, and look for additional items to buy. With WordPress, turning these on is as easy as flipping a switch.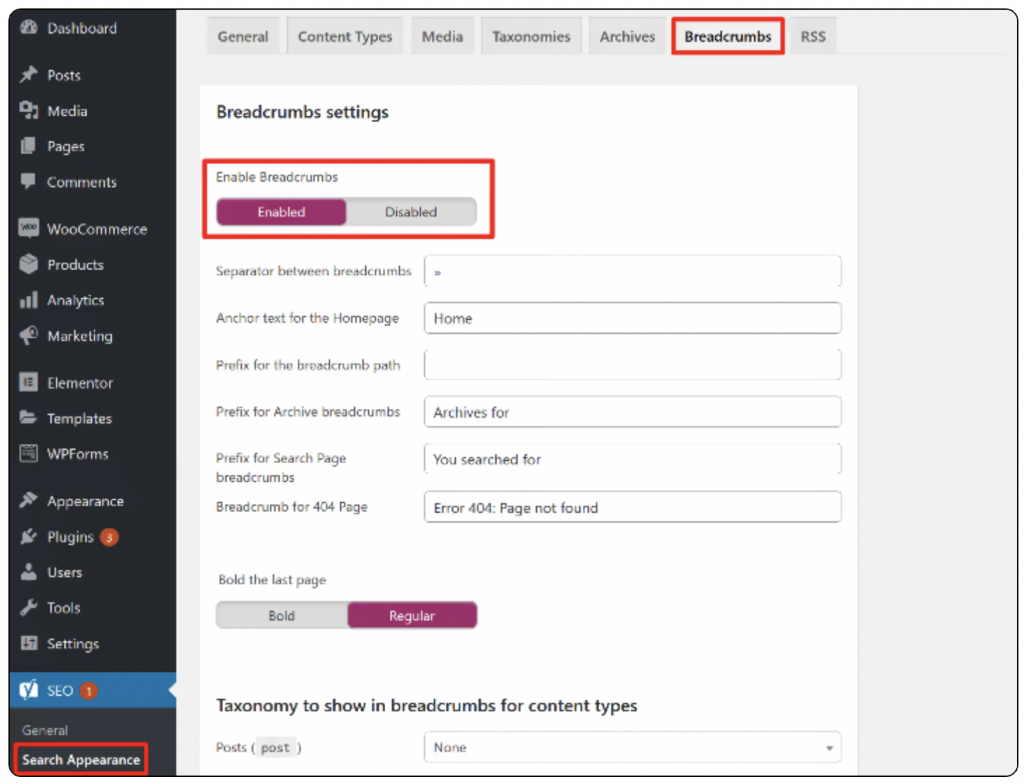 7. Add a Search Function to Your WooCommerce Store
You can boost conversions with a search bar. On average, only 15% of users will use the search bar, but they account for 45% of revenue. That also addresses the problem of users finding it difficult to navigate your website.
With a search bar in place, customers can type exactly what they want and complete their purchase faster.
9. Add Promotions and Evoke Urgency
Promotional coupons and sales have been around long before the internet. As consumers, we love to think we've gotten a great deal. Try out different prices with testing, send email coupons to repeat customers, and add discounts for buying multiple products. 
You can combine these discounts with a sense of urgency by including countdown timers and limited-time specials. 
Another popular trick is the classic popup ad. It's not good in every situation, but if you show popups to users exiting your website, they can increase conversions by 35%. 
10. Track Your Customers AND Store in Google Analytics
You can track many of the tips listed above with Google Analytics. Track which channels bring in customers, which devices they use to browse your WooCommerce website, what search terms they use, and even the pages with high bounce rates. 
The effectiveness of your WooCommerce conversion optimization will likely depend on the insights you derive from your tracking as well as the testing you do on your WordPress website. 
For the latter, set up an A/B test to see how different versions of your website fare against each other.
Final Thoughts: 10 Ways To Optimize Your WooCommerce Conversion Rates
By tracking your conversion rate, making a mixture of UI and UX changes, testing these tweaks, and following up on your customer experience, you can optimize your Store's conversions. 
While some of the tips above might sound complicated, some widgets can help your WooCommerce store efforts.
Without a doubt, WooCommerce conversion optimization takes time. Add a few pages to your Google Analytics to track and make a few changes to your store. Track how your conversions perform after you add things like countdown timers or testimonials.
Even when your sales are strong, it's never a bad idea to see how to improve. Use the tips above to take your WooCommerce store's conversion rates to the next level.
Good luck!