We've all seen the growing trend of ecommerce in the past few years, and even more so since the outbreak of COVID-19.
In fact, ecommerce has grown a whopping 25.7% in 2020 alone and is showing no sign of slowing down. As the demand for online shopping increases, so does the competition and customer scrutiny. The more online purchasing options, the more your website needs to be visually appealing, and functionally optimized for sales.
That's why we've been working on a multitude of improvements for you to use as you build your ecommerce websites. As part of this release, we've created dedicated Cart, Checkout, and My Account widgets, that can be dragged to any page and customized, as well as the new WooCommerce section under Site Settings.
These updates extend the previous enhancements to WooCommerce including the Menu-Cart widget and the Dynamic WooCommerceTags, and empower you to create professional online stores that convert.
Let's jump right in.
Major Update Alert!
We recommend using new features on staging environments before applying them to live production websites, and backing up your website before updating.
Cart Widget
Optimized Cart for Higher Conversion Rates
Abandoned Carts hit hard on all store owners in the ecommerce world, with approximately 7 out of 10 customers neglecting their cart. Customizing the Cart page can improve the customer experience and increase conversion.
Choose a Layout and Customize Your Cart
The new Cart Widget allows you to choose one of two new, modern layouts – single-column or two-column. You can then customize the Cart to match the design language of the rest of your online store by adjusting its content, style, and typography, creating a more cohesive shopping experience.
Streamline the Customer's Experience of Your Cart
To streamline the customer experience, and shorten their journey to the Checkout page, you can choose to automatically update the cart's total when customers update their cart. This allows you to remove the 'Update Cart' button, and improve their transition to the checkout.
Checkout Widget
New Checkout Design That Boosts Sales
As the final page before customers give you their credit card information and make their final decision to purchase, the Checkout page bears a lot of stakes. Although it seems to be strictly transactional, giving it a consistent look with the rest of your website increases customer trust, and as a result, boosts sales. Need we say more?
To match the design of the Checkout page to the rest of your site, choose the layout that best suits your design and needs, and adjust the style. With the Checkout widget, you can choose to customize all the page's sections at once, using the same styling and typography, or you can style sections independently. Styling sections independently can help you focus your attention on specific sections, such as the order summary section to drive more sales.
My Account Widget
Improved Design Workflow of the My Account Page
The My Account page is one of the most important pages returning customers will visit, to reassure themselves that their order has been fulfilled, or to review previous purchases they've made.
Consistent Tabs, and Section Design
As you customize the appearance of the My Account page, you can choose between a vertical and horizontal layout for your tabs. Once you do, you can design all the tabs and their inner sections in a uniform manner – so all the tabs would adopt one design, while the inner sections can adopt the same design, or another.
Side-by-Side View
To make the customization of this page easier for you, with the new My Account widget, you can view each tab and its corresponding inner section on the same screen. Any time you click on another tab, you'll also see the corresponding inner section.
Site Settings
Configure Your Shop Pages From Within Elementor
Now that you can customize all these WooCommerce Shop pages, you probably want to try them out. Once you create a new Cart, Checkout, or My Account page, a modal will appear upon saving or publishing the page, urging you to save this page as your default one, in a single click. This will reduce errors in page configuration and accelerate your website creation process.
You can also configure your Cart, Checkout, and My Account page directly from the WooCommerce Site Settings in Elementor.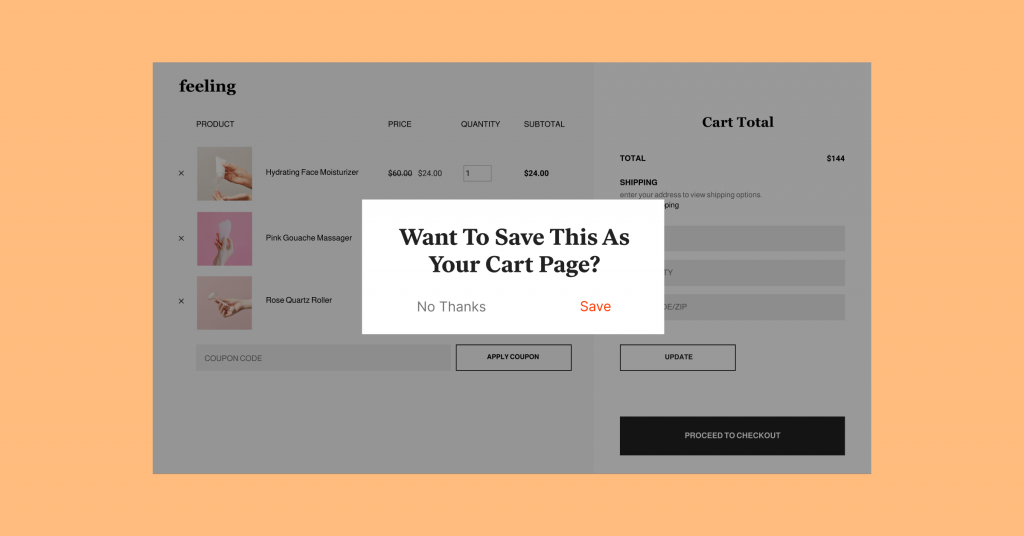 What's Next
Our pride and joy is looking at all the beautiful sites and stores you build in Elementor. We are committed to empowering you to create the best online stores and shopping experiences, so we are constantly reviewing all the design and functionality trends for ways we can include them in the Elementor Editor. With these updates and upcoming ones, our focus is on providing you with new capabilities and allowing you to accelerate your entire online store creation process.
With that said, we would love to see the pages you create with these new widgets! Drop us a link in the comments so we can take a look.
Looking for fresh content?
Get articles and insights from our weekly newsletter.