About the author: Alina Khazanova, Product Designer @ Elementor
Alina is a product designer at Elementor. Her passion is to bring valuable and satisfying product experience to the users. 
According to the World Health Organization, over 5% of the world's population has disabling hearing loss, and at least 1 billion people suffer from vision impairment or blindness. To avoid unintentionally excluding anyone from accessing your website or apps, it's important to make web accessibility a priority.
This requires you to implement digital accessibility as a core part of your projects, rather than as an afterthought. You'll be able to create a better User Experience (UX) that your audience will appreciate, and avoid legal issues that might arise due to non-conformance with international accessibility standards.
In this article, we'll discuss web accessibility in depth — what it is, why it's vital, some standards guiding conformance, principles to aid you when implementing it, and finally, how to test and improve your website's accessibility. Let's dive in!
What Is Web Accessibility?
From a broad perspective, an accessible website is one that is readily available and comprehensible to any user regardless of their device, situation, or ability. Web accessibility encompasses any tool or technology used to access the internet and digital products.
Although internet technology was designed to remove many barriers and obstacles to communicating and interacting with the world, certain issues can get in the way of this ideal. For example, people with disabilities such as blindness or hearing loss can have some trouble interacting with a site if there aren't adequate enhancements built-in.
Like everyone else, these people have a basic right to interact with and contribute to the web, as well as to perceive information through a variety of digital devices. Therefore, accessibility is considered an essential part of any site or application.
Why Design for Web Accessibility?
Designing for accessibility can benefit people who have disabilities that affect access to the web. These impairments can be auditory, cognitive, neurological, physical, speech-based, or visual. As digital designers, we are responsible for making our creations inclusive and accessible to people with diverse abilities and in many contexts: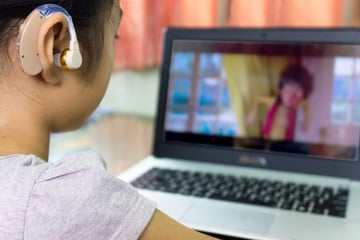 It is important to note that accessibility can benefit even those without disabilities. For example, older people tend to have difficulty reading small fonts. You may also have users with small screens, slow internet connections, or 'temporary disabilities' such as lost glasses. You'll also need to account for 'situational limitations' like a noisy environment.
If that's not enough, there are plenty of other arguments for making your website accessible. Not only is it a good practice, ethically speaking, but it's also essential to meet many international standards and minimize legal risks. In other words, failure to conform to these standards can leave you open to lawsuits.
For example, the Americans with Disabilities Act (ADA) is a law in the USA that prohibits discrimination against individuals with disabilities. According to UsableNet's report for 2020, ADA-based web and app lawsuits were filed even during the coronavirus lockdown, and they quickly reached their 2019 rates as early as May.
It is important to research the accessibility guidelines for your industry, to ensure that your site is fully compliant. For example, government websites in the public sector are required to adhere to stricter guidelines than in other industries. Regardless of your reason for ensuring compliance, it will be time and effort well-spent.
Finally, there is also a business case for accessibility. Accessible websites often rank higher in search results and have faster loading times. Running a highly-accessible site is also a perfect way to strengthen brand presence, attract more visitors, and improve the overall customer experience.
Looking for fresh content?
Get articles and insights from our weekly newsletter.