Struggling to choose between Shopify vs WooCommerce as the best place to make your ecommerce store?
There are an ever-growing number of platforms designed to help you create an ecommerce store but, if you look at the data, these two are the most popular solutions in 2022 for creating an online store. WooCommerce is in first place and powers ~30% of the stores in the BuiltWith Top 1m while Shopify is in second place and powers ~18% (with Magento in third place at ~9%).
WooCommerce is a plugin for the open-source WordPress software, while Shopify is its own standalone hosted ecommerce platform.
In general, these different approaches mean that WooCommerce gives you a lot more flexibility than Shopify, while Shopify is a bit simpler to use. But we're getting ahead of ourselves – to learn more about where those conclusions come from, you need to keep reading our full comparison.
In this post, we'll compare Shopify vs WooCommerce in-depth to help you choose the best ecommerce platform for your store in 2022 and beyond.
As you saw in the data above, WooCommerce is the most popular way to make an ecommerce store in 2022.
WooCommerce is not a standalone ecommerce platform. Instead, it's a plugin for WordPress. If you're not familiar with WordPress, it's the most popular way to build a website in general, powering over 40% of all the websites on the Internet.
To launch a store with WooCommerce, you'll first need to install the WordPress software on your web hosting. Then, you can add the WooCommerce plugin to WordPress to turn your site into a fully functioning ecommerce store.
Like WordPress, WooCommerce is a free, open-source project, which means that anyone can download, edit, or copy its code. It's developed by Automattic — the same team behind WordPress.com and Tumblr.
WooCommerce's standout value propositions are its flexibility and affordability. While WooCommerce itself is a plugin for WordPress, you can also find thousands of official and third-party WooCommerce plugins that further extend the core WooCommerce platform. You can use these plugins to improve your store's shopping experience, better market your store, connect other tools and gain more control over your store.
You can also use WooCommerce themes to control how your store looks. You'll find thousands of WooCommerce-compatible themes for a range of different niches.
If you can't find a pre-made plugin or theme that does what you need, you also get full access to your store's underlying code, which means you can make your own direct edits (or hire a developer to do things for you).
Overall, WooCommerce is popular because it's free and it offers full flexibility, while also still keeping things simple enough that non-developers can use it to build a fully functioning, secure ecommerce store.
Shopify has a different approach to creating an ecommerce store than WooCommerce.
Whereas WooCommerce is an open-source project that you can install on your own web hosting, Shopify is a closed-source hosted tool.
What this means is that you don't have access to all the code that powers your store, nor do you need to bother with hosting any software yourself. Instead, Shopify handles setting everything up for you so that you just need to register for an account and start adding products.
The main advantage of this closed-source, hosted approach is simplicity. You don't need to install any software to create a store, nor are you responsible for maintaining or securing your store — Shopify handles all of that for you.
The tradeoff, though, is that you lose the flexibility and affordability that an open-source tool like WooCommerce offers. Instead, you'll only have access to the specific features that the Shopify team decides to give you access to.
While there are opportunities to customize your site with apps and themes, you don't have the failsafe of being able to directly edit your store's code.
Additionally, Shopify can be a bit more expensive than WooCommerce, though there are a lot of variables to how much your store will actually cost.
What Should You Look for in an Ecommerce Platform?
Choosing the right ecommerce platform is essential to your store's success. It will affect the shopping experience you create for your visitors, how streamlined your backend admin processes are, how your marketing goes, and more. It will also affect your costs, as some platforms are more expensive than others.
There's also a fair degree of lock-in with any platform that you choose. While it is possible to migrate from Shopify to WooCommerce (or vice versa), it's a painful, time-consuming process and you'll often lose some data in the process.
For that reason, you'll want to pick the right platform from day one.
When you're choosing your platform, you need to really think about the following considerations:
Your budget.
The ease of use of your chosen platform.
The features and flexibility you get access to with your platform.
The payment gateways you'll be able to use (especially if you need a specific local gateway).
The integrations with third-party services for fulfillment, inventory management, accounting, etc.
We'll focus on all these categories and more as we compare these two tools.
WooCommerce vs Shopify: A Detailed Comparison
Now, let's get into a more detailed WooCommerce vs Shopify comparison. We'll compare these two platforms in 14 key areas.
Comparing pricing can be difficult because there are a lot of variables that go into each platform. In general, though, WooCommerce will be cheaper for most people.
There are only three things you need to launch a WooCommerce store:
A domain name. Many hosts offer these for free, or they cost about $10 per year.
Web hosting. This is the most variable core cost. Small stores might be fine with $10 per month hosting, but large stores with lots of products will need more expensive hosting.
WooCommerce. The WooCommerce software itself is free.
Those are the costs for the core ecommerce platform — but you'll probably also want to add some third-party plugins, which might cost money. For example, if you want to access Elementor WooCommerce Builder, you'll need to purchase Elementor Pro for $49. Other WooCommerce plugins typically cost ~$20-$80 but can range up to ~$200 for plugins such as WooCommerce Subscriptions (for recurring payments).
You also might want a premium WooCommerce theme, which usually costs ~$60.
To create a Shopify store, you only need two things:
A domain name.
The Shopify service.
Unlike WooCommerce, Shopify isn't free. You'll need to pay a recurring monthly fee for as long as your store is active – you can view the pricing plans below:
Those prices are just for the core Shopify software. You also might want to pay for premium Shopify apps, which cost anywhere from a few dollars per month to a lot more. For example, a popular SEO app costs $30 per month.
There's an important difference in pricing between premium WooCommerce plugins vs premium Shopify apps. WooCommerce plugins are usually one-time payments, with optional renewals to keep receiving support/updates. However, Shopify apps are ongoing monthly fees, which can add up over time.
You also might want a premium Shopify theme, which typically costs ~$180 for official themes, which is about 3X what most WooCommerce themes cost.
🏆 Winner: WooCommerce. Though there are a lot of variables, WooCommerce will be cheaper for most people. WooCommerce also lets you avoid monthly recurring fees, which can really add up in the long run.
WooCommerce is still easy enough for non-developers to use, but its setup process is a bit more technical than Shopify.
To create a WooCommerce store, you'll need to:
Purchase web hosting.
Install the WordPress software.
Install the WooCommerce plugin to WordPress.
Go through WooCommerce's handy setup wizard to configure your store.
Once you do that, you can manage your store via a user-friendly dashboard that looks like this: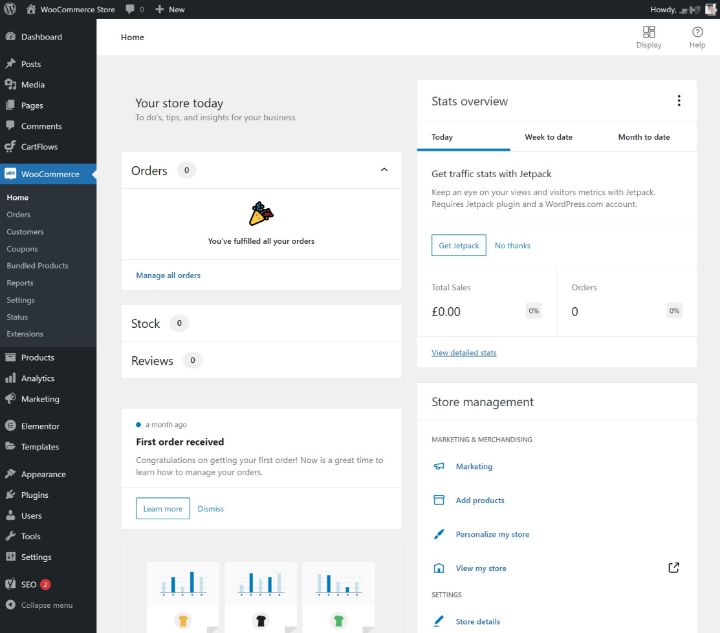 When you add a product, you'll do so via an interface like this: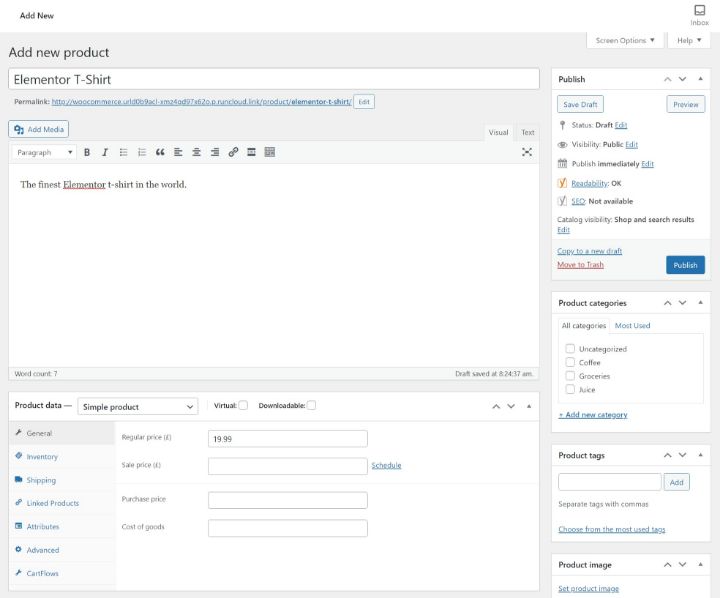 To create a Shopify store, all you need to do is register for a Shopify account and follow a simple setup wizard. Within a few minutes, you can be managing your store via a dashboard that looks like this:
Adding a product in Shopify works pretty much the same as it does in WooCommerce:
🏆 Winner: Shopify. While WooCommerce is still accessible to non-developers, ease of use is Shopify's most unique feature and Shopify does have the edge in that area.
In terms of core ecommerce features, WooCommerce and Shopify offer everything that you'd expect. Here's a quick rundown:
| | | |
| --- | --- | --- |
|   | WooCommerce | Shopify |
| Physical products | ✔️ | ✔️ |
| Variable products | ✔️ | ✔️ |
| Digital products | ✔️ | ✔️ |
| Shopping carts | ✔️ | ✔️ |
| Checkout + payment gateways | ✔️ | ✔️ |
| Coupons/discounts | ✔️ | ✔️ |
| Shipping calculations | ✔️ | ✔️ |
| Tax calculations | ✔️ | ✔️ |
| Order management | ✔️ | ✔️ |
| Customer management | ✔️ | ✔️ |
| Reports | ✔️ | ✔️ |
| Mobile app | ✔️ | ✔️ |
Where they differ is in adding features beyond that, which you'll typically do via third-party extensions:
WooCommerce calls these "plugins".
Shopify calls these "apps".
For WordPress and WooCommerce, you'll find 58,000+ free plugins at WordPress.org and thousands more premium plugins at other marketplaces like CodeCanyon. Not all of those plugins are focused on ecommerce, but the point is that you have a lot of flexibility.
For Shopify, you'll find 5,700+ apps, which also gives you a lot of flexibility, though it's well below what WordPress and WooCommerce offer.
🏆 Winner: WooCommerce. While both platforms give you all the core features you need to make an ecommerce store, WooCommerce has a larger collection of add-ons and direct code access for customizations.
WooCommerce gives you a lot of ways to work with payments. First off, it offers its own official WooCommerce Payments service that's powered by Stripe. However, the official service is only available to US-based merchants at the time that we're writing this comparison.
Beyond that, WooCommerce lets you integrate with hundreds of additional gateways using plugins. You'll find official integration plugins for big names such as Stripe, PayPal, and Authorize.net, but you can also find lots of third-party extensions for smaller payment gateways, including local providers.
In addition to debit and credit card payments, WooCommerce also makes it easy to accept alternative payment options, i.e. cryptocurrency, cash on delivery, checks, and more.
Shopify handles payments a little differently. Shopify offers its own Shopify Payments service that's enabled by default and Shopify heavily "encourages" you to use this default option. You can use a different gateway, but Shopify will charge you an extra fee on top of the regular processing fee from your provider. This fee starts at 2% and goes down to 0.50% on the highest-tier plan.
If you're willing to pay that fee, Shopify supports hundreds of additional gateways – full list here.
Shopify does support manual payments (cash or check) with no transaction fee. You can also access additional options, like cryptocurrency, via third-party gateways (such as Coinbase Commerce).
| | | |
| --- | --- | --- |
|   | WooCommerce | Shopify |
| Built-in Payment Solution | ✔️ | ✔️ |
| Third-Party Gateways | 100+ | 100+ |
| Extra Fee for Third-Party Gateways | No extra fee | 2.0% (or 1%/0.50%) |
🏆 Winner: WooCommerce. Both tools support lots of large and small payment gateways, but WooCommerce wins because it doesn't charge an extra fee for using third-party payment gateways.
5. Customizability and Design Options
There are two main ways that you can customize the design of your WooCommerce store:
Once you install a WooCommerce theme, you'll typically be able to customize it using a code-free real-time editor that looks like this:
If you want to go beyond the options that your WooCommerce theme offers, you can also install a design plugin. For example, if you use Elementor Pro, you'll get access to Elementor WooCommerce Builder, which lets you design your store's shop and product pages using a visual, drag-and-drop interface for pixel-perfect control. You can also use it to build popups for your store.
Shopify offers the same basic approach to design customization, you just don't get quite as much flexibility as WooCommerce.
You can start with a basic Shopify theme and customize it using Shopify's design editor, which offers a sort of block-based builder, though you can't use drag-and-drop on the actual preview of your store (only in the sidebar):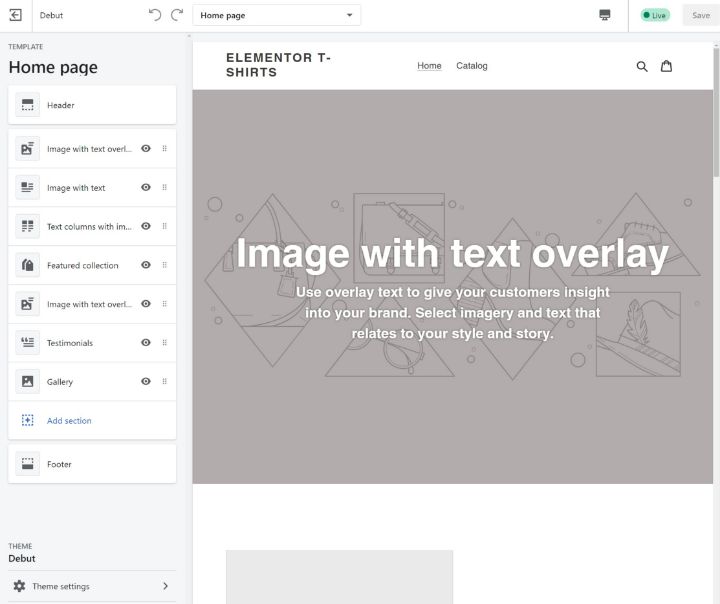 For more flexibility, you can also find some Shopify builder apps that let you customize your product pages or create popups. However, you don't get the same level of design flexibility that something like Elementor WooCommerce Builder offers.
🏆 Winner: WooCommerce. While Shopify does offer a similar approach, WooCommerce gives you more flexibility.
6. Operating and Maintenance Issues and Costs
If you use WooCommerce, you'll be responsible for maintaining your store, which mainly consists of updating the WooCommerce core software and extensions. Updating is simple – you just click a few buttons. However, there can sometimes be compatibility issues, so you usually want to be careful and safely update your store by using a staging site.
You'll also need to make sure you're making regular backups, which you can do with plugins such as BlogVault or Jetpack Backup.
If you don't want to do this yourself, you can pay for a type of hosting called managed WordPress hosting (typically starts at $30 per month) or you can pay for a WordPress maintenance service (WooCommerce-focused services usually cost $100-$150 per month).
With Shopify, you don't need to worry about maintaining the Shopify software because Shopify handles everything for you.
In terms of backups for Shopify, you'll probably want to pay for a Shopify app like Rewind Backups to make sure you always have a copy of your store's data. This costs anywhere from $3-$99 per month, depending on your store, so Shopify maintenance costs can also add up even though Shopify handles updates for you.
🏆 Winner: Shopify. One of the perks of Shopify is that it handles a lot of the maintenance for you. With WooCommerce, you'll need to handle updates and such yourself (or pay for someone to do it for you). However, Shopify backups are more expensive than WooCommerce, which is something to consider when it comes to budgeting.
Scalability refers to the ability of your ecommerce platform to handle large numbers of products and/or high-traffic situations.
Both platforms can scale to handle large stores, though WooCommerce might require a little more technical expertise to scale.
🏆 Winner: It's a tie. Both WooCommerce and Shopify can scale to handle large stores with lots of products.
Because WooCommerce is a free, open-source project, you don't get direct access to dedicated support reps like you would with a paid service. Instead, you'll need to rely on community support. Thankfully, because WooCommerce and WordPress are so popular, it's pretty easy to find help.
Additionally, if you purchase premium extensions, you'll get support directly from the developer. For example, if you purchase Elementor Pro for Elementor WooCommerce Builder, you'll get support directly from the Elementor team.
As a paid service, your Shopify subscription gets you access to direct support from Shopify staff, such as live chat, which is a nice perk. For third-party Shopify apps, you'd need to get support directly from the developer of the app.
🏆 Winner: Shopify has the edge because of its direct support channels. However, it's still pretty easy to get help with WooCommerce thanks to community support.
9. Multilingual Capabilities
WordPress and WooCommerce are very multilingual-friendly. You can find several popular plugins to translate your store into unlimited languages, including full localization and currency switchers. Some good options for WooCommerce are:
Shopify includes a feature to let you create your store in up to five languages. You can manually add your translations, or you can use a third-party translation app to help you generate the translations.
🏆 Winner: WooCommerce. WooCommerce lets you use unlimited languages and also gives you more flexibility for managing translations.
Both Shopify and WooCommerce include tools to help you collect accurate tax rates.
WooCommerce offers its own free WooCommerce Taxes service to automatically calculate accurate tax rates. This service supports over 30+ countries, including the USA and most of Europe.
WooCommerce also includes some built-in settings, as well as support for third-party solutions such as Avalara and TaxJar.
Shopify includes built-in tax configurations for the USA and Canada, along with the option to set up custom tax overrides for various regions. As with WooCommerce, you can also use Shopify apps to connect to TaxJar or Avalara.
🏆 Winner: It's a tie. Both platforms are pretty flexible and both give you options to automate tax calculations.
11. Shipping Configurations and Costs
Both WooCommerce and Shopify offer flexible shipping options via built-in features or, more likely, third-party add-ons and integrations.
| | | |
| --- | --- | --- |
|   | WooCommerce | Shopify |
| Shipping classes | ✔️ | ✔️ |
| Shipping zones | ✔️ | ✔️ |
| Table rate shipping | ✔️ | ✔️ |
| Real-time USPS rates | ✔️ | ✔️ |
| Real-time FedEx rates | ✔️ | ✔️ |
| Free shipping | ✔️ | ✔️ |
| Pickup & local delivery | ✔️ | ✔️ |
🏆 Winner: It's a tie. Both platforms give you a lot of flexibility for custom shipping calculations.
12. Page Speed and Performance
Both WooCommerce and Shopify give you the tools to create a fast-loading store.
With WooCommerce, you'll be responsible for optimizing your store. This includes choosing good hosting, setting up a content delivery network (CDN), etc. As long as you invest in optimal hosting, you can make your store load very quickly.
Shopify handles hosting for you, so you'll need to trust its performance optimization. It also builds in a CDN to improve global load times.
🏆 Winner: It's a tie. You can create a fast-loading store with both platforms.
SEO is obviously essential for any ecommerce store because organic traffic will play a big role in your store's success.
With both platforms, you'll likely end up relying on third-party apps to give you more control over your store's SEO.
WordPress/WooCommerce has a number of popular free and paid SEO plugins such as:
Yoast SEO
Rank Math
All-In-One SEO
The SEO Framework
SEOPress
Many stores will be fine with a free plugin and even the paid plugins are pretty affordable.
WooCommerce also gives you more control over nitty-gritty SEO details, such as your site's URL structure.
With Shopify, you'll also want a third-party SEO app if you're serious about your store's optimization. However, you don't get quite as many options as WooCommerce and the apps can be pretty expensive. For example, SEO Booster, the most popular Shopify SEO app, costs a whopping $30 per month for its premium versions whereas most WordPress SEO plugins are more like $60 per year.
Additionally, Shopify doesn't offer as much control over URLs. For example, you have to use the default URL structure for your blog on Shopify, which a lot of people don't like. This is an area where WooCommerce is stronger.
🏆 Winner: WooCommerce. WooCommerce gives you more options for SEO extensions and its plugins are more affordable. It's also more flexible when it comes to things like URL structures.
Both WooCommerce and Shopify are secure.
WooCommerce is built on WordPress, the security of which is trusted by big organizations as diverse as the US White House and Facebook. The WooCommerce core software is also rock-solid and, because it's open-source, benefits from the analysis of a large open-source community in addition to the Automattic team.
Shopify has also done very well when it comes to security, though it's not an open-source project so it's not quite as transparent. There have been no major breaches in Shopify's history, so you can also be confident in the security of your Shopify store.
Overall, both platforms are secure, though WooCommerce requires a little more vigilance to maintain security (such as making sure to promptly apply software updates).
🏆 Winner: It's a tie because both platforms are secure. However, Shopify is a little more hands-off when it comes to security, which some people might prefer.
WooCommerce vs Shopify: Which One Should You Choose?
To quickly recap, here's a table comparing the winners of the sections we compared above:
| | | |
| --- | --- | --- |
|   | WooCommerce | Shopify |
| Pricing | 🏆 | – |
| Ease of use | – | 🏆 |
| Features & extensions | 🏆 | – |
| Payment methods | 🏆 | – |
| Customizability & design | 🏆 | – |
| Maintenance | – | 🏆 |
| Scalability | 🏆 | 🏆 |
| Support | – | 🏆 |
| Multilingual capabilities | 🏆 | – |
| Tax settings | 🏆 | 🏆 |
| Shipping configurations | 🏆 | 🏆 |
| Page speed | 🏆 | 🏆 |
| SEO capabilities | 🏆 | – |
| Security | 🏆 | 🏆 |
Now for the important question – should you use WooCommerce or Shopify?
As we compared Shopify vs WooCommerce in detail in the sections above, you can hopefully see the themes that we set up for you at the beginning play out.
That is, WooCommerce excels when it comes to flexibility and features, while Shopify has the edge when it comes to simplicity because Shopify handles a lot of the basic setup and maintenance for you.
But here's the important thing:
There are ways to make WooCommerce simpler and more hands-off, but there aren't many ways to add more flexibility to Shopify beyond its pre-built apps. This is one of the big reasons why WooCommerce is a better option for most people and also why WooCommerce is leading Shopify in terms of market share.
Beyond that, you can also use WooCommerce's open nature to make it more beginner-friendly. For example, if you feel overwhelmed by designing your store, you can leverage Elementor WooCommerce Builder to design your store using a visual drag-and-drop interface, which removes code from the equation. 
Or, if you feel overwhelmed by maintaining WooCommerce yourself, you could always use managed WordPress hosting providers or hire a WordPress maintenance service.
WooCommerce's open-source nature also can make it a lot cheaper. WooCommerce itself is free, as compared to Shopify's recurring monthly fees.
If you've decided that WooCommerce is the best place for your store, we have some great resources to get you started. You can follow our guide to building an ecommerce website or our complete WooCommerce tutorial. Once you have your store up and running, you can also follow our guide to customize the WooCommerce product page design using Elementor WooCommerce Builder and prebuilt ecommerce templates.
Do you still have any questions about choosing between WooCommerce vs Shopify? Let us know in the comments section and we'll try to help!