Global outreach is a vital part of any business that wants to expand and profit. An important aspect of this is the ability to communicate your product or service across other languages. In the old days, you would hire a professional translator. While we hold the utmost respect for translators, they are expensive and require time to produce their translations. Nowadays, there are numerous translation plugins that can help you save time and money. We believe that implementing a translation plugin to your WordPress pages is a crucial element of success.
One such translation plugin is WPML. We have long recommended WPML as a great way to translate WordPress pages and since our last post, WPML has grown and made substantial updates. 
WPML is one of the most popular translation plugins and has been around since 2009. It powers more than 800,000 WordPress websites worldwide and with it, you can translate over 40 languages, or even add your own. It works seamlessly with Elementor and is capable of translating all parts of your pages very easily.
How WPML Makes Translating Your Content Simple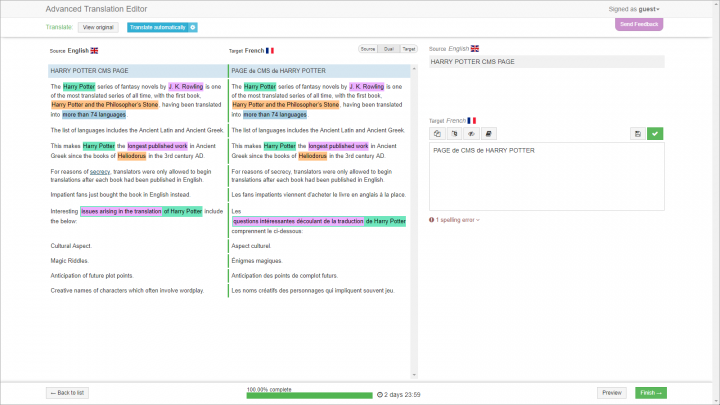 WPML's Advanced Translation Editor has a lot of features that make it easy to add multilingual content. Here are five of the features that help cut down your translating time:
Automatic machine translation: You get your translations in a single click. All you need to do is review it and make sure it's correct.
Clean text: You won't be distracted by shortcodes or HTML as you translate. Advanced Translation Editor ensures clean text is all you see.
Translation memory: Instead of wasting time or money, translating a text that's been translated before, Advanced Translator uses the previous translation.
Glossary: Add definitions, notes, and explanations to help your translators understand the meaning. It's perfect if you work in an industry with lots of technical words.
Spell-checker: Say goodbye to basic errors. Just like in Word or Google Docs, spelling mistakes are highlighted.
How to Translate Elementor Content With WPML
Translating Elementor content with WMPL is easy, and the same process of translating applies to widgets, headers, footers, templates, and other content. In addition to the example below, there is an excellent, detailed guide on how to build multilingual sites with Elementor and WPML here. 
For our example, we are going to translate an English page into Polish in five easy steps. 
1. Configure the Advanced Translation Editor
Once you've installed WPML you need to activate the Advanced Translation Editor. You can do this during the Translation Management Wizard. Or you can go to WPML -> Settings and select Advanced Translation Editor. 
2. Select the Languages You Want
Go to WPML -> Languages and check the languages you want. In this case, French and Polish have been selected. You can choose as many as you need.
3. Open Your Page in the Advanced Translation Editor
Now you can start translating content in WPML's Advanced Translation Editor. Open the original page (or post) in the WordPress dashboard. There is a section on the right-hand side called Translate this document. Click the plus symbol next to Polish. The Advanced Translation Editor opens to add the new translation.
4. Instantly Translate Your Content With Automatic Translation
Here's where you really save time. On the left-hand side, WPML has detected all text on the homepage. Click Translate automatically and Polish will be is added to the right-hand column within seconds.
5. Review the Translated Content
Automatic translations are machine-based, so you need to proofread them. You can go through each line at a time to make sure everything is correct. When you're ready click Finish. You can now publish your page and its various translations. Go back to the front-end and change the language to Polish. Notice how you haven't had to recreate the design for the translated content.
Elementor Language Switcher Widget
The WPML team has an exclusive language switcher widget for Elementor. This widget places a language switcher anywhere in your Elementor page designs. More importantly, it lets you style your website's language switcher. 
In addition, since every Elementor widget — like Buttons or Images — contains links, WPML automatically updates links to the translated versions to make them point to the translated content. 
Translate Elementor WooCommerce Builder using WooCommerce Multilingual
WPML's WooCommerce Multilingual plugin can be used to translate all types of stores. That includes those built with WooCommerce Builder. 
WooCommerce Builder makes it easy to customize your store without coding. Now, translating it is just as simple thanks to WooCommerce Multilingual.
With it, you can translate your products, categories, fields and more. So you can localize your WooCommerce website for each region.
Improve your multilingual SEO by translating images, URLs and cart contents
Offer multiple currencies
Provide multiple payment options
Translate all aspect of the shopping process, including shipping
The internet is a global, interconnected web. As a website creator, you will have access to the whole world. But to communicate with it, you will need to know numerous languages. Certainly, you could hire translators for the many available languages, but a good translator requires time to translate and is an expensive solution. 
With translation plugins, you can save time and money. With a good translation plugin that works well with your favorite page builder — Elementor, you can save even more time and money, all the while having an easy time using it.