Statistical data provides us with ample information and allows us to stay ahead of the competition. You may be interested to know, then, that in 2021 it is expected that the number of online shoppers will increase to 2.14 billion — a whopping 77% increase in just five years!
Because of this growth, there is a subsequent growth in the need and the use of good e-commerce platforms. Luckily, many tools are available.
Out of all those tools, however, WooCommerce and Magento are amongst the most popular. According to BuiltWith, WooCommerce is the overall most popular e-commerce tool, powering 28% of stores in the BuiltWith Top 1 Million. Magento sits in third place, powering 9% of stores (while Shopify is in second place with 19% market share).
Unlike Shopify, both WooCommerce and Magento are open-source platforms, so they share some similarities in that respect. But at the same time, there are a lot of important differences, so you'll want to make sure that you choose the right platform for your store.
In our detailed Magento vs. WooCommerce comparison, we'll dig into these two platforms to help you make the best decision for your situation.
WooCommerce is not a standalone e-commerce tool. Instead, it's a plugin for the popular WordPress software, which is used by over 41% of all the websites on the Internet (including the one you're ready right now).
Essentially, WordPress provides the base for your site and then WooCommerce adds the e-commerce functionality. Like WordPress, WooCommerce is the most popular way to make an e-commerce store by a good margin, powering 28% of e-commerce stores in BuiltWith's Top 1 Million.
WooCommerce is used by stores of all sizes. On the smaller end, a lot of startups and solopreneurs use WooCommerce. But at the same time, it's also used by larger businesses like Singer, Weber, and Airstream Supply Company – check out more examples here.
There are a lot of reasons why WooCommerce leads the pack when it comes to e-commerce. But when compared to Magento, three stand out:
Affordability. WooCommerce itself is free and its extensions are more affordable than other platforms.
Ease of Use. WooCommerce is simple enough for non-technical users to use and set up. Additionally, most stores can get by with "off the rack" extensions, which means you might not ever need to hire a developer. 
Support/ease of finding help. Because WooCommerce and WordPress are so popular, it's easy to find community help and WordPress/WooCommerce developers are plentiful and affordable.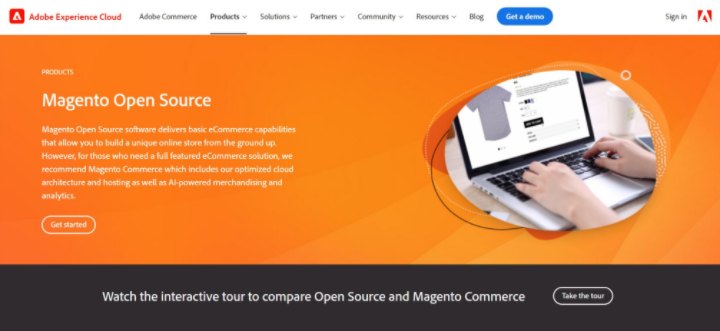 Magento is standalone e-commerce software. That is, Magento is 100% self-contained, whereas WooCommerce is an extension for the WordPress software.
Whereas WooCommerce is focused on helping stores of all sizes, Magento is primarily focused on helping medium-to-large businesses create online stores. It has some big brands using it like Nestle (Nespresso) and Land Rover, but it doesn't have the same popularity with small businesses and it's rare to find a solopreneur using Magento.
Because of Magento's enterprise focus, it was acquired by Adobe for $1.68 billion in 2018 so that Adobe could fit it into Adobe's suite of enterprise-focused tools (called Adobe Experience Cloud).
There are two "versions" of Magento:
Magento Open Source – this is the open-source software that you can install on your own web hosting for free. For most small businesses, this is what you'd use.
Magento Commerce – this is a commercial offering from the Magento team that's focused more on enterprises. It has more features and there are cloud-hosted or on-premise versions. The plans start around ~$2,000 per month, so this isn't an option for most smaller e-commerce stores.
Because Magento Commerce is expensive and enterprise-focused, we're going to primarily focus on the open-source Magento software in this post.
Compared to WooCommerce, Magento is more complicated and you'll typically need the help of a developer to get your store up and running. 
However, the upside is that Magento is a very flexible, enterprise-ready piece of software. It can also scale better in extreme situations, which is another reason it's popular with very large enterprises.
What Should You Look for in an E-Commerce Platform?
Picking the right platform is key to your store's success. Your choice of e-commerce platform will affect…
Your visitor's shopping experiences.
How optimized your backend admin processes are.
Your marketing efforts.
Your costs.
Etc.
Additionally, there's always going to be a good amount of lock-in with whatever platform you choose. While there are ways to migrate from Magento to WooCommerce (or the other way around), it's a very difficult process that will still involve a lot of manual work and some downtime.
Because of that, you'll want to really do your research before you move forward with either platform. Here are some key factors to consider:
Your budget.
How easy a platform is to use (especially if you're not a very technical person).
How flexible and feature-rich a platform is.
Which payment gateways you can use (including any local payment gateways you might need).
Third-party integrations with services for fulfillment, inventory management, accounting, etc.
How large your store will be in terms of the number of products, traffic, orders, etc.
Magento vs. WooCommerce: A Detailed Comparison
Now, let's get into our more in-depth Magento vs. WooCommerce comparison. To help you make your choice, we'll compare and rate these two platforms in 13 key areas:
Pricing/budget
Ease of Use
Features
Open-Source
Shipping Options
Extensions & Plugins
Themes
Customizability
Support
Payment Solutions
Performance
Scalability
SEO
Let's get started!
Both Magento and WordPress/WooCommerce are open-source software, which means there's no cost to either for the core software. 
The exception is the Magento Commerce edition, which costs around ~$2,000 per month at a bare minimum. But again, we're focusing mainly on Magento Open Source for this comparison, which has no fee.
The bare minimum costs to create a store with both are:
Domain name – ~$10 per year.
Web hosting – variable depending on your store's size, complexity, and traffic. The low end would be $10-$20 per month, while a more realistic price for a smaller store would be $50-$100 per month. All things equal, hosting prices might be a little cheaper for WooCommerce, though the differences aren't huge.
While the core software is free for both, you'll almost certainly spend some money on add-ons. There are two places you might spend money:
Themes – these control the design of your store. You only need to purchase one theme.
Plugins/extensions – these add new features to your store. You'll likely need to purchase multiple paid add-ons.
Magento themes are a little bit more expensive than WooCommerce themes, though the difference isn't huge. For example, the best-selling Magento themes at ThemeForest cost ~$80 while the best-selling WooCommerce themes cost ~$60.
Magento extensions are also usually more expensive than WooCommerce, though it obviously depends on the specific extension in question. 
For example, let's say you want to add visual, drag-and-drop building to your store so that you can create designs without needing to know any code. The popular Magezon Page Builder for Magento costs $169, while Elementor Pro for WooCommerce only costs $49.
For another example, let's say that you want to integrate with FedEx for real-time shipping rates. A Magento extension for this costs $169 while the WooCommerce version of the plugin (from the exact same developer) costs just $69.
If you need custom development work, you can usually find WordPress/WooCommerce developers for cheaper rates than Magento developers (because WordPress is more popular). 
For hourly rates, Magento developers usually run in the $65-$160 range while WordPress developers are more like $30-$120 (though obviously there's a lot of variation depending on the developer and location).
| | | |
| --- | --- | --- |
| Type of Expense | WooCommerce | Magento |
| Core software | Free | Free |
| Hosting costs | ~Similar | ~Similar |
| Themes | ⬇️ Less expensive | ⬆️ More expensive |
| Plugins/extensions | ⬇️ Less expensive | ⬆️ More expensive |
| Developers | ⬇️ Less expensive | ⬆️ More expensive |
🏆 Winner: WooCommerce. While both Magento and WooCommerce are free, open-source projects when it comes to the core software, WooCommerce will still be cheaper because all of the other parts of running a store (themes, plugins, developers) cost less.
If you're trying to build and manage a store yourself (or hand it off to a non-technical client), ease of use is an important consideration.
When it comes to ease of use, WooCommerce is the clear winner. Magento has a much higher learning curve- it's more complicated in general, and the Magento dashboard is a lot more complicated.
With WooCommerce, the dashboard is pretty streamlined and not that busy: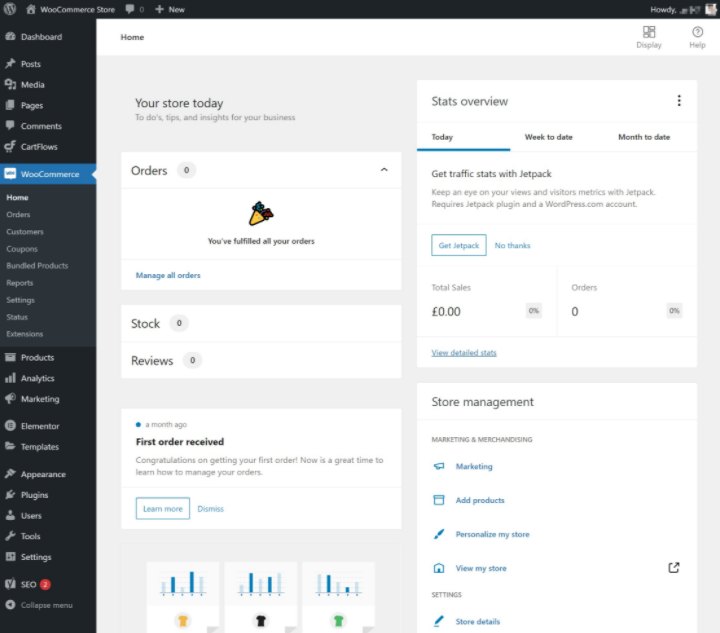 Similarly, adding a product is very easy to do, with not that many options to configure: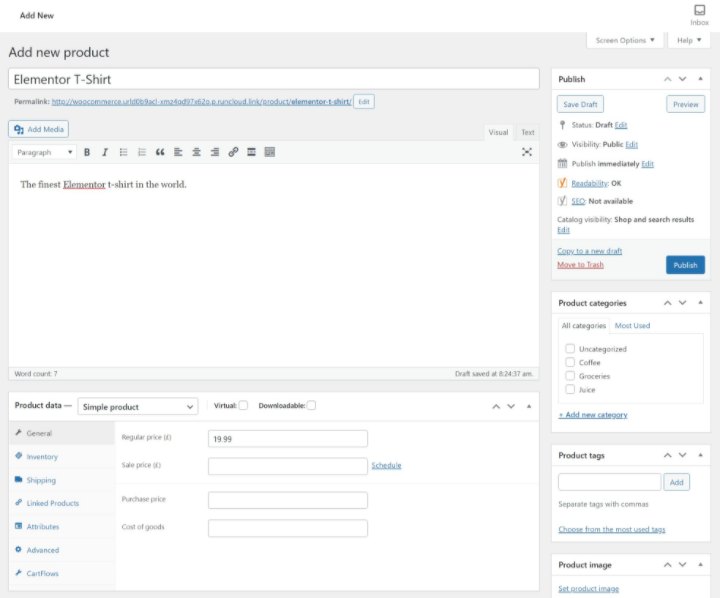 Magento, on the other hand, has a much more complex dashboard. Adding a product is much more complicated, with tons of fields to configure: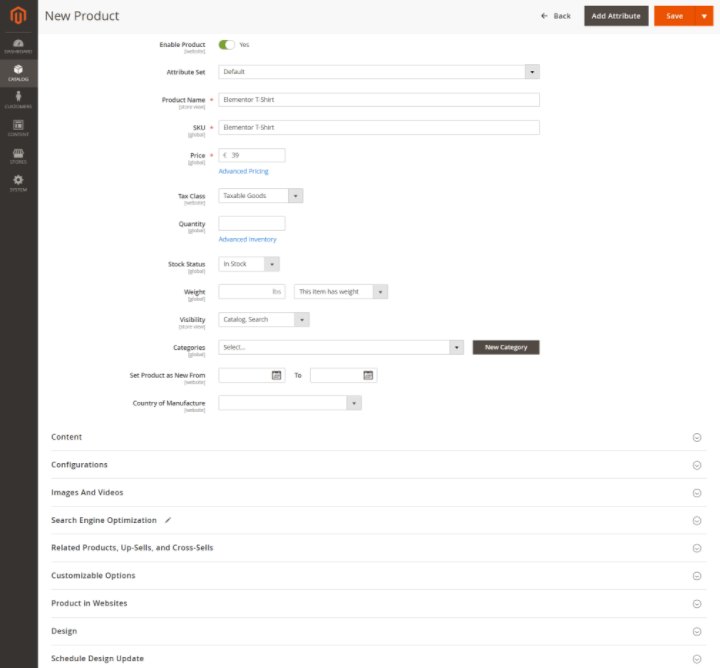 From a flexibility standpoint, it's nice to have so many customization options. But from an ease of use and learning curve perspective, Magento's dashboard feels a lot more intimidating and will take longer to learn.
Both WooCommerce and Magento are full-featured e-commerce platforms, so they come with all the core features you'd expect in such a tool.
| | | |
| --- | --- | --- |
|   | WooCommerce | Magento |
| Physical products | ✔️ | ✔️ |
| Variable products | ✔️ | ✔️ |
| Digital products | ✔️ | ✔️ |
| Subscription products | ✔️* | ✔️* |
| Shopping carts | ✔️ | ✔️ |
| Checkout + payment gateways | ✔️ | ✔️ |
| Coupons/discounts | ✔️ | ✔️ |
| Shipping calculations | ✔️ | ✔️ |
| Tax calculations | ✔️ | ✔️ |
| Order management | ✔️ | ✔️ |
| Customer management | ✔️ | ✔️ |
| Reports | ✔️ | ✔️ |
| Mobile app | ✔️ | ❌✔️** |
*Requires paid add-on – not core features.
**There is a third-party app, but no official admin app.
One area where WooCommerce has a big advantage is if you want to create non-e-commerce content, like a blog. Because WordPress is a general-purpose content management system, it has a much more robust and user-friendly system for creating other types of content.
You can create a blog using third-party Magento extensions…but it's still very limited and not user-friendly. Because of this, you'll still find many Magento stores using WordPress for their blogs. With WooCommerce, you get that flexibility built-in and eliminate the need to use two different platforms.
In Magento's favor, you get slightly more advanced features for managing large catalogs and inventories.
🏆 Winner: It's a tie. Both have all the core features. Both also have strong points in certain areas, so it really depends on what you value the most.
WooCommerce is 100% an open-source project. Magento Open Source is also an open-source project.
The one difference is that Magento also has a separate Magento Commerce license that adds some new features.
However, since we're primarily focusing on Magento Open Source in this comparison, it's fair to say that both projects are "equally" open source.
Both WooCommerce and Magento have flexible shipping options that let you set up one or more shipping methods as needed. For more advanced situations, like using a fulfillment service or calculating real-time rates from a provider, you can turn to third-party add-ons.
| | | |
| --- | --- | --- |
|   | WooCommerce | Magento |
| Shipping classes | ✔️ | ✔️ |
| Shipping zones | ✔️ | ✔️ |
| Table rate shipping | ✔️ | ✔️ |
| Real-time USPS rates | ✔️ | ✔️ |
| Real-time FedEx rates | ✔️ | ✔️ |
| Free shipping | ✔️ | ✔️ |
| Pickup & local delivery | ✔️ | ✔️ |
*Some of these features will require add-ons – not all are core features.
Both WooCommerce and Magento let you extend the core software with add-ons:
WooCommerce calls these "plugins".
Magento calls them "extensions".
The nice thing about WooCommerce is that, in addition to all of the plugins built specifically for WooCommerce, you also get access to all of the general-purpose WordPress plugins.
In the official WordPress.org directory of free plugins, you'll find over 58,000 plugins. If you expand your search to premium marketplaces like CodeCanyon, you'll find thousands more premium options.
Not all of these plugins are specifically built for WooCommerce, of course. But even plugins that aren't 100% for WooCommerce can still be useful for WooCommerce stores.
In Magento's official extension directory, you'll find over 3,800 free or paid extensions.
| | | |
| --- | --- | --- |
|   | WooCommerce | Magento |
| Official Marketplace | 58,000+* | 3,800+ |
| CodeCanyon | 3,300+ | 700+ |
*This is the total number of WooCommerce plugins – not all of them will be useful for WooCommerce stores, but many are.
🏆 Winner: WooCommerce has the edge because you can use all WordPress plugins, but Magento still has a large library so it's not that far behind.
Whereas plugins and extensions let you add new features to your store, themes help you control the design of your store.
Both WooCommerce and Magento support pre-made themes, which means you can purchase an "off-the-rack" solution instead of needing to design your store from scratch (though you can certainly do that if you want).
WordPress has thousands of themes available, including both free and paid options. Many themes are specifically built for WooCommerce stores, but even themes not specifically advertised for e-commerce still usually offer WooCommerce support. You can browse some of the best WooCommerce themes here.
Once you choose a theme, you can easily customize it using a non-technical editor with a visual preview:
An alternative to a pre-made WooCommerce theme is to use Elementor WooCommerce Builder, which lets you design your entire store using a visual, drag-and-drop builder. This gives you more flexibility than an off-the-rack theme because you can customize all your templates, including the single product page.
While Magento does have an official theme directory, it only contains a very limited selection of 11 themes. Thankfully, third-party marketplaces are much more flexible and you can find hundreds of premium themes at marketplaces like ThemeForest and TemplateMonster. 
Unlike WooCommerce, Magento doesn't really give you a non-technical way to customize a theme's settings – you'll need to do that via code.
| | | |
| --- | --- | --- |
|   | WooCommerce | Magento |
| Official Marketplace | 1,100+ | 11+ |
| ThemeForest | 1,300+ | 500+ |
| TemplateMonster | 700+ | 500+ |
*The numbers above are only for WooCommerce themes – the actual number of WordPress themes is much higher.
🏆 Winner: WooCommerce. WooCommerce has more themes available, including both free and paid options. It's also easier to customize a WooCommerce theme.
Because they're both open-source projects, both WooCommerce and Magento are highly customizable.
For many features, you can customize your store using an off-the-rack plugin or extension. If a pre-built add-on isn't available, you still have full access to your store's underlying source code, which means that you can always hire a developer to make any needed tweaks.
🏆 Winner: It's a tie. Both platforms are highly customizable.
Because both Magento and WooCommerce are free, open-source projects, you shouldn't expect 24/7 live chat like you'd get from a paid service like Shopify. Instead, you'll need to rely on community support.
Here, WordPress and WooCommerce have the advantage because they're more popular. Simplify put, you can find more content and more/larger communities based around WooCommerce, which means it's easier to get help when you need it.
🏆 Winner: WooCommerce. While neither has dedicated support staff, the popularity of WordPress and WooCommerce makes it easier to find community support if you run into issues.
In terms of the options that you have to accept payments on your store, both WooCommerce and Magento are quite flexible. They both support all the online and offline payment methods that you'd expect. And if that's not enough, both make it easy for you to integrate your own payment gateways (though you might need to hire a developer if you can't find an off-the-rack extension for the gateway).
One difference for non-technical users is that WooCommerce offers its own Stripe-powered payment solution called WooCommerce Payments (though it's only available to US merchants at this time).
Magento doesn't offer such a built-in solution so you'll need to do everything via third-party gateways.
| | | |
| --- | --- | --- |
|   | WooCommerce | Magento |
| No added transaction fee | ✔️ | ✔️ |
| Built-in payment solution | ✔️ (powered by Stripe) | ❌ |
| PayPal/Braintree | ✔️ | ✔️ |
| Stripe | ✔️ | ✔️ |
| Authorize.net | ✔️ | ✔️ |
| Integrate custom providers | ✔️ | ✔️ |
| Offline payments | ✔️ | ✔️ |
| Crypto payments | ✔️ | ✔️ |
🏆 Winner: It's a tie. Overall, both platforms give you a lot of flexibility for setting up your payment solutions.
Performance is key for e-commerce stores to ensure a good user experience and maximize their conversion rates.
There are a lot of variables that go into the performance such as your store's hosting, front-end optimization, content delivery network usage, and more.
In general, both platforms can perform quite well as long as you're optimizing them for performance. To help you do that, both platforms come with caching solutions and other performance optimization tools.
For example, Magento 2 includes built-in page caching and code optimization, while you can accomplish the same thing using WordPress caching plugins and other performance optimization plugins.
🏆 Winner: It's a tie. Both platforms can be optimized for performance.
Scalability refers to how well a platform can handle high traffic/order flow scenarios.
Scalability is one of Magento's big advantages, and one of the reasons why Magento is more popular with larger enterprises. All things equal, Magento will scale better than WooCommerce thanks to technical details like a more optimized database architecture for e-commerce and its Model-View-Controller (MVC) framework. Magento also is better at managing large product catalogs (like thousands of products).
With that being said, WooCommerce is still scalable enough for most small-to-medium-sized businesses, especially if you hire a developer to tweak the WooCommerce database structure and make other improvements.
🏆 Winner: Magento. However, while Magento is more scalable, WooCommerce will still be scalable enough for most e-commerce stores.
Both WooCommerce and Magento are flexible from a search engine optimization (SEO) perspective. Through built-in features and/or extensions, both platforms support:
SEO titles and meta descriptions, including setting up templates with dynamic placeholders.
URL structures/slugs.
XML sitemaps.
Canonical URLs.
Robots.txt.
Etc.
With Magento, most of these options are built into the core software. With WordPress, you can use one of the many popular SEO plugins.
🏆 Winner: It's a tie – just make sure to install an SEO plugin if you're using WooCommerce.
Magento vs. WooCommerce: Which Should You Choose?
To recap everything that we covered above, here's a table comparing the winners of each section:
| | | |
| --- | --- | --- |
|   | WooCommerce | Magento |
| Pricing/budget | 🏆 | – |
| Ease of use | 🏆 | – |
| Features | 🏆 | 🏆 |
| Open-source | 🏆 | 🏆 |
| Shipping options | 🏆 | 🏆 |
| Extensions and plugins | 🏆 | – |
| Themes | 🏆 | – |
| Customizability | 🏆 | 🏆 |
| Support | 🏆 | – |
| Payment solutions | 🏆 | 🏆 |
| Performance | 🏆 | 🏆 |
| Scalability | – | 🏆 |
| SEO | 🏆 | 🏆 |
With that in mind, it's time for the important question – should you use WooCommerce or Magento for your store?
As you can see, both WooCommerce and Magento are very flexible, in large part thanks to their open-source, extensible nature. Both give you lots of options and extensions to customize your store. When compared to a closed-source, hosted tool like Shopify, both WooCommerce and Magento are winners when it comes to customizability.
However, WooCommerce has a few key advantages that make it the better option for most people:
Ease of use – WooCommerce has a smaller learning curve than Magento and is generally just easier to use.
Affordability – while the core software is free in both cases, WooCommerce will be more affordable because all the other parts of creating a store are cheaper (plugins, themes, developers, etc.).
Support/developer availability – because WordPress and WooCommerce are more popular than Magento, it's a lot easier to find help, either via community support or finding an expert developer.
The main advantages that Magento has are scalability and enterprise-level features. If you're setting up a store for an enterprise, these should be major considerations and Magento should definitely be a strong contender.
But here's the thing:
Most people getting into e-commerce aren't setting up enterprise-level stores. If you're an individual or small-to-medium-sized business, having a platform that's easy to use, has lower costs, and has a large pool of affordable developers is better than having the ability to scale up to millions of orders (because most stores will never have millions of orders).
For example, instead of needing to hire a developer every time you want to do something (like you would have to do with Magento), WooCommerce lets you use non-technical tools like Elementor WooCommerce Builder to simplify your store's design process and get access to profit-boosting marketing tools, like a Popup Builder.
Being able to use these non-technical tools lets you market and grow your store without the bottleneck of needing a developer for every change, which is the kind of agile workflow that can really help smaller stores.
For those reasons, we think WooCommerce is the best choice for most people.
Create Successful Online Stores With the Right Platform
WooCommerce and Magento are two of the best and most popular e-commerce platforms – WooCommerce holds first place in market share, while Magento sits behind Shopify in third place.
Both platforms have their pros and cons but, in general, Magento is better-suited for large enterprises with extreme scalability needs, while WooCommerce makes the better option for most people looking to create an e-commerce store in 2022 and beyond.
If you've decided that WooCommerce is the best place for your store, we have a lot of guides that can help you get up and running. We have a complete guide to building an e-commerce site, along with a WooCommerce tutorial.
Once you've set up your store, we have a guide on how you can use drag-and-drop to customize your store's product pages with Elementor WooCommerce Builder.
Do you still have any questions about Magento vs. WooCommerce? Let us know in the comments and we'll try to help!
Looking for fresh content?
Get articles and insights from our weekly newsletter.