WordPress is a platform with a long-standing pedigree among Content Management Systems (CMSs). Even so, new users to the platform may not understand what makes it so dependable, reliable, and safe to use.
For this lesson, we'll look at five different reasons you can trust WordPress for your website. They're in no order, so consider them all as important as each other.
1. WordPress Is Secure and Stable
First off, WordPress has a long history of constant improvement. There have been five major versions of WordPress since 2003, and almost countless 'point' updates of the platform. Each one gives WordPress enhanced functionality, state of the art features, and a better User Experience (UX).
Each release is organized in a professional manner, with a project lead overseeing the work, and the raft of community volunteers working on code. We'll have more to say about the stellar work the WordPress community does later on.
The result of this effort is a constant cycle of releases – around three or four per year – and near constant evolution. In fact, there's also a roadmap outlining WordPress future. This makes WordPress a stable, dependable, and strong platform to use for your site.
WordPress has a constant cycle of releases, making it a stable and dependable to use.
What's more, WordPress is inherently secure. One of the major resources for the most critical security issues is the Open Web Application Security Project (OWASP) 'Top 10'. WordPress works to harden the core platform to address each of these, and mitigate other common security issues.
If a vulnerability is discovered, WordPress has a procedure for reporting it, through the HackerOne website.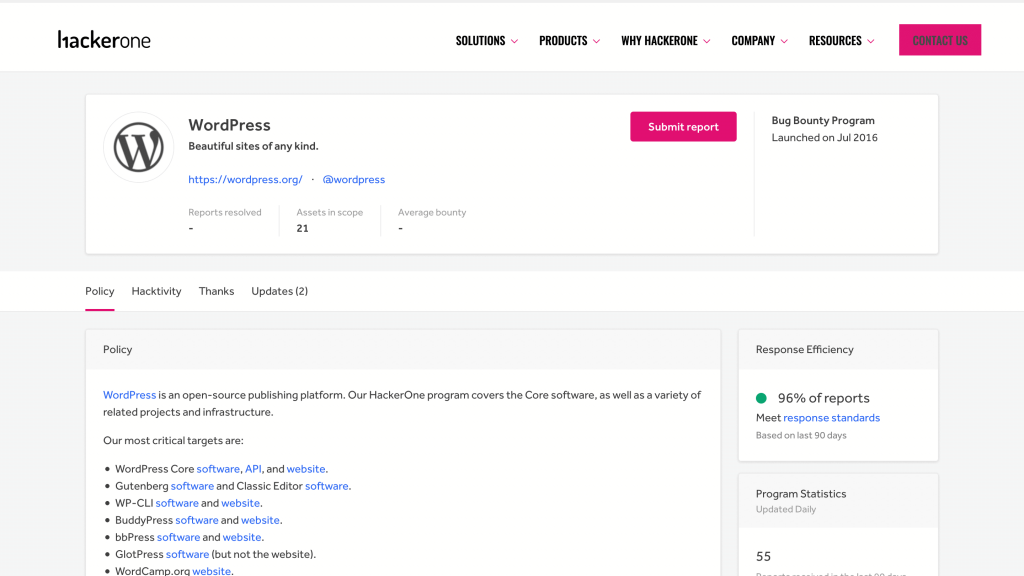 This is dealt with by the dedicated security team, and released as an automatic update for WordPress users.
Of course, WordPress also lets you install dedicated security plugins. This helps keep spam and other attacks at bay. On the whole, WordPress is a secure platform that will help keep your site and its users safe while browsing.
2. The CMS is Optimized for Search Engines
The internet wouldn't be what it is without search engines. We've had a version of Google for over 20 years, and other search engines have existed for longer than that. Because of this, building your site with the goal of reaching the top of the search rankings is a solid goal. WordPress is developed to help do this as standard.
Search Engine Optimization (SEO) is the process of hitting the (often secret) benchmarks companies such as Google and Bing set for doing well in search. WordPress is developed from the ground up to leverage what we know about SEO and ranking well.
For example, you're able to set different types of 'pretty' permalinks. These are the URLs you'll browse to, and their format helps the search engine crawlers to ascertain what your content is about:
You're also able to set 'meta tags' as standard. These help you categorize your posts and pages in a search-friendly way. Again, this helps crawlers learn what your content is about so that it can be featured in the right results.
WordPress also leverages plugins to help you improve your SEO further. There are lots of dedicated solutions available. Yoast SEO is one of the leading plugins that also integrates with Elementor:
You can add a meta description, indicate that a post is 'cornerstone content', enter focus keywords, and more. You are also able to work with the readability of a piece to enhance your SEO even further.
WordPress has over a 41 percent market share, and this is in part to how well it handles your SEO. In short, when it comes to being seen, WordPress has your back.
WordPress is used by more than 41% of the web. When it comes to being seen, WordPress has your back.
3. The WordPress Community is Large (Including Users and Developers)
It's calming to know that if you have an issue, there are people looking out for you. WordPress has a huge community of developers, businesses, bloggers, thought leaders, and support teams to help you work with the platform in an optimal way.
For example, the first port of call for any queries relating to a theme or plugin is the official support page:
This is a forum for each specific theme and plugin, where users can get help for free. You'll also find developers will have dedicated on-site support too.
In fact, each distinct area of WordPress has a community attached to it. Almost every element of WordPress has a team that works on elements, such as its design, accessibility, language support, and even the community itself.
There is also a lot of content, videos, and blog posts detailing how to use WordPress to its full. For example, the Elementor blog offers a wealth of tutorials, thought pieces, how-tos, and more on using WordPress' core platform and its themes and plugins:
The takeaway here is that you're not on your own when it comes to using WordPress or its third-party tools. In fact, it's likely that your question has been answered in the past. A quick search – thanks to WordPress' great SEO! – will bring up myriad answers for you to implement on your site.
4. The Platform Is Great for Small Business and E-commerce Applications
WordPress' first application was for blogging. At the time, this area was booming, and the platform helped users develop a blog in a straightforward way without code. Over time, the scope of WordPress has grown. You can now consider WordPress to be a full-fledged Content Management System (CMS), and it's perfect for small business websites, as well as blogs:
This is in part due to the development of robust hosting platforms and other solutions to get businesses online. For example, you can integrate WordPress with email marketing services, Customer Relationship Managers (CRMs), no-code solutions such as Zapier, and much more.
You can also develop your sales funnel within WordPress, without leaving the dashboard. This is a primary element of a business website, and also helps ecommerce businesses too.
In fact, WordPress is great for online sales. For starters, WooCommerce is one of the leading platforms for e-commerce, and the core plugin is free to download. It lets you add payment gateways, shipping functionality, coupon codes, and much more. It's a full-featured and extendable way to sell online, much like WordPress itself:
We've said it already, but WordPress is a flexible platform that can be at the center of whatever type of site you wish to build. As such, you can find trustworthy and robust functionality and features, regardless of your needs and requirements.
WordPress is a flexible platform that can be at the center of whatever type of site you wish to build.
As such, you can find trustworthy and robust functionality and features, regardless of your needs and requirements.
5. WordPress Can Be the Core of an Enterprise-Level Site
You may not be there just yet, but WordPress can also form the backbone of enterprise-level sites and networks. For example, there are lots of magazine and news sites that use self-hosted WordPress in the same way you will for your first site. The likes of TechCrunch, Rolling Stone, and Vogue all use WordPress, and make up just three of the 41 percent of the web using the platform.
If you need no bigger proof of how big WordPress sites can scale, take the new White House website for the Biden administration:
This was created with WordPress, and includes some great accessibility features (such as a built-in dark mode and typography adjustments).
This means WordPress can be with you from the first step, through your journey learning the platform. It can remain with you as your site grows, and handle almost any traffic you can pull in. What's more, it can adapt and change to your requirements and needs – perfect for a site that will evolve over time.
WordPress Is a Trustworthy, Scalable Platform For Your Website
That wraps things up for this lesson in our Getting Started course. You've learned why WordPress is great no matter what the size of your site. It can join you at the start of your journey, and stick with you all the way to enterprise-level. What's more the platform is secure, stable, flexible, and well-maintained. There is always support on hand to help you, which makes the community one of the best.
That's all we have for this lesson. We hope to see you at the next one!