Almost every business has a website, and many users start their own personal blogs and sites too. WordPress is the leading platform for getting your site from your mind onto the web, with the least fuss. It has a huge market share (over 40% of the web), and is open-source — so anyone can use it freely as well as contribute to the platform.
In this first lesson, you'll learn all about what WordPress is, why it exists, and the competition it faces. Let's Get Started!
What WordPress Is (And Some Misconceptions)
WordPress is a way to create websites in an open-source, modular ecosystem. It's known as a Content Management System (CMS), which means you get an intuitive way to create and manage your posts and pages of your website.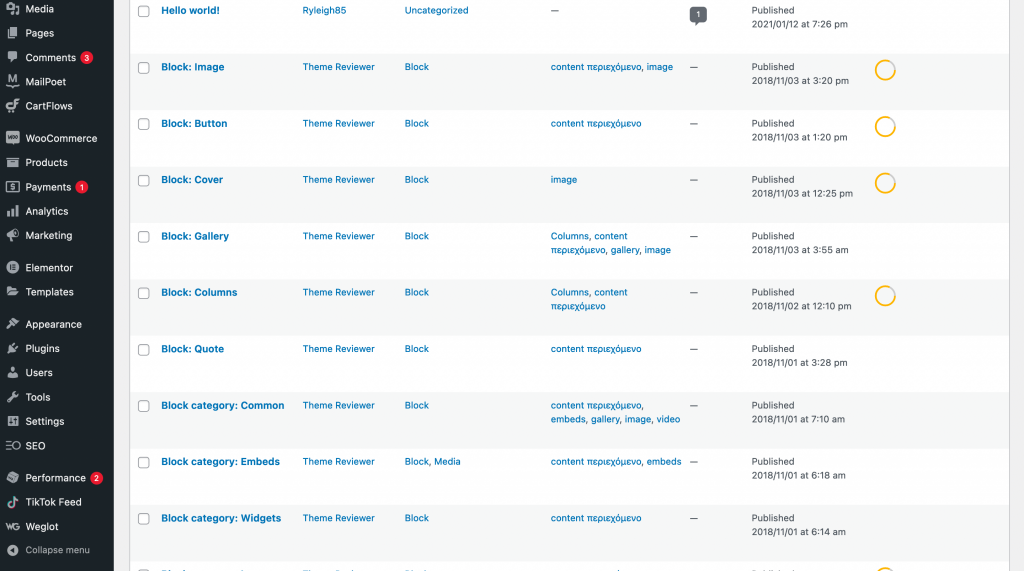 It comes full-featured out of the box, but is also extendable. There are two ways to do this:
Themes – These dictate the look of your site, although some also provide extra functionality.
Plugins – This is how you extend the functionality of your site, and the plugin ecosystem is huge. You'll be able to find a plugin for any practical application and might need.
Since WordPress is an open-source platform, you're also able to develop your site using any coding skills you have. In other words, its full code is available to view and download for free, and contributors across the globe keep improving the offering. You're also able to use WordPress for any purpose — we'll talk about this in another lesson.
Some Misconceptions of WordPress
It's worth taking a few moments to touch on what WordPress is not. This can help you understand how this CMS fits into the wider ecosystem and space:
WordPress doesn't cost anything. This is a slight exaggeration. The core software is free forever, as are thousands of plugins and themes. Though, you'll still need to pay for hosting, a domain, premium themes and plugins if necessary, and a few other elements to run a website, including maintenance. This is something we'll get into in another lesson.
Every aspect of WordPress is easy to use. Yes, the basics of WordPress are easy to learn. Though, there are lots of deeper aspects of WordPress that require thought. It's not a hard platform to learn and use per se, but it's powerful with a codebase to match.
Self-hosted WordPress and WordPress.com are the same platform. This is a common misunderstanding. WordPress.com and WordPress.org (i.e. self-hosted WordPress) are not the same thing. The former is a commercial venture by Automattic. While there is lots of cross-over, the latter is an open-source solution with a wide-ranging community who helps to develop the platform.
This final point gives us a good opportunity to talk about where WordPress has come from. Let's go over this in the next section.
A (Brief) History of WordPress
WordPress was first released in 2003. The goal for co-creators Matt Mullenweg and Mike Little was to provide a stable and well-maintained platform for publishing websites.
So far, there have been five major 'point' versions released, with a slew of minor releases too. The major releases often push WordPress' evolution. For example, WordPress 3.0 brought custom menu management; Version 5.0 introduced the Block Editor. You can find these enhancements and feature upgrades all through WordPress' history.
Over the years, WordPress has increased its scope and security. While the platform was simple at first, you're now able to achieve the following:
Use custom themes to 'skin' your site, for better look and feel or advanced functionality.
Add even greater functionality with plugins, than just text and images.
Use 'Custom Post Types' to create content with a specific focus, such as a restaurant menu, or a recipe post.
Organize and collate your content using a flexible 'taxonomy' system, comparable to labeling.
There's much more in the WordPress box we can (and will!) unpack throughout this course and future ones. For now, we'll discuss why WordPress is here in the first place.
The Benefits of Using WordPress
There are lots of positives in using the WordPress platform to publish your website. In the future, we'll go into more detail and these and other great elements of WordPress:
You're able to publish your site fast, and without fuss.
WordPress is secure, and continues to implement modern techniques and standards for publishing on the web.
The ecosystem is enormous, with thousands of themes and useful plugins available to download.
The community is also huge, and there are lots of developers on hand to help with almost all aspects of using the platform.
You have almost unlimited scope for using WordPress and building your site. In other words, it's fully scalable for any sized project, and is used by some of the biggest enterprises in the world.
You don't have to have any coding knowledge to use the platform, but you're still able to harness the full functionality when required.
In short, WordPress is flexible, scalable, powerful, and cost-effective. Combined, you have the ultimate platform for creating a website.
WordPress Compared to Website Builder Platforms
Of course, WordPress isn't the only platform on the market for publishing your website. There are also premium options to a self-hosted open-source CMS such as WordPress.
Website builder platforms look to provide an all-in-one solution for getting a site online. They behave like WordPress in some ways, but you often lose some freedom along the way.
For example, with WordPress, your content remains yours. With some of the premium alternatives which are not open source, you're not able to export any of your site, which makes it difficult to take your site with you if you want to switch environments.
Should I Use WordPress?
On the whole, WordPress is flexible, scalable, and extendable. It can provide a simplified blog content management experience or everything you need to build the most complex websites around – and you can do it by fully coding your project or visually editing it into life using available builders.
What's more, the open source platform lets you manage your data and content however you wish to. We think this makes it the best solution for publishing your site regardless of your goals, and why we want to teach you the ins and outs of the platform.
Wrapping Up
Congratulations on beginning the Getting Started course! This first lesson talks about what WordPress is in a general sense, its functionality, some of the other aspects of the platform, and the competition. As we work through the upcoming lessons, you'll better understand some of these concepts, and gear towards launching your first website over WordPress.
If you have any questions about the concepts in this lesson, feel free to reach out. We'll see you in lesson two!