Nothing motivates us more than being able to provide our users with something they've been requesting for a long time, and that we know will give them great value instantly. This is exactly what led us to partner with Yoast SEO, the leading SEO plugin for WordPress.
Yoast SEO has now released a comprehensive integration with Elementor. With both plugins installed, you will get the full scope of functionality for the popular Yoast SEO plugin right into your Elementor editor. You will now be able to optimize your page for search engines as you're building it, in one seamless experience.
This exciting integration was a natural step, seeing as both the Elementor and Yoast SEO teams share similar values and incentives, each making its contribution to expanding WordPress' community and offering. Both companies aim to streamline website creation and optimization, efficiently removing any unnecessary obstacles that interfere with the intricate workflow of WordPress web creators.
The Yoast SEO plugin needs no introduction. It is widely used on over 11 million WordPress websites, and is the most popular plugin for helping users get higher rankings on search engines. 
Yoast SEO also gives you tools to help you optimize your content and your website structure, and has become the go-to solution among bloggers, SEO experts, and a vast number of WordPress users in general. Since Yoast SEO and Elementor firmly hold positions in the top 5 WordPress plugin list, combining their benefits has considerable value for millions of WordPress users and websites.
Yoast's plugin is also popular among Elementor users, who will now be able to implement SEO optimization and content improvements in line with their web creation workflow, saving them precious time.
The integration is both for the free and premium Yoast plugins, giving you access to the SEO and readability analysis tools, Google preview, related keyphrases with SEMRush, as well as many other Yoast SEO premium features, such as Internal linking suggestions, the option to set synonyms and related keyphrases, and the social previews can be found in this sidebar.
Until now, there wasn't a unified experience allowing you to create sophisticated, high-end designs and optimize their content for search engines at the same time. Now millions of web creators using Yoast SEO and Elementor can take advantage of this integration and elevate their websites even further. With a streamlined design and content optimization workflow, it is much easier for web creators to build a high-performing website and a successful business.
This integration works for the free and pro versions of both Yoast SEO and Elementor.
Once you've installed both plugins, open the Elementor editor, where you will see this panel: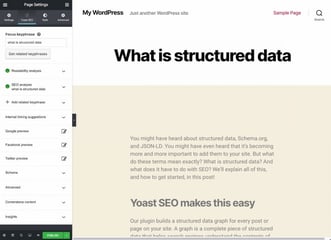 Now you'll be able to go through your regular routine of optimization with Yoast SEO, only inside your favorite editor.  With the integration, users can take Elementor and Yoast SEO to build even more powerful websites that delight visitors and gain substantial search engine rankings. You can read more about the integration in our documentation.
How will this integration impact your websites and business? Are you as excited as we are? Let us know in the comments below.
Looking for fresh content?
Get articles and insights from our weekly newsletter.