Throughout 2021, Elementor introduced loads of new widgets — like hotspot, video playlist, code highlight and progress tracker, features — like color sampler Scroll Snap, Gradient Button and mask options, improved existing ones, made significant improvements to performance, provided new design capabilities, marketing tools, ecommerce, and more. The updates throughout the year allowed you to reach new levels of design innovation.
As we look back at 2021, this is an excellent time to list three of our main initiatives, before delving deeper into your favorite updates and features, including:
Improved performance – multiple new updates were introduced to reduce page load time. These updates include removing unnecessary DOM elements, reducing page load time by loading parts of the infrastructure JS and CSS code only when needed on the page, changing the loading mechanism of Eicons and Font Awesome icons into SVG, and more. As this is one of our ongoing commitments to you, to improve performance, it's nice to see the headway we've made in the past year — and we promise to introduce more next year.
Streamlined workflow – to improve your experience as you build websites, we've invested heavily in streamlining your workflow, removing redundant tasks, and allowing you to finish your websites way faster.
Stabilized environment – to increase the stability of your environment we've introduced Experiments. This is where you can activate or deactivate features whose stability is not 100% guaranteed yet.
Your Favorite Features from 2021
Throughout 2021, we released a total of 5 Elementor version updates and 5 Elementor Pro version updates, amounting to 47 new features, widgets, and general improvements! In a recent survey, we asked you to choose your favorite ones from 2021. Having a lot to choose from, naturally, the selections were diverse, so we've highlighted the top seven selections below:
#1 – Full Website Kits
Your most favorite feature of the year was the Full Website Kits, released in July with 5 Free Subscriber kits, 65 Pro Subscriber Kits, and 20 Expert Subscriber kits. While page, section, and popup templates were already available in the library, full website kits were a new addition, allowing you to export an entire website as a kit — including homepage, 404 page, header, footer, archive page, single page, and more. Every component in each kit shares the same design and styling language and is easily customizable.
Each of the website kits is created by a team of top-notch designers and Elementor experts, who curate cutting-edge trends for web creators. Using a full website kit from the Elementor Library, you can quickly get started on a new website in just a few clicks, or get inspired with advanced design options, while ensuring you are including all the components of a fully functional website. New Full Website Kits are continuously being added to the library. To give you a little extra push around specific occasions, when you may want to revamp, update or create new websites, such as Christmas or Black Friday — we come out with dedicated kits.
#2 – Form Submissions
Form Submission took the second place in your most favorite features. As part of our ongoing effort to empower marketers to achieve more using Elementor, in March of this year, we introduced Form Submissions to Elementor Pro. The new Form Submissions feature was a natural addition to the form widget, allowing you to collect the information your leads supply in Elementor.
By collecting your forms' Submissions within Elementor, you gain direct access to leverage the data your users provide, you can seamlessly access the data, analyze it, or export it to a CSV. You can also filter your forms by Form Names, Pages, Bulk Actions, or Date Ranges to easily view, edit or delete a submission. Now, you can easily build a single-, or multi-step form with the Pro Form widget, collect your users' submissions, and integrate with third-party marketing tools, all in one place.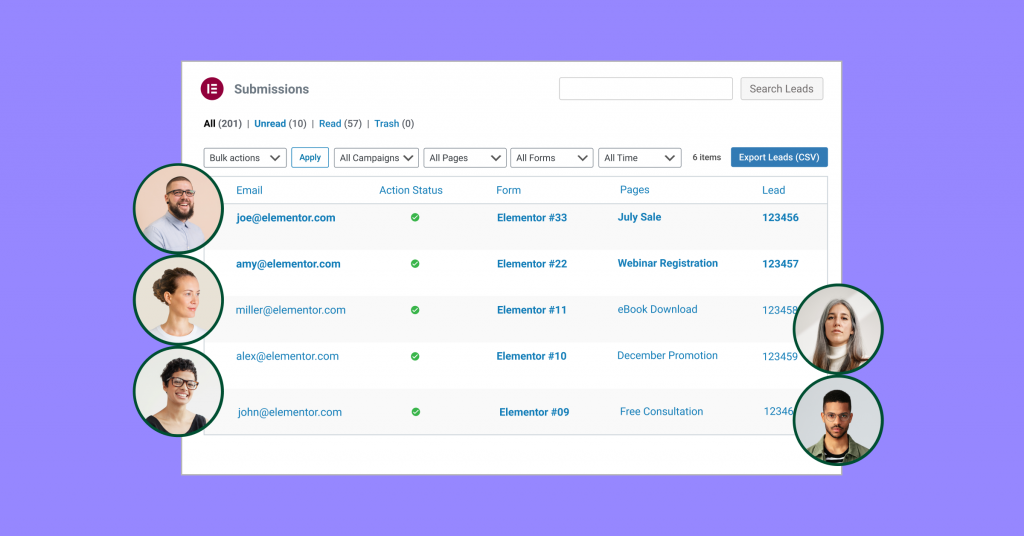 #3 – Extended Ecommerce Capabilities
Ecommerce is a trend that doesn't seem to be slowing down, that's probably why it is located snuggly in the third spot. Between the consumer comfort of purchasing from their own home (or on the go with their mobile devices) and the ease in which businesses can sell their products online, Ecommerce is here to stay. This trend makes part of your job to increase conversion and boost sales. To support this growing trend, and provide you with competitive solutions for creating online stores, we released multiple updates in the past year to customize and perfect your online stores, and elevate the shopping experience:
#4 Custom Code
Coming in fourth, we have Custom Code. This feature introduces flexibility on a whole other level, without having to edit the theme files or use additional plugins. You can add custom code to any page on your website simply by accessing the Elementor menu in your WordPress dashboard.
With Custom Code, you can add Google Analytics / Facebook tracking codes to any page of your website for marketing purposes, or you can create your own custom code to adjust the appearance of certain elements on your website, like adding JavaScript to create your own custom cursor. You can even insert multiple custom codes on one section and determine the priority of each one, to set the order in which they load. The possibilities are endless, it's just a matter of how far you want to take it.
#5 – Landing Page Builder
This crowd favorite, in fifth place, is one for the marketer's toolbox — the ability to use the Editor's Drag & Drop capabilities to create dedicated landing pages. Landing pages are an extremely valuable resource, allowing you to direct users to a specific page, or step along the funnel, without losing them in a menu maze. Typically, you would create an ad, directing to a landing page where you will offer your services, products, create a form to register for an event, a single-click purchase process, and more.
With the Landing Page Builder, you can create a landing page that does not inherently adopt the design language or navigation menu of your main website — that way you keep users focused on the topic at hand. To jumpstart your process of creating landing pages or give you some guidance as to the structure to use when approaching different types of landing pages — we've added multiple landing pages to the template library, including several ones reserved for our Expert Subscribers.
#6 – Import & Export
In the sixth spot, you voted for the Import & Export, including the ability to do so for full Website Kits first introduced in April and then expanded upon in July with future improvements coming. Marking a major transformation, specifically for those of you with multiple clients who create several websites. This feature enables you to export an entire website, parts of a website, custom code, or even marketing assets like forms and popups so that you can import them into other projects and reuse them.
With the Import & Export feature, you can create prototypes for different types of websites such as a restaurant, or ecommerce, etc., and repurpose them any time you need to create a similar website. This empowers you to accelerate your website creation process significantly. Additionally, you can repurpose specific sections or pages — created a popup or form you particularly like or that performs exceptionally well – why not use it again in future projects?
#7 – Custom Breakpoints
Allowing you to achieve pixel-perfect design is one of our main missions, and we guess it's important to you too since you voted Custom Breakpoint in seventh. In August this year, we added four additional breakpoints, to the previous two, empowering you to control what your website looks like on up to 7 different device types. 
Custom Breakpoints allow you to choose the breakpoint and adjust the styling for each one, to ensure your users view your website optimally, across any device. For example — those of you with an image gallery that displays four images in a row may not want to adjust the display on mobile to two images in each row. With Custom Breakpoints, you can do so without duplicating sections, which affects performance.
And… That's a Wrap.
Now that we've shared some of our main accomplishments in the past year and your favorite updates, it's time to stop looking back and plan for the future. Just as we did in 2021, we plan on releasing extremely impactful updates in 2022, updates that will change the way you create websites, for the better!
We know we recently asked you to rate your favorite updates, but did you know you can also have an influence on how each update looks? Elementor's Dev Edition allows you to experience new features and widgets before they're publicly available, giving you an opportunity to provide feedback, which can shape their final development.
Important Note: Features in the Dev Edition are in their early stages of development, therefore we recommend installing it only on test or staging environments and not on production environments. In the Dev Edition stage, you may encounter issues or bugs, if you do — please provide your feedback here.
Get the Developer Edition here
Looking for fresh content?
Get articles and insights from our weekly newsletter.