Although her heart is torn between philosophy and psychology, Merche Salas Muñoz found her calling in web creation. She says she is lucky to have turned her passion into a profession, and she's committed to helping others do the same.
Her contagious enthusiasm is one of the reasons why Elementor is such a popular web-building tool in the community. In fact, she actively promoted it among her peers long before she officially became part of the Elementor family.
When asked about her values, she replies with her favorite quote by Marcus Aurelius: "Don't get tired of receiving favors while you do them." She could easily spend hours sharing her web design tips, so let's meet her and see where it all started!
Name: Merche Salas Muñoz
Profession: Web Creator
Which community do you lead?Meetup Elementor Zaragoza, Spain

From Crisis to Web Creation
Today, Merche is an inspiring web creator and business owner. However, before she became an expert in her field, Merche experienced some hardships that drove her to re-invent her career.
She recalls the global economic crisis in 2011 and reveals that it was a turning point in her life. What began as a layoff from her job — an unfortunate event that affected many people — brought her to resume her design studies. "It was a lucky moment for me," says Merche.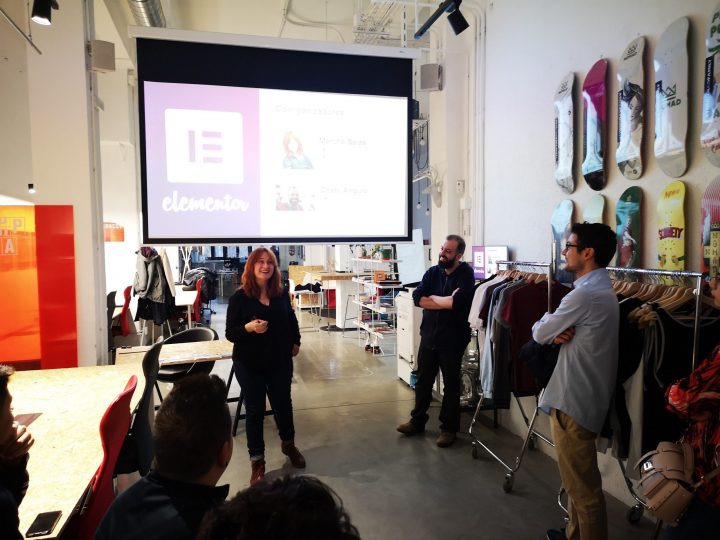 The years of intense effort invested in her education have certainly paid off. "All this led me to work on what I am passionate about: web creation." Merche's transformation story can serve as inspiration for anyone who considers going back to college and chasing their dreams. "I am where I want to be."
Doing Favors Brought Merche to Elementor
Merche loves spending afternoons with her friends and exchanging web design ideas. She sees it as an opportunity to create good karma by sharing knowledge and doing favors to others. In fact, that's what led her to join the team at Elementor.
It all started at one meeting, where she discussed her working methods with other web developers. She recommended Elementor as one of the best page builders for WordPress. "It facilitates my workflow and creativity," she says. "Surprisingly, my friends didn't know about this tool!"
One of her friends observed that Merche should spread the word about Elementor and bring it to a broader audience. This comment inspired her to become a community leader of Elementor Zaragoza, where she continues to educate others about its perks.
Thriving Through Diversity
Merche thrives when she can simultaneously work on multiple projects, which she can carry out much easier thanks to Elementor. "When there is a diversity of designs, you learn much more," she says. "You can use this experience and help others to improve their work."
Her daily schedule as a community leader involves working from home and liaising with her colleagues at Elementor Spain. She discusses her practices and even participates in experiments that serve the development of the platform. She also prepares for future presentations at meetups. "In essence, we share, learn, and support each other, and the communities we lead." 
She admires her fellow community leaders for their professionalism and the love for what they do. She also stresses the collaborative strength as one of the highlights of working at Elementor. "I am lucky to have my colleagues, because not only do they give everything to their communities, they also contribute to mine."
She loves Elementor for its simplicity and the ability to reposition various elements. It helps her build creative designs more efficiently, and she wants to encourage others to do the same. "It's very satisfying to help others evolve in their business. Thus, my purpose in the community is to facilitate creativity and better workflows."
Her most memorable moment at Elementor was organizing her first meetup in Spain. "We wanted everything to be perfect because we had a lot to communicate. In the end, it was a success". She recalls the event as being full of enthusiasm. The visitors were positively surprised about Elementor and wanted to know more about its tools.
If she could add more features to the platform itself, it would be a wider integration with WooCommerce. As part of her business, she has been using WooCommerce regularly to build online stores for her clients. Elementor enables her to build spectacular designs personalized to each customer. However, she considers e-commerce one of the fastest-growing fields, so she would like to see an even more robust set of features.
While Merche is passionate about her work, she is also an avid reader. She loves classic literature and the work of great philosophers and playwrights. 
She names Ovid, Plutarch, Euripides, and Aristophanes as some of her favorite thinkers from the Greek and Latin world. In fact, if she weren't a web creator, she would have likely chosen this field as her profession. "My heart is divided between philosophy and psychology. Actually, they both feed off each other." 
She also likes to come back to the renowned works from the Spanish Golden Age. "I have to admit that I don't look for new authors. I go directly to the best ones," she laughs. Some of her favorite Spanish authors include Calderon de la Barca and Lope de Vega.
Lastly, she is a caring dog lover and a proud owner of a beautiful greyhound called Duna. "I adopted her to save her from abuse and neglect. Now she's part of the family."
Becoming an Elementor Evangelist
As Merche is such a giving person, it's no wonder that she loves to share her knowledge at community meet-ups and beyond. Even in her free time, she thrives when she can help others and create what she calls "interesting synergies" within a group.
Thanks to passionate individuals like her, Elementor grows into a web design platform that facilitates creativity and improves workflows. As she likes to say poetically, it's a 'delirium for the creative universe,' so be sure to join us at the next Elementor meetup!
What to join Merche and become an Elementor evangelist? Apply to become a community leader!
Looking for fresh content?
Get articles and insights from our weekly newsletter.