This month's Elementor Community Leader is Clement Yonathan Darmadi. He is a digital marketing enthusiast, entrepreneur, and the founder of the first Elementor Meetup in Indonesia's capital of Jakarta. Let's meet him and learn how he balances his family life with running his own business (and still finds time to go for a morning jog!).
Clement is passionate about helping people from non-technical backgrounds get the most out of Elementor. If he was Chief Executive Officer (CEO) of Elementor for the day, he'd spend that time trying to predict the future — and using that information to help meet the needs of Elementor's community.
Name: Clement Yonathan Darmadi
Profession: Founder of ClementYo.com & Flazzweb.com (Website Services)
Which community do you lead? Jakarta, Indonesia
Kickstarting the Local Community
Clement's journey to becoming an Elementor Community Leader started when he searched for an Elementor Meetup in Jakarta, Indonesia, only to realize that one didn't exist. Rather than resigning himself to flying solo, Clement decided to start his own event.
He launched the Elementor Jakarta Meetup, which he now helps run as a co-organizer. At the time, Clement admits that perhaps he didn't have the most Elementor experience. However, he felt confident that he could develop his skills in the right community. So when he realized that the community didn't exist, he decided to create it.
Today, Elementor Jakarta has over 700 members, and Clement is proud to have made his mark on Jakarta's technical scene.
He loves being able to help other Elementor users but stresses that being a Community Leader isn't just about giving back. "The best part is that I've learned so many things from the local and leader community," he says.
A Day in the Life of a Community Leader
As a Meetup Leader, Clement's main role is organizing the monthly Elementor Jakarta Meetups. At these events, prominent members of the local developer community and Elementor users come together to share their knowledge and exchange Elementor tips and tricks. 
While Elementor Jakarta is particularly geared towards digital agencies, freelance web designers, and in-house web development staff, it's open to all Elementor enthusiasts. Past sessions have covered topics as diverse as using Elementor with WooCommerce, Search Engine Optimization (SEO), WordPress security, and CSS. To ensure that they're sharing knowledge safely, recent Meetups have moved to the popular Zoom platform. 
As a co-organizer, Clement's responsibilities include deciding on the Meetup topic and finding awesome speakers and presenters who have something interesting to say about the subject.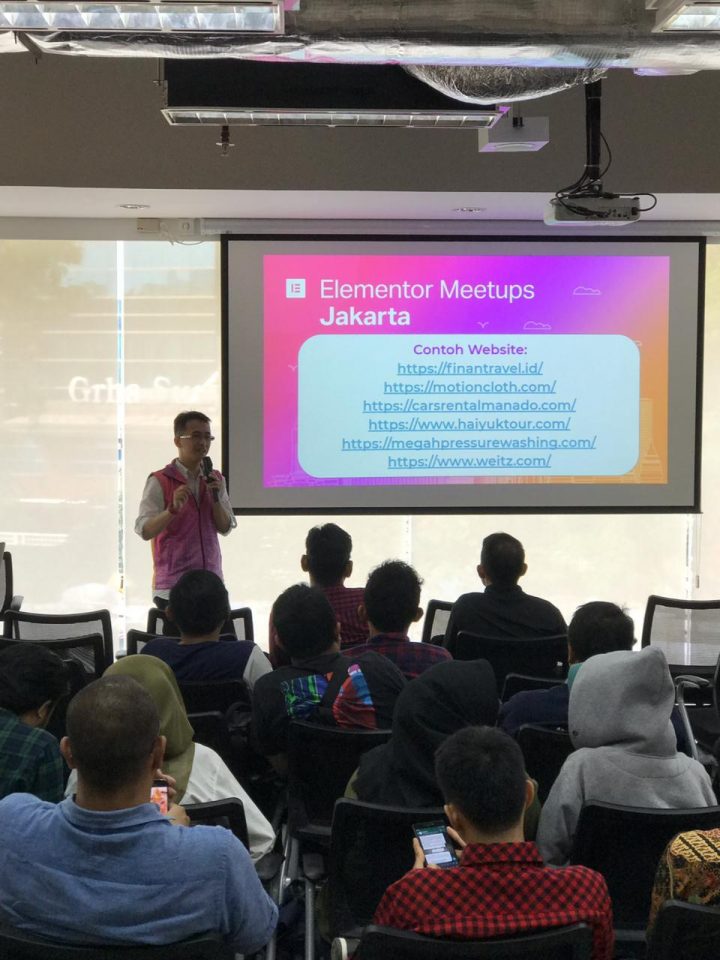 Once the Meetup is planned, it's time to move on to the administrative work. Clement creates the event on the Meetup.com platform and reports the upcoming event to the Elementor Meetup Manager. 
Not content with spearheading his local Elementor community, Clement is also active in non-official Elementor Facebook Groups. He makes a point of answering as many questions as possible and helps out by sharing useful resources related to both Elementor and WordPress. 
When he isn't getting involved in everything Elementor, Clement is passionate about balancing work and home life. No matter how busy he gets, Saturday is always dedicated exclusively to family time. 
Introducing Elementor To the Next Generation
When asked about his hobbies, Clement says he enjoys starting his morning with a walk or a jog, as he feels this gets him ready for the day. He also stresses the importance of spending time with his young children and setting aside dedicated days to spend with his family. With that in mind, it's fitting that his most memorable Elementor moments all revolve around introducing Elementor to the next generation.
He shared a memory of one attendee bringing her baby to an Elementor Jakarta Meetup because she couldn't leave the baby (or miss the Meetup!). Clement said that the mother's dedication to attending Elementor Jakarta made an impression on him because he "could see how enthusiastic she was about joining the Meetup". 
Apparently, Clement's eight-year-old daughter is also eager to learn Elementor, thanks to her father's role as a Community Leader. "She is always curious when I do [an] online meetup," he said. 
Making Web Design and Development Accessible
When asked about his experiences with Elementor before becoming a community leader, Clement is quick to point out that he was far from an Elementor expert. In his own words, he didn't have a huge amount of programming experience, but this is exactly what drew him to Elementor in the first place.
Elementor's intuitive, drag-and-drop editor enables you to design beautiful and professional-looking web pages without having to write a single line of code. Formal design and programming experience is a plus, but it's not always a necessity. Clement is convinced that as long as you have a goal and a vision, you can bring it to life in Elementor. 
Even if it isn't perfect the first time, Clement encourages Elementor users to keep trying. It may take some extra patience and perseverance, but eventually, you'll create something you're happy with. It may even turn out better than you anticipated.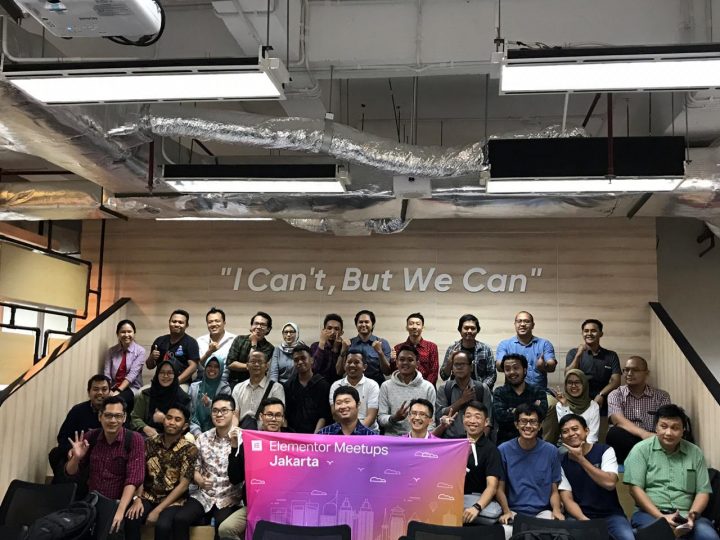 This is what makes Elementor such a useful tool for designers, developers, and website owners. It's also why Clement is determined to share Elementor with more people via his Jakarta Meetups.
We asked Clement about his favorite features, and he's a big fan of designing his own styles and layouts in Elementor's Theme Builder. This editor is the key to building engaging websites without having to write code. 
Clement is also partial to the Global Fonts and Colors feature. Often, there are elements you'll use multiple times across your website, but at some point, you may need to change them. Rather than editing each element individually, you can make this change once, and Elementor will then replicate it across your entire website. 
All Things Digital Marketing
Clement is enthusiastic about digital marketing and runs his own digital marketing agency called Flazzweb. Flazzweb's services include digital advertising, lead generation, and social media marketing. However, we couldn't resist asking Clement about his 'plan B'. What career would he have pursued if he hadn't discovered his love for digital marketing?
Considering Clement's interests, perhaps it's not surprising that he said SEO. Before Clement became involved in the Elementor and WordPress communities, he was fascinated by SEO and high conversion landing page topics. We can see why this interest would naturally lead to a successful career in digital marketing.
His journey has been influenced by several key individuals. Clement identifies Chris Do as a big inspiration, and credits him with influencing his decision to shift from freelance work to an agency mindset. 
Clement is also a big fan of the designer, entrepreneur, and YouTuber Ran Segall. As part of his YouTube channel, Segall provides lots of helpful design and development advice. He also reviews websites and provides commentary, which Clement finds particularly useful. 
What Elementor and WordPress YouTubers should we all be watching? Clement recommends Paul C from WPTuts, Rino Deboer from LivingWithPixels, and KayCinho. "I learned a lot about Elementor from those guys," he explains. 
However, ultimately, Clement is motivated and inspired by his family. "They supported me to pursue my new career as a web creator," he says. "Even though I think I started this career a bit late, at the age of 38 years old!"
What functionality would Clement like to add to Elementor? He has lots of ideas, including dynamic widgets that would only appear when specific conditions are met.
Clement is also dedicated to inspiring web creators to build beautiful, engaging websites using Elementor. To help achieve this goal, he suggested creating a dedicated web page that showcases the best websites built using Elementor. This page would be filterable, to help Elementor users find sites that align perfectly with their industry, category, color palette, and other important characteristics.
Continuing the community theme, Clement would like to see a platform that is similar to Dribbble but dedicated solely to Elementor users. Clement says that this was one of many suggestions made by attendees of his Elementor Jakarta Meetups, so thanks for all your great feedback and ideas! 
When asked what he'd do if he was Elementor's CEO for a day, he told us he'd create a product and community division that would listen to the community's needs, and make sure Elementor is exceeding all of those expectations.
He would also create a division to try and predict what Elementor users might want in the future, by analyzing current trends in user behavior. This would help Elementor become a must-have tool for all web creators, including those who use Content Management Systems (CMSs) other than WordPress. 
Inspiring Your Local Community
What we love about Clement's story is his reaction to realizing there were no Elementor Meetups in his local area. When there's no community to learn from, why not create your own? 
Through his hard work and dedication, Clement has built a local community of web designers and developers everyone can benefit from – even if it means bringing your baby to the next Jakarta Elementor Meetup! Want to join Clement and become an Elementor Community Leader, or host an Elementor Meetup in your area? You can enroll in the Elementor Leaders program – apply now!
Looking for fresh content?
Get articles and insights from our weekly newsletter.