Sophie Caperaa leads the Paris Elementor Community, which is represented by a rich diversity of web creators in all French-speaking countries around the world (since the shift to online due to COVID-19). Let's meet the empowering woman at the helm of this community.
Name: Sophie Caperaa
Profession: Owner, Agence Léontine
Which community do you lead?  Elementor Paris
An Entrepreneurial Spirit
Sophie comes from a marketing and communications background, and two years ago she mustered up the courage to start her own company, Agence Léontine, a marketing agency that helps small businesses to set up their marketing foundations.
It was in the process of helping small businesses set up their digital footprints that Sophie discovered Elementor. She was enamored by the website building platform as it enables users to constantly refine their brand's messaging, add new products, or update the look and feel of a website, all without any need to deal with code. 
"For me, it's incredibly rewarding to work with people who are just starting to build their business. I also love working on my own as it's gratifying to see all of the work that I accomplished on my own." 
Championing Collaboration
Sophie was invited to lead the Elementor French community by François Delattre, an accomplished website creator from the Xarax agency who co-leads the Elementor community. As a matter of fact, François was Sophie's mentor and taught her how to use Elementor. 
François and Sophie have a wonderful symbiosis, where François brings Elementor knowledge and experience and Sophie focuses on engagement and fostering relationships within the community. Sophie is determined to empower beginners to feel comfortable, as she views herself as one. 
When asked about what motivated her to lead the community, she responded "when I started experimenting with website building, I discovered a rich and complex world. Building a successful website has so many moving parts and requires various experts including web developers, designers, SEO experts, and marketing professionals like myself. 
I felt (and still feel) that I have a TON to learn in each of these domains and this is what inspired me to create this community. Moreover, to me, the community is all about collaboration – collaborating with François and our incredible community members.
As an example, thanks to the vibrant Elementor community, I'm constantly meeting new people to collaborate with on projects even for my clients. For instance, I recently found a graphic designer and an SEO expert from the Elementor community to bring their expertise on a new project from my client."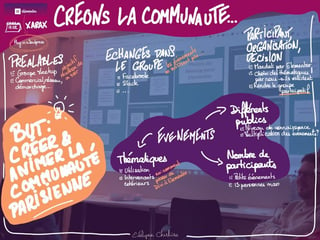 Relationship Building and Empowering Others
As a community leader, Sophie's role has naturally evolved with the pandemic, and with the shift to online, there has been an increase in the number of users joining the community. Today her role is to primarily make everyone feel comfortable enough to speak up, get involved, and ask questions, regardless of their level of experience or proficiency with Elementor.
She likes to go the extra mile and always reach out privately to new members making certain that they're all settled in and feel comfortable working with the other members: 
"There's nothing that gives me more satisfaction than helping other beginner web creators like me in building their first web creation." 
To make sure that the French community is equipped with the latest updates on what's happening in Elementor and new features, Sophie attends the monthly global elementor meetup (a meeting with all elementor leaders worldwide) and then shares the information accordingly with the French community. 
Lastly, Sophie aspires to build meaningful relationships with her fellow community members by making sure to keep in regular contact with each of them and not just when scheduling the meetups: "The best part of leading this community is the people that I meet, build relationships with, learn from, and even collaborate on new projects with. All of these relationships and experiences open my horizons and make me a better professional."
Pushing Boundaries, Dreaming Big
Sophie's most memorable moment as a leader is when she was moderating her first online meetup. She wasn't used to organizing events of this scale or promoting herself on social media, which made the first meetup nerve-wracking for her at first. 
However, she managed to break through the stress and pull it off! This experience pushed her to be braver and conquer new experiences. Sophie is happy to report that thanks to this experience, she now loves organizing and moderating meetups and finds them to be one of the best parts of the community.
In a dream world, which will hopefully one day become a reality, Sophie would love to have Dame Stephanie Shirley join the community. Shirley founded one of the largest software companies in the 60s in England. Her company invented the black boxes (recording boxes) for airplanes, and she initially employed only female programmers while pioneering the idea of sharing company ownership with her employees. 
"What particularly inspired me about her was her fierce dedication to feminism and pushing the envelope in terms of innovation. I just bought her memoir and can't wait to read it! I would love to have her share her story in one of our meetups." 
Sophie's a dedicated power-user of Elementor and loves to evangelize its most useful features. Her personal favorite? "Forms — as a marketer, all of the options in the form widget are very easy and useful."
With that said, if she could add one piece of functionality to Elementor, it would be to connect the "see-the-form" widget to Sendinblue (the European equivalent of Mailchimp). "If I could connect it as easily as I do with Mailchimp, it would be amazing!" 
Finally, if Sophie were the CEO of Elementor for one day, she'd take some time to thank everyone for all that they do and throw the best party ever to celebrate them! 
Become A Community Leader
Looking for fresh content?
Get articles and insights from our weekly newsletter.