Our leaders stepped up to help their local web creators overcome these times of uncertainty, to keep learning, networking and supporting each other. During February and the first half of March, we conducted several offline events, and launched six new meetup groups: Sevilla and Zaragoza, Spain, Gwinnett County, GA, US, Helsinki, Finland, Las Vegas, and Hong Kong. Altogether, more than 40 Elementor meetups took place around the world during the last two months. 
Find a local meetup group around you in more than 26 countries 
Can't find one near you? Apply to host a meetup in your hometown
Growing the French Community — Paris, France
Sophie Caperaa, our Parisian meetup leader, shares about the launch of the first meetup group in France:  
"We launched the first Elementor Paris Community in January. We want to create a friendly community, so we decided to start with a small number of participants in order to create closer proximity.
During the meetups for advanced users, we have been very happy to see how enthusiastic the French community is about Elementor. 
In these events, participants shared tips on how they are using Elementor for themselves and their clients. Exchanges have been very friendly and collaborative. Everyone played the game and shared great value with the group.
In the meetups for beginners, we have been able to help new users with Elementor techniques and ways to use the tool for their businesses. We met with entrepreneurs, designers, and other professionals, each with varied ways of managing their online presence. 
It was very interesting to see the differences between all those professionals and web enthusiasts. Everyone very quickly understood how Elementor could benefit them and their companies, and many will join the future thematic meetups.
I am personally looking forward to the first thematic meetup, to share with other professionals and meet new Elementor enthusiasts!"
The Launch of the Gwinnett County Meetup
Kerry Wolfe, local meetup leader for Gwinnett's County, Alabama, shares his experience from their first local meetup: 
"There was a real demand for help with Elementor in our area. We live in Gwinnett County, just outside of Atlanta, GA, US. The county has a population of nearly a million people, and nearly six million people live in the Metro Atlanta area. Gwinnett County needed an Elementor Meetup.
I didn't know what to expect for the first meetup since I had never started one from scratch. Elementor was a huge help! They set up the Meetup account and handled much of the promotion for our event.
I mentioned earlier that there was a demand for help with Elementor…well as soon as our Elementor Meetup page went up, people started joining as members. Twenty-five people joined even before I did. After a month, we already had 60 members!
On the next day after the first meetup, I received this message from one of the members: 
'Kerry, thanks for organizing the meetup on Wednesday. I was excited about learning more about Elementor, and the meetup did not disappoint."
After getting our first Elementor meetup under our belt, I have to say, it was a great experience, and I'm looking forward to next month's meetup'."
Tonisha Tagoe, London meetup leader, summarises shared with us, how the meetup benefits the local community: 
"One of the most important and helpful aspects of the Elementor event was the networking and socializing that went on afterward. Our members seemed to greatly enjoy the opportunity to connect and forge bonds with their fellow Elementor users, which we were chuffed by. 
Most people said that they were coming along to meet other people who want to use Elementor as well since, at the time, they used it as work by themselves with no professional contacts that used it. They felt that they were lacking advice, feedback, and best practice, which we happily provided during the Elementor meet-up.
We also had a show-and-tell session during the event in which people showed parts of their website and asked for help and advice from other Elementor users. Around five people showed their projects and got some really helpful feedback, which they could implement right on the day – including a guy who traveled all the way from Wales. 
We learnt that it is really important to have a face-to-face platform to network, mingle, and share feedback. The world of web development is quite a lonely place that naturally puts a lot of investment into technology but not necessarily people so that communication can be a bit lacking. We hope that our Elementor meet-ups can enable developers and entrepreneurs to connect, bond and grow together in a constructive and proactive environment.״ 
The First Online DACH Meetup
The online meetups open new opportunities for local communities. Just as we value the in-person connection, we also value collaboration and community support. Our German community came together to host DACH (Austria-Germany-Switzerland) online meetup for all German-speaking members. 
Helmut Gobel, the meetup leader of the Munich group, writes: 
"Perfect start of our DACH Online-Meetups. Up to 84 participants from all over these three countries. Andreas Hartmann and David Neumann presented the 2.9 Update of Free and Pro. We had nine breakout sessions and an extended discussion after that. We planned for 90 minutes. After 110 minutes, we wrapped up."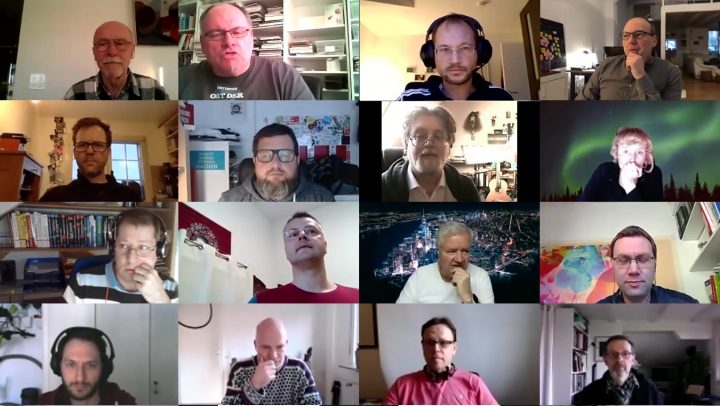 Elementor Spanish Community Come Together
The Spanish community, with seven meetup groups in Spain, came together to host weekly online meetups hosted by a different city. The March event was led by the Barcelona team, Alberto Perojo, and Montse Magaña. They had a Q&A session about Elementor. The questions were collected in advance. In the second part of the meetup, the 80 participants had a successful time networking in small breakout sessions. 
Join the Spanish Elementor community:
Madrid | Barcelona | Valencia | Zaragoza | Sevilla | Marina Alta | La Coruna
Want to meet and collaborate with Elementor web creators in your area? 
Find your local Elementor Meetup
Want to start an Elementor meetup in your hometown? 
We'd love to get you on board, Apply here
Check out our next Online Meetups
🇪🇸  Madrid, Spain – April, 2nd 
🇪🇸 Valencia, Spain – April, 8th 
🇨🇭 Bern, Switzerland– April, 7th 
🇨🇭 Zurich, Switzerland – April, 14th
🇬🇷 Athens, Greece– April, 4th 
🇫🇷 Paris, France – April, 5th 
🇳🇵 Butwal, Nepal – April, 8th 
🇫🇮 Helsinki, Finland – April, 9th
🇩🇪 Munich, Germany – April, 14th 
🇦🇹 Vienna, Austria – April, 14th
🇮🇳 Kolkata, India – April, 25th 
🇬🇧 Manchester, UK – April, 27th
Looking for fresh content?
Get articles and insights from our weekly newsletter.