Last September we had a great turn up for our Elementor meetups worldwide. These great and beautiful cities hosted the events: Madrid, Aba, Lagos, Surat, Gold Coast, Tel Aviv, Valencia, Dusseldorf, Raleigh, Zurich, Munich, Milan, and Penang. Our meetup leaders have also agreed to share their thoughts on why you should become a meetup leader and our meetup members have shared their insights on what they think about these meetups.
Find an Elementor meetup near you or apply to become a meetup leader.
Elementor Meetup — Madrid, Spain
In Madrid, the fourth Elementor meetup was held, titled: Designing Complex Sites with Elementor and Custom Post Types. 
The meetup was focused on how to achieve the customization options of websites specializing in rentals, real estate, classified ads, movies, etc by using WordPress, Elementor and custom post types or tickets. The meetup covered incorporating these functionalities both from the back end and from the front end. Key speaker was Jorgee Jorge Bañón, a website developer and a professor at CEI School of Design with 20 years of experience. There was also a dedicated session for Elementor news and plugins. 
On Becoming a Meetup Leader
From Madrid's Meetup Leader — Angel G Zinsel: 
"We run different kinds of meetups based on the preferences of the group and normally vote during the meetups. The topics are chosen by the members this is important since it produces engagement and participation. For me, the best moments are after the main speech, during the more interactive part, like seeing the reaction of the group, listening to their questions on the topic of the day and to their recommendations for tools that will enrich their interaction with Elementor. 
The best part of leading a local Elementor community is seeing how it matures and grows. It's like magic. Communities are about giving. When you understand this and practice it, great things will happen inside you and around you. Believe me, or even better, do it."
What the Community Had to Say
Santiago Alonso, a community member of the Madrid meetup group had this to say:
"If I need to summarize my experience with the Elementor Meetups in Madrid using only one word I'd say: GROW.
Grow my knowledge with every interesting meeting.
Grow my network, by meeting new colleagues.
And even grow my business. I've already signed 2 projects with a web agency that I met at this meetup."
Elementor Meetup — Aba, Nigeria
In Aba, Nigeria, the first Elementor meetup was held, titled: Getting Started with Elementor. 
This was an introductory meetup that explored Elementor. 
On Becoming a Meetup Leader
This what the Aba meetup leader — Jethro Theo Paul, had to say: 
"We held our first Elementor Aba meetup. Honestly, I must say that it was a great experience for the participants including myself and my co-organisers. We started by introducing ourselves, we talked about the stuff we do, our level of experience with WordPress and what we're expecting from the meetup. We continued by introducing WordPress CMS so that people who were just hearing about web design for the first time could easily grab what Elementor was all about.
We then discussed Elementor and its benefits for the modern web designer and marketer. And then we designed a website right there in front of the participants. They kept shouting in amazement at how easy it was to use the tool. The meetup featured networking among participants, live practicals, a Q&A session, individual help with setting up Elementor and, of course, light refreshments. Thank you Elementor for giving me the opportunity to serve my community! With love from all of us at Elementor Aba".
Elementor Meetup — Surat, India
In Surat, India the third Elementor meetup was held, titled: Tips & Tricks to Create Your First Elementor Addon. 
The meetup was technical and directed at members who are more experienced with Elementor. The topic covered how to create your own custom Elementor addons, which will support the Elementor page builder. 
On Becoming a Meetup Leader
The Surat meetup leader, Alkesh Miyani, had this to say: 
"Elementor provides the best community support compared to others. The best community is one where people are asked for feedback and where they are motivated to do something new every month, in every meetup." 
What the Community Had to Say
Community member and the speaker in the last Surat meetup Mr. Nilesh Vastarpara:
"Thank you Elementor for providing me with such a stage where I overcame my fears of talking to people."
Hardik Hirpara, Community member from Surat, India: 
"Thank you very much Elementor! You've transformed my career to a WordPress Designer and now I can deliver any website". 
Elementor Meetup — Lagos, Nigeria
In Lagos, Nigeria the third meetup had taken place, titled: How to Build a Business Website with WordPress & Elementor. The focus of the meetup was to learn how to build a professional business website from scratch with WordPress and Elementor. 
Elementor Meetup — Gold Coast, Australia
Down under in Australia, the sixth meetup was held titled Elementor Support Session. It was an open table night for all members with the aim to support and learn from each other. 
Elementor Meetup — Tel Aviv, Israel
In sunny Tel-Aviv, a third meetup had taken place, titled: DLD Meetup — WordPress. The meetup touched upon the different angles that allow for the expansion of WordPress' capabilities, business, and technological elements. Amongst the speakers were: Ohad Raz from Elementor, Ramin Treistman — a full stack developer and Itamar Ron who spoke about toolsets. 
Elementor Meetup — Valencia, Spain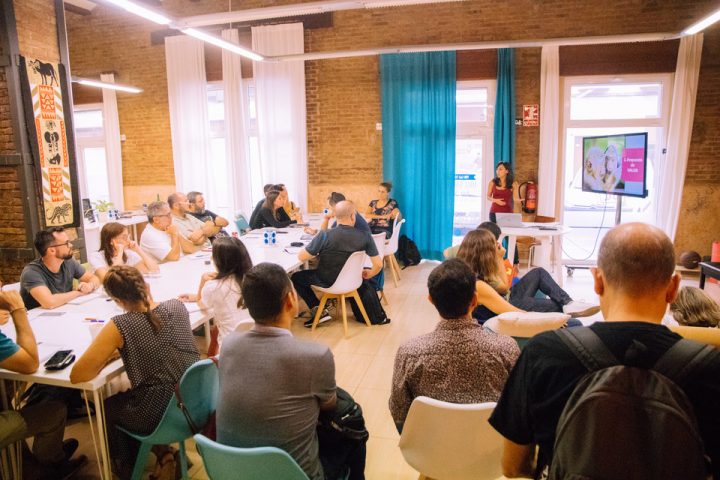 Over in Valencia, Spain, the first meetup took place, titled: Web Design / Marketing Workshop — Landing pages. It focused on creating dazzling landing pages that sell and was aimed at those who wanted to improve the conversion of their website through the generation of contacts. 
Elementor Meetup — Dusseldorf, Germany
The sixth Elementor Dusseldorf meetup took place, covering different topics and aimed at all levels. As always, it was extremely helpful to all members. 
Elementor Meetup — Raleigh, USA
Over in the US of A, the ninth meetup had taken place in Raleigh, NC, titled: Elementor Help Desk which called for members to bring their laptops so that they could get help with their website. The meetup lasted for two hours and had a WordPress professional, ready and available to help and answer all questions regarding members' websites. 
Elementor Meetup — Zurich, Switzerland
In Zurich, the third meetup had taken place, titled SEO: 15 Measures for Better Rankings, and as the name suggests, was focused on SEO. The meetup introduced 15 elementary measures which should form the SEO basis of every website. 
Elementor Meetup — Munich, Germany
In Munich, the sixth Elementor meetup took place, titled: Movement on the Website. In the first meetup after the summer break, the group looked in Elementor's ability to integrate motion effects on the webpage, be it through the mouse or through scrolling. Helmut Gobel showed practical examples on how to get a website up and running with just a few clicks. 
On Becoming a Meetup Leader
Here's what Helmut Gobel, our meetup leader in Munich, had to say: 
"We talked about motion effects in Elementor. We had an interesting discussion about the effects of the extended use of the motion effects on the performance of the website." 
Elementor Meetup — Milan, Italy
In Milan, the first-ever Elementor meetup took place, simply titled: Elementor Meetup. 
The meetup was an introductory meetup, aimed at everyone — beginners, freelancers, and agencies that use Elementor in their everyday workflow. 
The meetup was led by Raffaele Mele — the Elementor Milan Community Leader and Giuseppe Caputo — an active member of the Facebook group. A special guest had also made an appearance, Luca Orlandini — the number one landing page specialist in Italy and the author of the book "An Effective Landing Page". 
On Becoming a Meetup Leader
Our Milan meetup leader Raffaele Mele had this to say: 
"The first Italian Elementor Meetup has been a success and provided a very useful experience that enriched me from both a personal and a professional point of view. It gave me the opportunity to get to know people from different professional backgrounds and to share with them our knowledge.
I really enjoyed organizing it from the first contact with the Elementor Italian Community to the great collaboration I had working together with Giuseppe Caputo, Fabrizio Romano, and Luca Orlandini. It was a success in all aspects and I look forward to organizing the next one!"
What the Community Has to Say
A community member Camilla Tao had this to say about the first meetup:
"The event was well organized in a nice co-working space with a laid-back atmosphere. The organizers were extremely welcoming and punctual. I found a tribe of digital strategists, freelancers, entrepreneurs, in short, people who inspire, who lead, and who are passionate about what they create. I'm not only talking about the speakers but the guests as well. It's a community worth investing your time in.
I learned a lot about Elementor and now, instead of outsourcing the creation of my landing page, I feel motivated to create one on my own. I was so happy to be there."
Elementor Meetup — Penang, Malaysia
The first Penang meetup had taken place and it was titled: Let's Get Together with Elementor.
This was an introductory meetup where the leader, Julian Song, shared his experience of building a WordPress website, and his transition from Visual Composer to Elementor. 
On Becoming a Meetup Leader
Our Penang meetup leader Julian Song had this to say: 
"I'm a WordPress Penang meet-up organizer and I was getting several questions about Elementor during regular WordPress meet-ups. For this reason, I became an Elementor meet-up leader. Our first meet-up was fun, and we got people from different fields with a significant age gap. They heard about how easy it was to build a website with Elementor and wanted to learn more. I will be planning for the next meet-up, and it will surely help the local Elementor community." 
Want to meet and collaborate with Elementor web creators in your area? 
Join your local elementor meetup and check out the upcoming November meetups. 
Looking for fresh content?
Get articles and insights from our weekly newsletter.