If you've been networking and chatting with fellow small business owners, medium business owners, and freelancers, you may have seen that many people are trying to find ways to monetize their WordPress sites or even blogs.
Turning to a drag and drop editor such as Elementor with the goal of monetizing your website is actually a proactive, positive way to not only stabilize your business earnings but also to leverage your website as a tool for growth and community building.

This solution is very much about recalibrating your business model for this unique reality of a homebound lifestyle, where lots of people are stuck at home, therefore spending a lot more time online, and browsing habits are booming.
There are many helpful methods and popular ways for monetizing your site — be it a WordPres blog, or an ecommerce website — in order to reinforce your business cash flow during a time where customers are working and earning less, and are often trying to cut out some of the 'extra' services they usually pay for.
It's time to learn how to monetize a WordPress site, and in doing so, giving your business some breathing room.
5 WordPress Monetization Methods We Love
As website creators, we've all dabbled in our fair share of digital products and services. It's time to get opinionated (if you aren't already) about what you've liked and haven't liked about different products you've used. 
If you recommend a business's product and place an affiliate link in your content or simply share them online, each click can get you a revenue share. This will make you an affiliate marketer. 
It's always nice to have some extra income through simple marketing tactics. Affiliate programs are also what's known as "passive income." 
Adam Preiser, Founder of WPCrafter & CartFlows, explains how referral marketing can be a viable asset to a web creator's business:
"Referral marketing is something everyone already does every day, but don't realize it nor get paid for it. It's the simple process of making recommendations based on your own experiences, and it's super easy to get started doing it today."
"To get started in affiliate marketing, you just need to focus on a 3-step system, what I like to call Solve Show Share. Solve someone's problem, show how to do something, share your opinion based on your experiences. In that process, you will have to recommend products and services where you can earn a percentage of what is spent".
Essentially, implementing Adam's 'Solve Show Share' accomplishes two benefits with one action: You position yourself as an influencer, while simultaneously earning a percentage of the purchase on affiliate products. Minimal effort, maximum gain.
You don't need to be a 'salesy hussler.' It's more about being a genuine expert. Affiliate marketing is about a mutually profitable relationship between you and your network. You contribute your knowledge, and you gain both monetization and business growth. 
As a web creator, for example, you can use the knowledge and experience you've derived from building and maintaining your WordPress website to become a Bluehost affiliate. You can create simple, actionable content for Bluehost newbies who are looking to find a web hosting tool for their very first WordPress site. You can even just tweet about their product and add an affiliate link. Amazon also has a great program aptly titled — Amazon affiliate. Here, you can find any product and promote it on your blog. 
Being an affiliate means you're a brand ambassador, and every sale you 'make happen' (aka post a product link that converts) — you can earn $65. 
Even if you have a small (but growing) audience of customers or followers, you can keep them engaged in your website and all of its relevant content. 
If you have a successful YouTube channel or blog, you can even join our Elementor Affiliate Program. Some of our affiliates, for example, earn at least $10k on a monthly basis.
A great way to learn how to do affiliate marketing with Elementor is watching the Ferdy Korpershoek (an Elementor affiliate himself) video below, which teaches you how to make money through affiliate marketing:
Google AdSense lets trusted advertisers show their ads on your site or blog, and in turn, you become a publisher whose content generates revenue from those ads. You can get earn money through two methods, one is pay per click (PPC) and the other one is pay per mile (or view).
Adding Google AdSense to your Elementor website can bring in a significant amount of income. You'll add AdSense to your site with Elementor's HTML widget. 
The Advantages of Google AdSense
For starters, AdSense gives you access to the world's largest advertiser base, where all ads are checked and powered by Google. This means that there is no issue of inappropriate or irrelevant content. 
Secondly, any webpage that meets the AdSense eligibility requirements can sign up for an AdSense account.
An important note, however, for those who are interested in whether these ads circumvent the various ad blockers — it doesn't. Google used to pay to be whitelisted, but it doesn't anymore. There are rumors, however, that they are working on solving this problem.
As Google specifies, "For your site to succeed with AdSense, it should have unique content that's relevant to your visitors and provides a great user experience. Before you sign up for AdSense, we recommend you review your pages to ensure they are in good shape."
What Google is actually expecting from web creators at this point is: 
Unique, original and relevant content
An "inviting" layout
Easy-to-use navigation
Functionality
We can see that your website's design and user experience are super important to Google. And we always want to be on their good side. But by listing these criteria, Google is actually doing you a favor — they're making sure you're doing your website justice by polishing its appearance and its content. And then, finally, you can start benefiting from the world of advertising with those ad placements. 
You'll first need to sign up for AdSense. Once you've done this, the rest is a piece of cake. 
Just like the Elementor Page Builder, Google AdSense is very precise when it comes to format, layout, and size. 
You'll have five different ad types, otherwise known as "ad units" to choose from: 
Display ads
In-feed ads
In-article ads
Matched content ads
Link Ads
You can customize the dimensions (by unit) of each ad unit you use, either by Google's recommended formats or unique sizing, as you see fit. 
And, of course, like your Elementor design elements, Google introduced responsive link units so that the ad display code will be automatically adjusted according to the viewing device's screen size.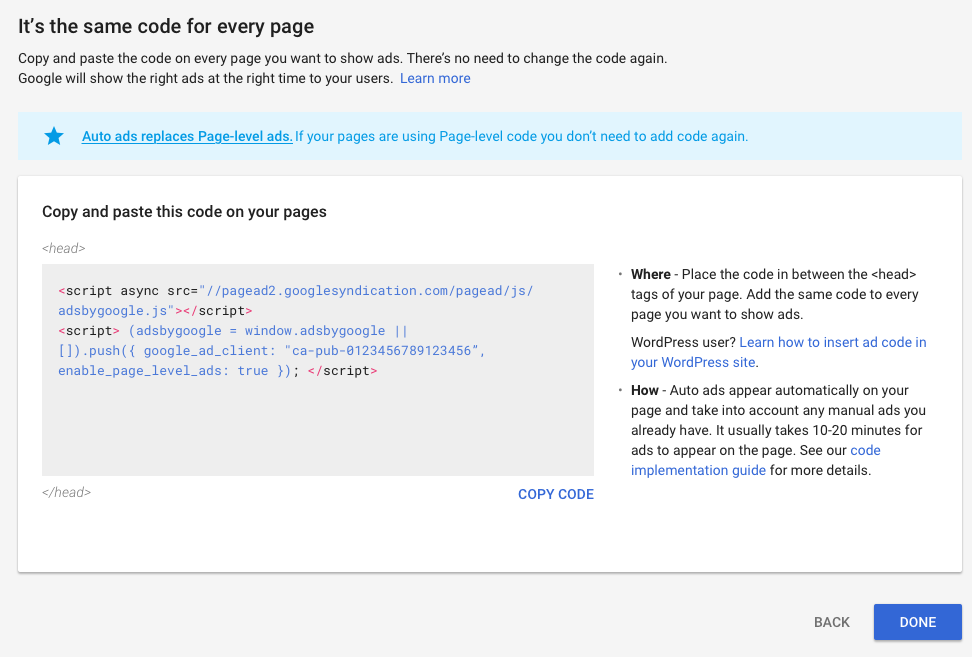 Once you've made these customizations, AdSense will generate the code for you to insert on your site (between the tags of each page you'd like to show ads on. 
You'll easily add this code to your Elementor site through the HTML widget, and that's all the coding involved. 
Your website will now officially be ready for ad content, like banner ads, for example. Google will take about an hour to decide what kind of ad content is most relevant to place on your website. And we definitely trust Google when it comes to content relevance. 
Once your ads start being visible, you'll begin earning money as soon as users start clicking. 
Google actually has a great resource for learning about making money with Google AdSense. 
Google indicates that AdSense's two key advantages are exactly what web creators need nowadays, now more than ever: "great content and a lot of traffic". 
Start an Ecommerce Business With WooCommerce
Web creators around the world understand the promising value of ecommerce stores. 
To put it in numbers, 99firms.com writes that by 2040, around 95% of all purchases are expected to be via ecommerce. But that doesn't mean you should wait until 2040 to build your ecommerce store! 
Mainly because, whether surprising or not, using WooCommerce to build an ecommerce business is one of the easiest things you can do on WordPress and right inside Elementor itself. 
If you're not sure whether creating an ecommerce store is worth your while, here's some perspective about the advantages of ecommerce, provided by thebalancesmb.com: 
You'll be overcoming geographical limitations. That's right, your customers can be from any city on planet earth. 
You can leverage SEO to gain new customers
You can create deals, bargains, coupons…the options are endless
You can create targeted communication
You can tap into niche markets and offer tailor-made services for their pain points
A good example to envision is an artisan coffee shop located in a business district. Let's say 70% of people are working from home, so 10am coffee breaks are done nowhere else but their kitchen table. 
You might have a One Page website that shows your different coffee blends and your store's address and social channels, but maybe you should consider offering coffee bean deliveries during the corona crisis? 
You could easily set up an ecommerce website by creating a WooCommerce store for this, and start informing your customers via Instagram, Facebook, etc. Sounds like a plan.
After all, people love a good pour-over brew in between video meetings with colleagues.
WooCommerce allows you to create an online store very easily and it allows you to process almost any payment form including PayPal and Stripe. 
Why not up your game even further? Go beyond being a service provider, and become an influencer and educator. Teach fellow professionals how to use the skills you've mastered yourself. 
Creating an online course in a knowledge area where you can influence and teach others is a great way to not only generate extra income in a challenging financial time but also to grow your business community. 
Online courses are generally easy to build, as anyone and everyone can upload videos and tutorials that explain how to cover a certain task. If you're comfortable on camera or even just with content and material that can teach others what they want to learn, then go for it!
The same goes for webinars. There are many industry-related questions and conversations that professionals are interested in discussing and collaborating about. 
Webinars are another great way to convert leads and grow your network. If you have a colleague or two that you can collaborate with about a particular topic or discussion, now's the time to get back in touch. 
P.S. — LifterLMS recently published a 9-step checklist for creating a webinar on its platform.
LifterLMS which Chris speaks of is one of our favorite WordPress plugins. LifterLMS allows WordPress users to "Create, sell, and protect engaging online courses and training-based membership websites".
This plugin is an easy add-on for existing web creators, who are looking to create websites and training portals for clients, employers or even themselves. 
How To Do It
LifterLMS has actually created some great improvising solutions for professionals. 
Let's learn from their methods:
Once any individual records a class and uploads his videos, he uses LifterLMS to "turn his existing WordPress site into a digital classroom". 
Since public gatherings are now strongly discouraged in many countries, dozens of professional conferences and meetups have been canceled, and regular events like university lectures have been forced to operate remotely. 
LifterLMS has become a solution for hosting a virtual event with little delay between the original event date and the day it ends up happening online-only. 
Chris Badgett summarizes what you need to do in order to get your online course creation into action: 
Record your class sessions with Zoom
Upload the video files to a video storage service like VideoPress, Vimeo Pro, or Wistia Pro.
Build a WordPress website.
Patreon is a service used by influencers and creators as a way to build a fanbase and support network, and earn some income along the way. 
The way it works is that the influencers, whether they're photographers on Instagram, YouTube comedians, podcasters…use Patreon to establish perks and tiers for their fans (patrons). 
Examples of the content that Creators can create memberships for are:
Podcasters
Video Creators
Musicians
Visual Artists
Writers & Journalists
Communities
Gaming Creators
Nonprofits
Tutorials and Education
"Creators-of-all-kinds"
We asked Matt Cromwell from GiveWP, the leading WordPress Donation Plugin if they're seeing an increase in interest in GiveWP. 
He shared that "We have seen a noticeable bump in traffic to our website over the last week, particularly to our relevant blog articles about fundraising online. Because it is so relevant, we've also discounted all our products by 40% to try to make the barrier to entry even smaller for new fundraisers. We hope that it will help people get up and running more quickly."
Cromwell also gave his insight on how other companies, in general, can leverage subscriptions to grow their business:
"The key to asking for recurring subscriptions is focusing on providing recurring value to your audience…
Focusing on telling your story and getting those stories in front of your audience regularly is the most important thing…
Point your audience there regularly and tell them how their sustaining membership keeps your stories going, and 90% of your fundraising efforts is already underway." 
— Matt Cromwell, COO of GiveWP
In practice, these creators set up subscription payment pages so that fans can buy paid subscriptions to their content. 
These subscribers/patrons then get paid access to exclusive content, and their contribution is financial support to the artists they love. 
If you have online projects and content that you're proud of and want to showcase to the world — podcasts, videos, or anything else — Patreon is an excellent method to try out for business and website monetization. 
Some of the many benefits of Patreon, as we see it, are the brand loyalty and community you can build as a sought out influencer. 
Give subscribers a sense of community and appreciation with: 
Community Feeds
Access to exclusive reviews and content 
Behind-the-scenes content
Rewards
Private social media groups
Lots more
A great coping mechanism for this quarantine madness is making your professional services well-known to your online community. Web creators and freelancers, in general, have a lot of different skill sets and talents, but it's likely that their communities don't know about them. 
A practical suggestion we can offer for this scenario is our new Elementor Experts platform. 
What Is Elementor Experts?
Elementor Experts is a marketplace for web creators, designers, developers, and marketers to build projects on the Elementor platform. 
Not only during the Corona outbreak but also at any point in time, some of the ways your professional growth can prosper with Elementor Experts are:
You can promote yourself by showcasing your Elementor projects
Grow your business by finding new clients.
Find collaboration partners to help you on some project.
As a web creator, examples of project type and services that you can offer to clients on Elementor Experts are:
Providing these services for other clients, whether they themselves are Elementor Experts or just website owners looking for freelancers, the Experts platform is a great tool for WordPress site monetization.
As an Elementor Expert, you can achieve website monetization through so many different projects: Building WooCommerce websites, creating a blog for a client that can be monetized, connecting their existing website to an ad network, creating the perfect funnel for an email marketing process, enabling easy digital downloads — the options are plenty.
Oh, the places you'll go…
Tips for the Elementor Experts Platform
Think of the skillset you want to market yourself with
Will you offer web design services? UX/UI? Or are you more experienced in fields like Website Content Writing? There are many skills to choose from when building your Expertise.
Choose the Projects you're most proud of and add them to your Portfolio
Show the projects you've done that are relevant examples of the type of work you want to get hired for. But there's no limit to how many projects you can upload. The more, the merrier!
Find clients whose needs you can meet with your Expertise
There are many clients in the Experts network, all of whom are looking for a variety of projects to hire for. Look around carefully, and decide whose projects needs are most relevant to what you're most seasoned and experienced in. 
We're Excited to See What You Come up With
WordPress website monetization done right can really deliver game-changing results for businesses of all sizes. We're definitely big believers that when chosen wisely, the monetization methods you invest in will reap the best of benefits. 
During this corona madness, who would have thought that WordPressmonetization could be a silver lining on a particularly grey cloud? If you are into blogging, or if you have an online store, now is the time to put sponsored posts and ads, improve your search engine ranking and get a large payout.
Share your work with us so that we can keep collaborating and help your business grow!
Looking for fresh content?
Get articles and insights from our weekly newsletter.