If you're looking to make a website with WordPress, the first question on your mind is probably: how much does it cost to build a WordPress website?
Well, on one level, this question is a little bit like asking how much a house costs. That is, it depends on where your site is hosted, what features you need, etc. There's no one answer for all situations.
A website for blogging may be cheaper than an ecommerce website, and features and add-ons that may be required for a small business website may be unnecessary for a freelancer's or a blogger's website. 
Launching and running a WordPress website could cost as little as ~$50-60 for an entire year, or it could easily run into thousands of dollars.
Most WordPress sites sit somewhere in the middle between those two extremes.
How Much Does it Cost to Build a WordPress Website?
The short answer to this question is this:
To create a barebones WordPress site that uses all free extensions, you should expect to pay about $50-60 per year for decent hosting and your domain name. This is basically the minimum cost to build a WordPress website. It's not super realistic for most users, but it's achievable.
A more realistic website cost for most users would be to budget ~$60 for a premium theme and at least $100-200 for some premium plugins. So, you should expect to pay ~$220-320 for a year of running your WordPress site. Of course, it can also go higher if you need more advanced features, or you are creating an ecommerce store.
We've broken these costs down to show you how we've come to these figures. 
When you're building a WordPress website, there are two types of costs that you'll encounter:
Required costs — even if you have the most barebone site in existence, these costs are pretty much impossible to avoid. Think of these as the bare minimum cost of making a WordPress site.
Optional-but-likely costs — these are costs that you can avoid if you're willing to sacrifice a little, but that you'll most likely spend at least a little bit on.
Let's dig deeper into each type of cost…
The two costs that no WordPress website can avoid are:
Hosting* — hosting is what powers the WordPress software and makes your site accessible to people anywhere on the Internet.
Domain name — your domain name is your website's permanent address on the Internet. E.g. "elementor.com"
*Yes, free WordPress hosting technically exists, but it's not a viable option for a serious website.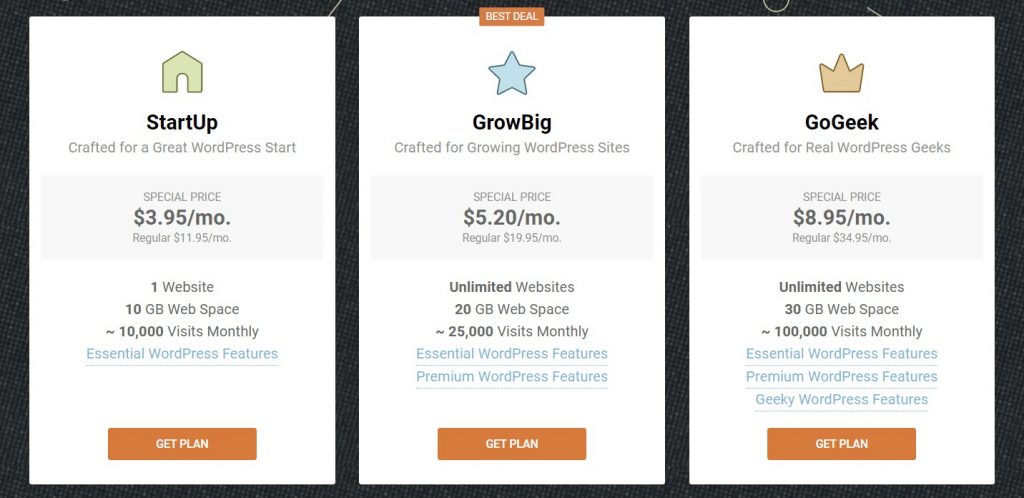 Your site's hosting plays a big role, not just in your site's performance, but also in its security and how much maintenance falls on your shoulders.
The budget end of the WordPress hosting space is cheap shared hosting. If you're just getting started with your site, a shared hosting plan is all you need (until your site becomes wildly successful, and then you might need to upgrade).
If you look at our list of recommended hosts, you'll find there are several quality options that cost under ~$5 per month, though you'll typically need to pay for a year upfront.
For example:
So on the low end, you can pay under $50 for an entire year of hosting your site.
As your site grows, or if you just want a more premium hosting service, you might start to move towards managed WordPress hosting. This gets a little pricier – here are some examples from our recommended hosts:
Some web hosting providers allow you to register a free domain name when you get a certain plan, and some will offer you the chance to purchase it for an additional cost. However, it's sometimes cheaper to get a domain name from other sources. 
The cost of your domain depends on two factors:
Where you register your domain name.
What domain extension you use.
The most common domain extension, .com, typically costs $10-12 dollars per year if you purchase it at a domain registrar like Namecheap or Google Domains.
Some domain extensions are cheaper, like .info, while others get into the $30+ range, like .io.
If you put those two costs together, you get a bare minimum cost of about $50-60 to power a WordPress website for an entire year.
But — to turn that "working website" into the "website of your dreams", you're likely going to want some premium WordPress extensions, which is where the next set of costs come into play.
Total Cost: $5 – $72+ / Year
To customize your WordPress website to meet your needs, you're likely going to want some premium WordPress extensions, which come in two forms:
Themes — your theme controls the design structure of your site.
Plugins— plugins add new features to your site.
First, it's important to note that there are thousands of free themes and free plugins for WordPress available – being an open source CMS means these costs are optional.
If you're on a super tight budget, you can avoid these costs and use all free extensions, though you'll likely need to make some sacrifices to do so.
Some free extensions are actually pretty generous with their functionality. For example, using just the free version of Elementor at WordPress.org, you can already build some great-looking content and landing pages using a visual, drag-and-drop editor.
However, most WordPress users are going to want at least a few premium extensions.
Developers often lock the best features behind paid versions. So if you want those features (and premium support), you'll need to pay.
If you want a premium WordPress theme, the "standard" price for a premium WordPress theme is ~$60. You can find some themes at a cheaper price, but that's rare.
You'll also find themes that are more expensive, which is a little more common. For example, some theme developers have moved to more like ~$90, while you'll even see some developers charging $200+ for a single theme.
Plugins are the most variable cost of any WordPress website because there's no cap on the number of plugins you can use. Your site only needs one WordPress theme, but you might need anywhere from zero to 20+ premium WordPress plugins — anything from contact forms to search engine optimization (SEO) plugins and others, depending on what you want to do with your site.
Also, there's no "standard" price for a premium plugin like there is for themes. Some plugins cost just $10, while others cost $100+.
Here, it's really hard to say more than "it depends".
Most WordPress owners will probably want at least a few premium extensions, so a good starting point is to budget $100-200 for plugins.
If you're creating more than a blog or brochure website it's also easy to exceed that.
For example — an online store or an eCommerce site. While the core WooCommerce plugin is free, most WooCommerce stores need to spend hundreds or thousands on premium plugins to extend the core plugin.
Total Cost: $10 – $200+ / Year
Of course, once your website is up and running it's crucial to drive traffic through paid marketing and promotion. The average marketing spends for new businesses in 2021 was between $2500 and $12,000. The rule of thumb is to base your marketing ad spend on your revenue from the previous year.
Additionally, The U.S. Small Business Administration recommends spending 7% to 8% of your gross revenue for marketing and advertising if you're doing less than $5 million a year in sales and your net profit margin – after all expenses – is in the 10 percent to 12 percent range.
Total Cost: $2500 – $12,000 or 8% of your revenue / Year
Design & Themes is of course subjective to your industry, and personal brand, but if you want a premium WordPress theme, the "standard" price for a premium WordPress theme is  ~$60. You can also find some free WordPress themes that may suit your business website needs
You'll also find designs and themes that are more expensive, which is more common. For example, some theme developers have shifted their pricing to the  ~$90 range, while you'll even see some developers charging $200+ for a single theme.
Total Cost: Free – $200 / One Time Fee
When it comes to development, the average person is unaware of what is needed to make his requests a reality, both in terms of man-hours and actual functionality.
This is why WordPress website pricing varies based on each business's design and development needs and use cases. However, in 2021, the average development cost for a WordPress website was between $75, and $115,000.
Total Cost: $75 – $100,000+
As crucial as security is, it is usually something that comes standard with your WordPress subscription. However, if you feel the need to boost your site's protection there are a number of options you can review.
On the other hand, SSL is not something you should proceed without. SSL, or " Secure Sockets Layer" acts as the lock on your website, ensuring that any pertinent data is properly protected and secured.
An SSL is something that also typically comes standard as well, however if not, you can expect to pay between $50 for a basic one up to as much as $600!
Moreover, there are reputable resellers from whom you can purchase SSL certificates. These vary in nature (you can even find  a wildcard SSL certificate). However, it is in the interest of a site holder to go with paid SSL instead of free SSL, as the former ultimately translates to more robust website security
Total Cost: $50 – $600 / Year
Save Money with Elementor
If you want to save money on both the theme and plugins that your site needs, Elementor Pro makes a great option because it packs so much functionality into one tool (and one price!). It also integrates with different marketing & CRM tools like Mailchimp and Hubspot.
Elmenetor greatly reduces WordPress website costs since, for just $49, you can replace the need for a premium theme and a number of premium plugins.
Here's how:
First, rather than using a premium off-the-rack WordPress theme, you can use Elementor Theme Builder to design your entire website using a simple visual, drag-and-drop editor.
If you're a little daunted by the idea of designing your entire site from scratch, you can also rely on Elementor template kits, which are basically pre-made designs for an entire website that you can then just customize to meet your needs.
Second, Elementor Pro can replace the need for many of the premium plugins that you might be interested in. Here's a list of common extensions that many web designers, web developers, and WordPress users in general want, and might be tempted to purchase separately:
Landing page builder for conversion-optimized pages.
Form plugin for contact or registration/login forms.
Popup/email opt-in plugin to grow your email list.
Slider plugin to create image or post sliders.
Social share button plugin to integrate social media.
Pricing table plugin to display prices.
With Elementor Pro, you can create all of those elements from one plugin:
Landing pages – build them with Elementor or import one of the pre-made templates.
Forms – use the Form widget for things like subscriptions.
Popups/email opt-ins – use Elementor Popup Builder and add the Form widget where needed (you can even connect straight to email marketing services)
Slider – use the Slides widget.
Social share buttons – use the Share Buttons widget.
Pricing tables – use the Price Table widget.
…you get the idea – you can replace a lot of other tools!
Finally, if you want to keep the cost of your WordPress site down without skimping on features, check out Elementor Pro. By packing multiple tools into one low price, Elementor Pro makes it easy to build complex WordPress sites that won't break the bank.
Looking for fresh content?
Get articles and insights from our weekly newsletter.