The road to perfection lies in constructive criticism and good feedback, and it is true to any profession — web design included. 
Not only does good feedback allow to improve work, but it can also save time, help avoid pitfalls early on and make sure that client expectations are met.
Providing and receiving feedback, however, is a balancing act. 
Clients may know what they want, but be oblivious to things like user experience, design principles, software limitations, and more. Designers, on the other hand, may have the knowledge for creating great design, but it may not be in line with what the client wants. 
Today, we're going to provide some tips for: 
Clients and other stakeholders on how to provide helpful design feedback that the designer can use to implement your vision.
Web designers on how to help clients provide the right kind of feedback and then how best to respond to it.
But first, let's look at the importance of getting useful feedback.
Why Feedback Is Important in Web Design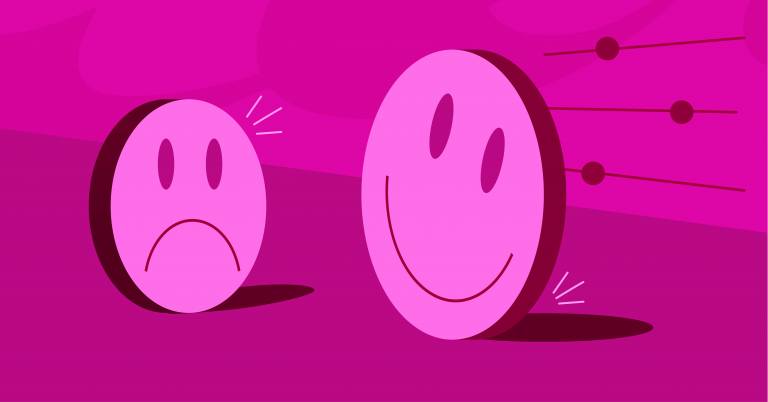 While it might seem easier for a designer to take the information the client gives them and to just run with it, there's no guarantee that what they come up with is the same vision the client had in mind. 
By scheduling project check-ins and gathering feedback at those times, designers can make adjustments along the way. There are a variety of benefits to working this way:
Collaboration and Honest Conversation Leads to Higher Quality Results
From design principles to web standards and web design trends to user experience best practices, designers know everything there is to know about building high-quality websites. Even though clients aren't always familiar with these strategies, the designer can help them understand their value rather than outright dismiss any feedback or personal preferences that go against them. 
In this way, the web design process becomes much more collaborative. 
The client is invited to take part in the process, educating the designer on the kinds of aesthetics and content that make sense for their brand. The designer then takes the input and decides how best to apply it to the website. 
While the client's vision is important, it can't blindly be implemented if it violates the rules of good web design or user experience. And it's the designer's job to make this decision and then explain the reasoning behind it — in the simplest of terms — so the client can get onboard with it.
Collecting Feedback Throughout the Project Can Reduce Scope Creep
Designers aren't always going to nail a client's vision the first or even second time around. Imagine what that would do to the timeline or budget if feedback wasn't collected until the entire website had been built. 
One thing a designer can do is bring the client into the project as early as possible. By showing them sketches and wireframes of the site early on, the client's feedback can help a designer get closer and closer to the client's vision before the real design work begins. 
The designer should then loop in the client at various project milestones to gather feedback. Not only will this keep revision rounds more manageable, but this also enables web designers to keep better control over the pace of the project. 
When designers view feedback as part of their process, it's something they can plan for upfront. When creating client contracts and scope of work agreements, designers can factor in feedback and revision rounds as part of the budget and timelines. 
Unless something goes wrong or an external emergency pops up, scope creep shouldn't even enter the picture.
Healthy Client-Designer Communication Makes for a Better Process
A healthy and productive approach to giving and receiving feedback can make a world of difference for everyone involved in a web design project. 
Without it, it's easy for a lot of bad feelings to swirl around. Tempers flare. Feelings get hurt. Every discussion feels like a battle.
That negativity will make the entirety of the job stressful for everyone involved. And someone is likely to walk away feeling bitter about the project when all is said and done.
But by creating an environment of healthy communication, the design process becomes more productive and outcomes much better than if both parties are at odds with one another. In the end, everyone walks away from the project happy with what they've accomplished together.
How To Give Useful Design Feedback as a Project Stakeholder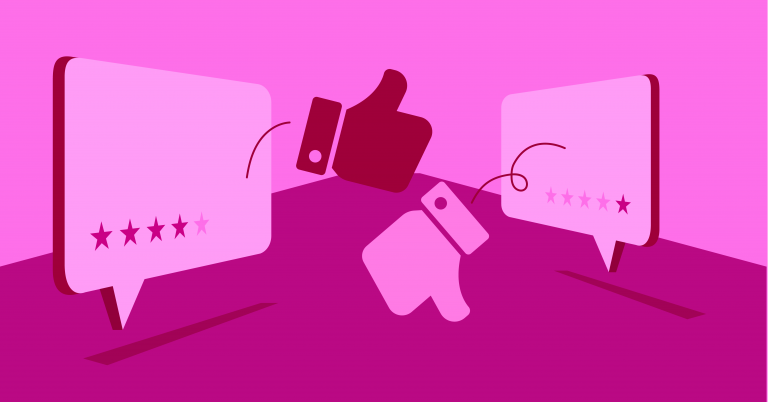 There are a number of people who might find themselves in this position: 
The business owner who's hired a designer to build their website
The project manager overseeing a web design job
A web designer who's outsourced work to a designer partner
Regardless of who you are, the goal in providing feedback isn't to tear down the designer's work. If you want a website that aligns with the brand's vision and will help you accomplish its goals, then feedback needs to be more of a discussion than a demand. 
Here are some things to keep in mind when providing feedback to a designer:
If your web designer has put together a timeline for the website, incorporated milestones when you'll be able to leave feedback and provided you with a platform to communicate, trust the process. Hijacking and micromanaging the project or, on the flip side of that, completely ghosting the designer is a recipe for disaster. 
You hired the designer for a reason. Now trust them to take the reins. They'll give you an opportunity to voice your opinion when it's time.
Use the time in between scheduled milestones to sit alone, quietly, and offline to go over the product. That way, you'll be able to concentrate more on the smaller details.
2. Choose One Person To Provide Feedback
Have you ever heard the phrase "too many cooks in the kitchen"? It refers to the negative consequences of allowing too many contributors and stakeholders to weigh in on a matter or get involved in a project. 
To avoid the conflict and confusion that often comes with having too many cooks in the kitchen, your web designer will ask you to elect one person to be the key decision-maker. In the end, that one person — who is involved with the project from beginning to end — will be able to provide clear, coherent and consistent input. 
As a bonus, you won't have to spend as much time in meetings or going back-and-forth on feedback as it becomes a one-on-one conversation between designer and decision-maker.
When you have the opportunity to share feedback, get specific about what it is that works for you and what doesn't. 
For example, telling a designer that you "don't like" the home page design isn't going to be helpful for them. The same holds true if you use jargon or vague language to describe what you want done, like "Can we make this image pop?".
Be specific when you provide feedback. If you're unsure how to do that, ask yourself: 
"Why do I/don't I like this?" 
It may be that the colors don't fit your brand's vibe, the fonts seem too formal or you find the images to be phony looking. Find out what's really driving your response so you can provide a response the designer can do something with. To aid you in that, it is highly recommended to define the goal of each page/component from the very beginning. That way, when you are giving feedback, you can make sure that it's focused and that it stays within the set goals and objectives.
And if you don't know what exactly is wrong or how to fix it, ask the designer for help. They'll steer you towards the right solution.
4. If You Can't Explain It, Show It
It's not always easy trying to convey what you think about a design. Even if you know the "Why?", you might not know how to articulate it. 
Instead, show them what you're talking about. Perhaps you saw a newsletter that had the kind of style you liked or there was a website with a contact form that really blew you away. Don't feel like you need to describe something technically so the designer will understand. Just show them!
While you may have an emotional response to what you've been presented with, it's important to be realistic with your feedback. 
So, if you find yourself wanting to say "I feel" or to use some other emotional response like "I hate", hit the pause button and figure out what the actual conflict is with relation to your business goals. 
Emotional reactions aren't useful to designers. They might be able to gauge how hot or cold they are in terms of getting the design right, but emotions give them nothing concrete to work with. 
The same goes if your inclination is to make a sweeping statement like "I love it". While it's great to let designers know when you're happy with what they've done, it's not helpful to give them all-encompassing feedback. 
Instead, tell them exactly what makes you happy or what doesn't, but remember to be realistic with your feedback, too. Asking them to do something that exceeds the scope of the job you hired them for or is otherwise impossible based on the timeline and budget is only going to add conflict where there wasn't any before.
Depending on the size of your website, you might have a lot of feedback to give. When sharing your input with the designer, consider organizing it based on importance. 
How important a change is depends on a number of factors:
Which parts of the website it'll impact
How long it'll take to implement 
Whether it's a necessity or just a nitpicky comment
Whether it was originally part of the scope of work
How much control the designer has over the element (if it was created by someone else)
You can and should voice your feedback. Just be mindful of what it is you're asking for and how it'll impact your timeline and budget.
7. Don't Just Give Negative Feedback
It's all too easy to look at feedback as something that's supposed to be negative. 
"The form is too long and takes up too much room on the Contact page."
"The photo on the About page doesn't do a good job of representing us."
"The button colors make the text hard to read."
You should also leave positive feedback. This isn't about stroking the designer's ego. It's about helping them get a better understanding of what it is they've done that works well for you and your brand. That way, if you suggest changes, they won't make the same mistakes again.
How To Receive and Respond to Feedback as a Web Designer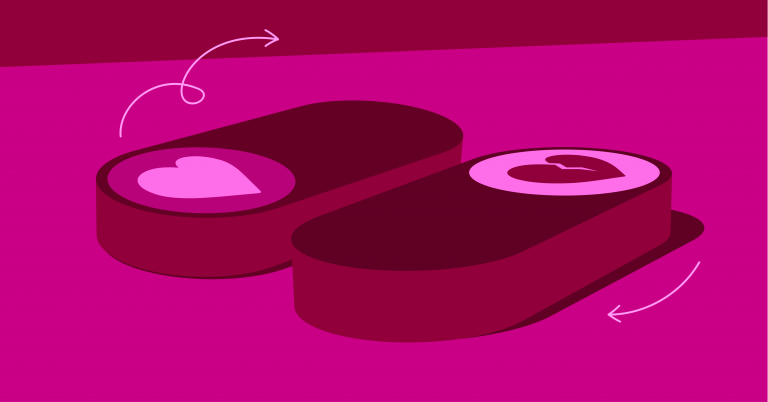 As opposed to hard skills that make you a good designer, soft skills like communication, negotiation and patience allow you to make the most of client feedback. Not only will you be able to gather useful feedback, but you'll also strengthen your clients' trust and confidence in the websites you create for them. 
Here are some ways in which you can put those soft skills to work:
1. Always Include Feedback in Your Contract and SOW
Client feedback shouldn't just be some checkpoint built into your web design process. You should be discussing it with your client before they ever become your client. 
When putting together your web design contract and scope of work (SOW), make sure you lay out all the details related to feedback. By setting the right expectations from the start, your clients will be well-prepared to give their input once the job gets started. 
Here are some areas where you can address feedback in your paperwork: 
Project timeline and milestones
Add feedback stages at critical parts of the process, like after you create the style guide or when the prototypes are ready. 
Assign dates to them so the client can add them to their calendar and be prepared to provide their feedback on time. 
Number of revisions
It's very unlikely you'll work on a web design project and not receive any feedback or revision requests. In anticipation of this, set a maximum number of revisions allowed at each stage. 
It's also a good idea to stipulate how long the client has to provide feedback. This way, if they drop the ball, you'll have a process in place to deal with it. Either you put the project on hold until they provide feedback or you take their silence as approval and move onto the next step.
Scope of work
Make sure you clearly break down the scope of the project. If any of your client's feedback or requests exceed the original scope, you can point them to the signed SOW.
If they expand the scope, include a clause that explains what happens next. It's not fair to you (or your other clients) to take on extra work for free or to take up more time than was allotted for the project. So you'll need to stipulate how the project cost and delivery date will change.
2. Ask About the Client's Design Preferences During Onboarding
There's a lot to gather from the client during the onboarding process. In addition to the login credentials, logos and assets, don't forget to ask about their design preferences (with examples of websites they like, if you can get them). 
Something else you might do is interview your client during onboarding. 
To prepare for this, you should create a goals quiz that includes questions related to the client's brand, design preferences, and business goals… 
The interview/quiz is a great option since it sets the stage for your collaborative relationship right from the get-go. You ask them about their goals and they get a chance to share their expectations and preferences with you in real-time. 
Knowing what their likes and dislikes are will make it easier to create a website that aligns with their vision. In addition, having an official record of their preferences will come in handy if they later contradict their original input.
One more thing: 
If you don't already have this info, include a question in your onboarding form that asks your client to designate one decision-maker that you'll get and respond to feedback from.
3. Give Clients a User-Friendly Feedback Platform
It might not be the best idea to send mockups and other design assets to clients in the form of static PDFs or JPGs. It's not just a lack of tech-savviness you have to worry about. It's also the format in which they provide feedback. 
One client might take screenshots. Another client might write never-ending emails with bullet points of everything they want fixed. Another might call you and rattle off a list of their changes every time they have feedback. 
A better way to do this is to give clients a visual feedback platform where they can mark up the UI. BugHerd and Usersnap are both easy to use and should come with a minimal learning curve for your clients. You can also use a prototyping platform like InVision or Figma for this.
While feedback related to minor changes and alterations can be given in writing, you'll get better results if you meet with the client (or alternatively, the designer) in-person to discuss new design concepts.
4. Hand Off the Designs in Real Time
Emailing your client with a link to what you've put together can lead to all sorts of problems. Rather than leave them feeling confused or frustrated by the handoff, schedule a quick call. You shouldn't need more than 10 or 15 minutes. 
Using Zoom or Google Hangouts, provide them with an awesome representation of it and share the working prototype with your client. They're going to feel excited and emotional about their new website, so this is a great way to celebrate what you've built together.
Of course, you don't want to just focus on the completion of the designs. You still need to get their feedback. So, as you walk them through the prototype, provide context for what you've done and remind them of the original goals you discussed. 
Then, walk them through the files, the feedback or prototyping platform they'll use to review and add feedback and let them know exactly what you want them to do. 
The last point is especially important. By giving them clear direction on what to focus on as well as some action items, you'll get more specific and complete feedback from them.
5. Stay Calm and Don't Take Feedback Personally
Unless the client starts hurling obscenities or insults at you (which is another problem entirely), there's no need to take design feedback personally. 
People hire you because you know how to build a website that performs well with their target audience as well as in search engines. If they understood how to do that, they'd do it themselves. 
That said, some of the feedback you get may feel hurtful. 
"I don't like it." 
"This isn't what I wanted." 
"It's ugly." 
A lot of the tips here should keep your clients from responding that way. However, if you do encounter this, just remind yourself that they're having an emotional response. With a little help from you, they'll be able to reshape their feedback and work with you to get their site to a place that both of you are happy with. 
Again, it's not about you. It's about the strong emotional connection they have to their website and not wanting to get it wrong. It's completely understandable. Just stay calm when responding and help them work through it.
6. Identify the Root Cause of Their Feedback
If you receive feedback that seems unhelpful, don't completely write it off. Instead, take a closer look at what's going on. Ask your client leading questions that will help you pinpoint the root of their feedback. For example:
Client: "I don't like the images on the home page."
You: "Which ones exactly?"
Client: "All of them."
You: "Okay, let's start with the first image on the hero section. Is it the shape of the image that you don't like? the colors?"
Client: "Maybe, I'm not a big fan of purple."
Make the questions manageable by narrowing the client's focus. Then, keep asking questions until you know exactly what's driving the rejection. Make sure to listen to their response and take notes so you don't miss anything.
In addition to helping you get crystal-clear on what needs to be fixed, it should also change their mindset from "everything is wrong and I hate it" to "okay, we just need different photos".
7. Push Back When You Need To
Not all of the design feedback you receive is going to be valid. Rather than compromise the quality of the site by incorporating bad feedback, learn how to push back. 
Here are some times when that may be necessary: 
They ask you to do something that'll objectively lead to a poor user experience.
If this happens, don't use design jargon or tech speak to try and explain why it's a bad idea. Just use data and case studies and show them the proof. 
They're being nitpicky about one small thing. 
Help them set priorities for the changes they want made. If they see how something that insignificant is holding up the project, they'll realize it's okay to drop it for the time being. 
They've contradicted something they originally told you.
This is why good record-keeping is important. From capturing their preferences during onboarding to recording all of your calls, use these records to show them how what they're asking for now is different from where they started. 
They've exceeded the scope of work or number of revisions. 
Unless there's a serious issue of miscommunication, this shouldn't happen. If the client is just over-reaching and trying to get more than they paid for, again, show them the paperwork they signed and remind them of the feedback and revision limits.
They've brought in feedback from someone outside the company.
The second feedback comes from outside the walls of your client's company (e.g. their spouse, a friend's kid, someone they met at a party) is the second you should put an end to it. 
Respect the fact that they're making an effort to get their website to a good place and thank them for it. However, they entrusted you to design the website because you're the expert. Any feedback from an outsider — especially a non-designer and someone not within their own organization — is likely going to be unhelpful. 
Find a way to gently put it aside and try not to hurt the client's (or their source's) feelings. A good way to do that is to bring a counterpoint to the table that's based on data and case studies.
Start Communicating Better To Create Great Websites
Client feedback has the ability to vastly improve the outcome of the websites you build. But not all feedback is good feedback. 
From the client's side of things, there needs to be healthy communication and trust in the process. And from the designer's side of things, there needs to be control and understanding. If both parties can come together with the goal of creating the best website possible, this collaboration can prove really fruitful.
Looking for fresh content?
Get articles and insights from our weekly newsletter.