You created an amazing web page with Elementor, but not everyone who visits your site is ready to take action on their first visit. Luckily Elementor has created an integration that solves that problem. Integrated sign up forms capture new visitors' data and can share that information with designated email service providers. Email is the perfect channel for you to nurture your relationship with your new contact to encourage them to return to our site.
Elementor is now integrated with AWeber, a powerfully-simple email marketing solution that makes it easy to grow your business. AWeber is committed to building tools for small business owners who want to understand and connect with their customers, deliver personalized experiences, and turn more first-time shoppers into lifelong customers.
AWeber is one of the few email service providers that support new email marketing tools like AMP for email. Along with its 24/7 US-based customer support, AWeber delivers the ability to load and manage contacts quickly, send emails, build visually-appealing landing pages, and analyze results without having to be a tech whiz.
Why Do You Need Email Marketing?
If you are looking to grow your business, there is no other channel that has a proven track record for return on investment. It is easily one of the best and inexpensive ways to market your business. The return on investment of email marketing 38:1, so on average for every $1 you spend on email marketing, you earn $38. 
While ROI is important, what matters even more is the ability to grow your business. Email marketing is consistently one of the most powerful marketing channels for small businesses. There is no better channel to help you understand, connect, and build relationships with your customers and potential customers. This is one of the main reasons email marketing is 40 times more effective at acquiring customers than Twitter and Facebook combined.
Email allows you to continue the conversation with your customers by providing additional relevant content as well as promotions based on their interests — allowing you the opportunity to turn first-time visitors into lifelong customers. 
Brand consistency is also easily achieved with email. Your website and your content is what originally inspired someone to provide you with their contact information so they obviously like what you have to offer. Email allows you to keep your logos, colors, brand values, and personality consistent with your website or landing pages.
Integrating AWeber with Elementor creates a seamless experience to collect visitor information, better understand your audience, and then tailor automated email marketing campaigns to each customer. 
AWeber provides the tools to design or create custom email templates and landing pages without ever having to write any code, and grow your business with tools to automate your emails and campaigns. 
Similar to Elementor, AWeber uses drag-and-drop technology for email creation so you can easily create an email in a matter of minutes. AWeber also offers users the option to add custom HTML code or use AWeber's HTML editor.
AWeber includes a free template library with other 700 pre-built professionally designed templates. As well as access to the AWeber Smart Designer, an AI-powered intelligent design assistant that automatically creates branded email templates by analyzing your website, Facebook page, or Instagram account for logos, imagery, and colors. In seconds, AWeber's Smart Designer builds a free, ready-to-use, customized template just for your business.
If you have a blog, AWeber offers the option to create auto-newsletters from your RSS feed. Auto-newsletters automate email content creation by broadcasting the latest posts from your blogs.
AWeber also leverages the latest in email technology to add more interactions to your messages directly inside people's inboxes with AMP for Email.
With AWeber and AMP for Email, your subscribers can RSVP to an event, sign up for a newsletter, leave a product review, answer a survey, or view a live package shipping update — all inside your email.
Emails and Campaign Automation
AWeber allows you to easily create automated campaigns that optimize your email marketing efforts through personalization to help you better connect with your customers. When you create automation, you can easily assign triggers and flows based on audience behavior — allowing you to deliver the right message to the right person at the right time.
AWeber helps you personalize communications by automating the tagging process. A tag is a keyword or phrase associated with a specific product, service, or action. When you combine a tag with AWeber's automation platform, you can automate a single email or a series of emails in a campaign. Tags are an excellent way to help you automate easily, have more control over that automation, and make it easier to gain insight into your audience. 
AWeber's campaign marketplace lets you import into your account five proven pre-built campaigns. Each pre-built campaign is a sequence of emails to be sent automatically on a schedule of your choosing. These campaigns keep your readers engaged by delivering a nurture drip campaign that you can customize. Topics include a welcome series, lead magnet campaign, mini-course, blogger series, and a cart abandonment campaign.
4 Ways to Grow Your Business With Elementor + AWeber
Elementor + AWeber helps your list work harder, delivering more personalized and relevant content to your audience. Personalization makes all the difference when it comes to email marketing. A recent study by Smarter HQ found that 72% of consumers in 2019 only engage with marketing messages customized to their specific interests.
Sending Personalized and Targeted Emails to Connect With Your Audience
AWeber integration with Elementor enables you to send personalized emails that truly resonate with your audience by sending targeted content to those who want it most. If you are using Elementor Free or Elementor Pro, Tags are supported so you can learn more about the people who sign up to your list. You can easily add multiple tags to a single contact. 
Then, when you are in your AWeber account, you can use segmentation tools to sort and group contacts by behaviors, actions, and tags. You will be able to immediately provide value to your customers by personalizing your emails to solve your subscribers' unique problems or give them content related to their specific interests.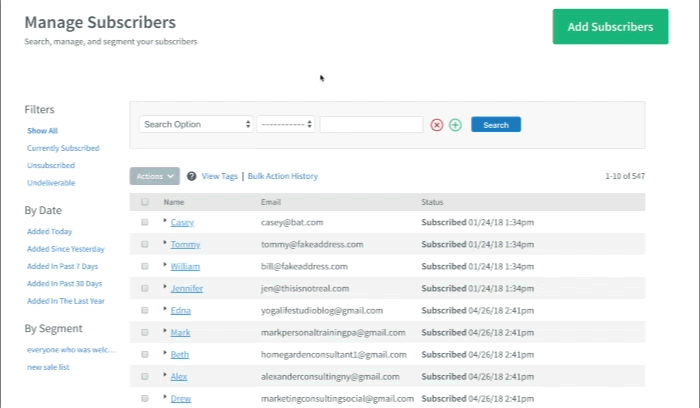 Increasing Your Number of Email Subscribers
It couldn't be easier to integrate sign up forms on your WordPress site seamlessly. You can drag and drop the AWeber sign up form into your favorite Elementor Free landing page. Elementor Pro users can connect existing Elementor forms to their AWeber account. 
Once your forms are added to your WordPress site, all data collected on that sign-up form is automatically added to your AWeber account. Additionally, any visitor who leaves a comment on your WordPress site will be added to your AWeber account. 
Your AWeber account includes ready-to-go automated campaigns. Pre-written automated campaigns will save you time and allow you to market your business 24/7. Select from cart abandonment, lead magnet, mini-course, welcome series, and blogger series automated campaigns.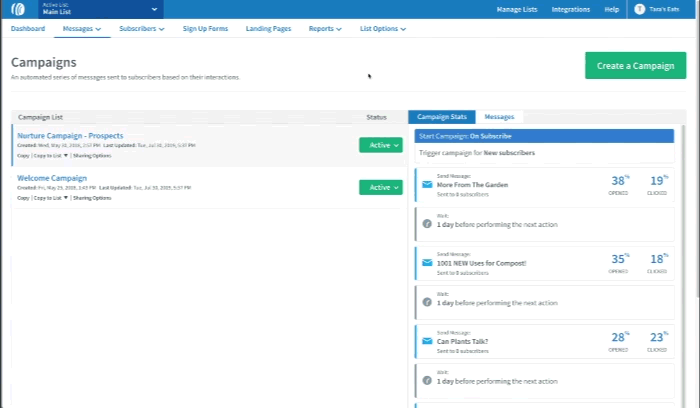 Sign-up Form Optimization
Elementor and AWeber allow you to completely customize your sign up forms. Your signup forms are the gateway between your website and your customer. Make sure you have your integrated sign up form on every page of your website. No matter where someone is on your website, you want the opportunity to have them subscribe to your email list. 
Take the time to learn what's working and what's not, so you can quickly optimize results. Your sign up form is one of the essential steps to grow your subscriber list. You will want to test the copy, design, call to action, and any lead magnet your offer on your forms often.
As you learn more about the people signing up to your email list, you will be able to build a relationship with each contact on your list. Building deep connections with your audience is what email marketing is all about – but it all begins with sending the right content to the right person at the right time. 
As you get to know your subscribers and send them content based on their needs, you'll not only see increases in engagement but positive interactions towards your business that may result in additional purchases or downloads of your content.
How to Connect Elementor With Aweber
AWeber's sign-up forms integration on your WordPress is available with both Elementor Free and Elementor Pro. 
If you don't have the AWeber for WordPress plugin, install it now.
With Elementor Pro you can connect forms created in Elementor with your AWeber account, add tags, and configure custom fields.
Follow the steps below to integrate your Elementor form and AWeber. 
Step 1: Launch Your Forms Widget
Click on the Forms widget in the left hand Pro section of your elements. Drag and drop the Forms widget onto the widget area in the middle of your screen. A form will load onto the widget area on the main screen. The left side control bar will also now reveal the form fields configuration options so you can customize your form.
Step 2: Configure Your Form Fields
The left-side control bar will now reveal the form fields configuration options so you can customize your form. You can delete or add fields, or change the types of fields. Go to the submit button section to configure the button. You can select the text that will appear, size, color, and alignment.
Step 3: Set up Action After Submit Button to Select Aweber
Go to actions after submit. It lets you do one or more actions when someone selects the submit button. Click on the Actions drop-down to reveal the options and select AWeber. After you click AWeber, AWeber configuration options will appear.
Step 4: Set up Your Aweber Actions.
Now it is time to set up where in AWeber you want the contact information sent. Select the AWeber list that you want to use. Enter the tags you want to use. Go to Field Mapping so you can map the data you want for each custom field. Click publish. Now anytime any visitor to your website clicks the Send button, the information on the various fields and custom fields configurations will be sent to AWeber.
If you are moving to AWeber from a competitor, you can also easily reassign your Elementor forms to AWeber by selecting AWeber in the Go Actions After Submit step.
If you are using the Elementor Free version, you can quickly and accurately pull over any AWeber form you want to use with no coding or manual copying of HTML. This option is also available to Elementor Pro customers.
The steps below outline how to add any of your AWeber sign up forms into your favorite Elementor landing page. 
Step 1: Make Sure the AWeber Plugin Is Installed on Your WordPress Website
When you have the Elementor free plugin and the AWeber WordPress plugin installed, there will be an AWeber icon at the bottom of your Basic elements options.
Step 2: Drag and Drop the AWeber Widget Onto the Widget Area in the Middle of Your Screen
The left-side control bar will now reveal the AWeber configuration so you can access your AWeber account.
Step 3: Select Your AWeber Form.
In the List drop-down, select the AWeber list you want to use from the options in your account. In the Sign Up Forms and Split Tests drop-down, select the AWeber form you want to use.The form you selected will load into the widget area on the main screen. The plugin is going into your AWeber account and pulling into Elementor the sign up form that you selected.
For more questions about how to leverage the power of AWeber and Elementor, read their Knowledge Base article.
Connect Elementor With AWeber Today
Connecting Elementor with AWeber requires absolutely zero coding experience. It instantly provides you the ability to integrate your email marketing with your Elementor WordPress page builder. 
Don't have an AWeber account? sign up for a free trial
Looking for fresh content?
Get articles and insights from our weekly newsletter.