From landing pages to blogs, every type of website requires design decisions.
Sometimes, website owners go with their gut, thinking less about stats and more about what they assume users might enjoy. Although it sounds more romantic, this is not the way to go about improving your user experience and boosting your conversions.
Professionals use A/B testing for a reason. It allows for decision making with the use of cold, hard stats. There's nothing questionable about it since you compare two variations of one webpage and see which performs the best.
Luckily, A/B testing is both free and relatively simple to set up with the help of Google Optimize. Not only that, but when you utilize Elementor, you can create landing pages in minutes on the fly and test them out without any problems.
What are the Benefits of A/B Testing
A/B testing has many purposes with many benefits. It's an all-encompassing type of analytical testing, where you can create unique tests or run something simple like how many users visit your webpage.
A/B Testing Landing Pages
A/B testing is frequently used with landing pages, since these pages are meant to get conversions. If you pay for Google Ads that lead to landing pages, you want to make sure that those pages are ready to convert click-throughs into customers.
What's great is that landing pages don't take long to create with a page builder like Elementor. Then, you simply change some elements and run the A/B test for a few weeks.
Newsletter subscriptions are often located on blogs, landing pages, and eCommerce sites. It's amazing how minor changes to an email subscription form can significantly increase your subscribers.
Many companies use contact forms to obtain customers. From lawyers to contractors, and hair salons to car dealerships, a contact form is a way for customers to get information before making a purchase. If the contact form isn't tested and optimized, you might be missing out on valuable leads.
As you may know, downloads are typically given away or sold by using buttons on a website. Therefore, an A/B test will help you discover the types of buttons to use, where to place them best; what size and color they should be. It's all in the name of increasing those downloads and getting people to come back for more.
Important: Timing and Sample Size
One thing to remember when running an A/B test is that you can't just have it going for a few days. A valuable test is one that runs for at least two weeks (preferably more) and accumulates enough clicks, site visits, or conversions to reveal which variation of your landing page or website is the best.
Landing Page A/B Testing In WordPress With Google Optimize
An easy and extremely powerful, way to create an A/B test for your website or landing page is to utilize the free Google Optimize tool. It has a bit of a learning curve, but it's free and provides better results than many premium solutions you'd find online. Not only that, once you get it configured you can run an unlimited number of tests for all types of purposes.
For instance, you might want to change the color of a Call to Action button and see if that improves conversions. Or, you may want to compare different variations of a landing page and see how quickly people leave each one. Regardless of your goals, Google Optimize can help you achieve them.
So, start by going to the Google Optimize website and clicking on the Sign Up For Free button.
It asks you to link to one of your Google accounts, so if you don't have one, that's also part of the process. After creating your Google Optimize account, you'll see a button called Create Experiment. There are all sorts of experiments in Google Optimize, one of which is A/B testing. Click on the Create Experiment button.
A page slides into frame asking you to name the experiment and paste in the URL of your website. Go ahead and do that, then select the A/B Test experiment. After that, select the Create button.
There are a handful of items you need to configure before launching your A/B test. First of all, set the timing for your test. Click on the Create Schedule button to do this.
It's highly recommended that you run a test for at least two weeks, but it all depends on your needs. Sometimes one week is fine, but most of the time you'll need longer to get the best results. I like running tests for a full month to get the best sample size of visitors. Therefore, set your scheduled start time and end time. Click on the Done button when complete.
You'll also have to link your Google Analytics account to start tracking the visits to your website. In order to do so, click on the Go to Container Page link on the right hand side of the page.
This provides some information on how to configure and link your Google Analytics account. If you're unfamiliar with Google Analytics,
go to the website and sign up or sign in
. There's a chance you already have an account or have messed around with it before. It's all handled under your Google Account, so try signing in with that before creating anything new.  
Once logged into Google Analytics, find the Admin button on the lower left side of the dashboard. Click on the button.
If you're already tracking this particular website, all you have to do is create a property to get started. If you haven't already linked the Google Analytics account to your website, make sure you Create Account before moving forward.

Creating a new account and creating a property are rather similar processes, since one property is always created when you make a new account. So, you'll have to fill in information like what you would like to track, the account name, website name, and website URL. Make sure the time zone is accurate so that the tracking is reported properly.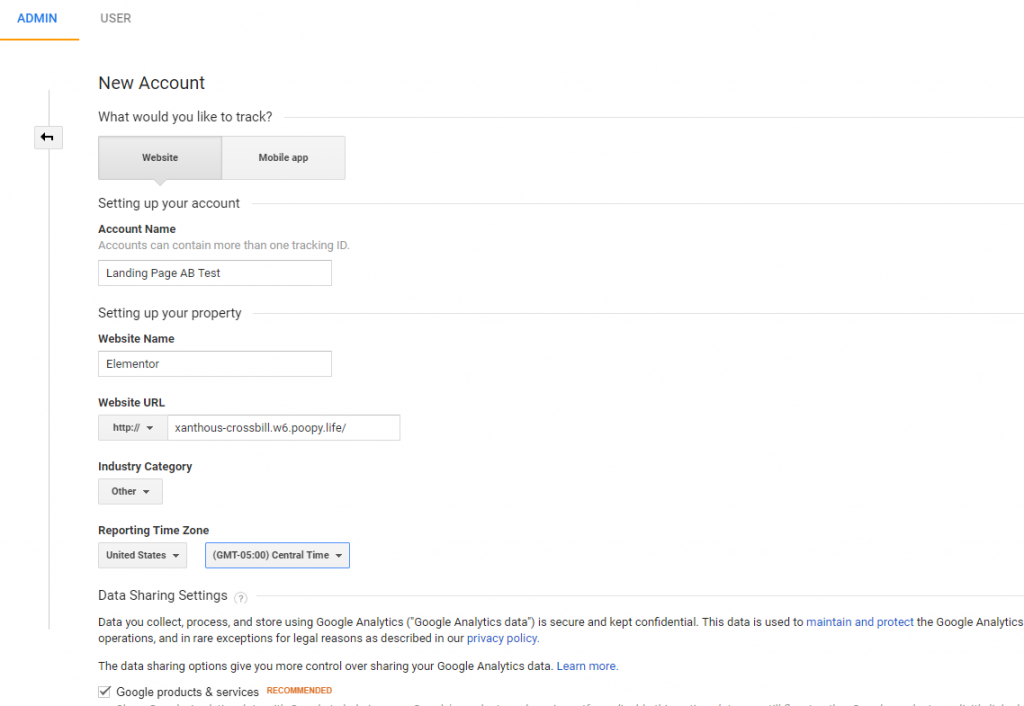 Whether you're making a new account or a property, the last step is to click on the Get Tracking ID button.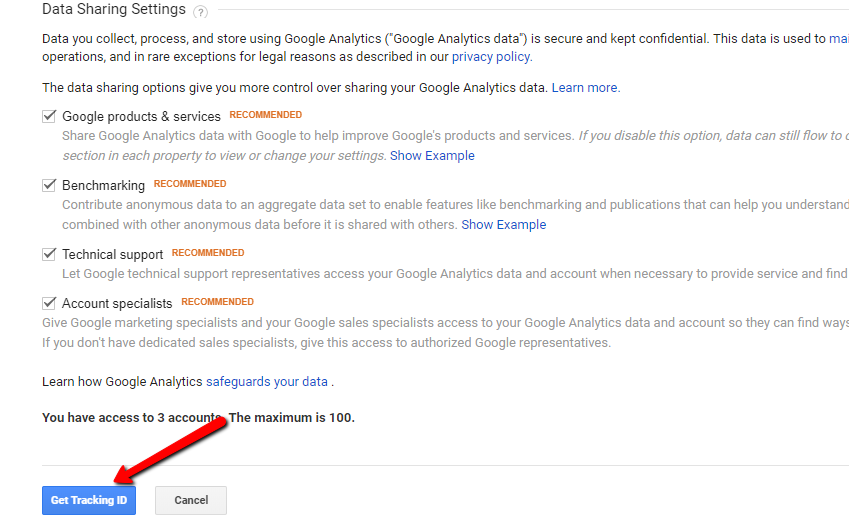 Side Note: If you're making a property with a previously created account, you can find the Create Property button in the middle of the Admin page, as seen in the screenshot below.
After rendering the tracking code, you'll find a Tracking ID and Global Site Tag. The Global Site tag is what you want to copy to your clipboard. You must paste this code in the section of the webpage you want it to work on. Google explains how to find this tag on your website, and sometimes all you need to do is paste the code in your theme settings or in a Google Analytics plugin. There are several methods for that, so we won't cover them all here.
Now that you've created a property in Google Analytics, go back to the Google Optimize dashboard. Locate the button that says Link Property. Once again, Google provides a few links in there to walk you through the entire process. But we'll guide you through them here as well.
Since your Google Analytics code is pasted inside the website's tag, and you've made a property inside that Google Analytics account, the Google Optimize account should pull the property into the account.
Click on the dropdown that reads Select a Property. It gives you a list of the properties you currently have. Scroll down to find the one linked to your website in question.
I'm creating a landing page with the Elementor page builder. Therefore, I'd like to test out different layouts to see how many bounces I get with each layout. It's possible that users become less interested when I start to explain a product, or maybe they like to learn about a product before seeing a Call to Action button. Therefore, I'm figuring out whether I should have the Call to Action right at the top or below some information.
When you find the right property, click on the Link button.
A popup will reveal itself asking you to add the Optimize snippet to your website. This is required, so click on the Get Snippet button.
Google then provides information on editing your Google Analytics tracking code inside your website files. This typically involves pasting a small bit of code inside that tracking code. However, you may need to walk through these steps to
deploy Google Optimize while using a Global Site Tag
.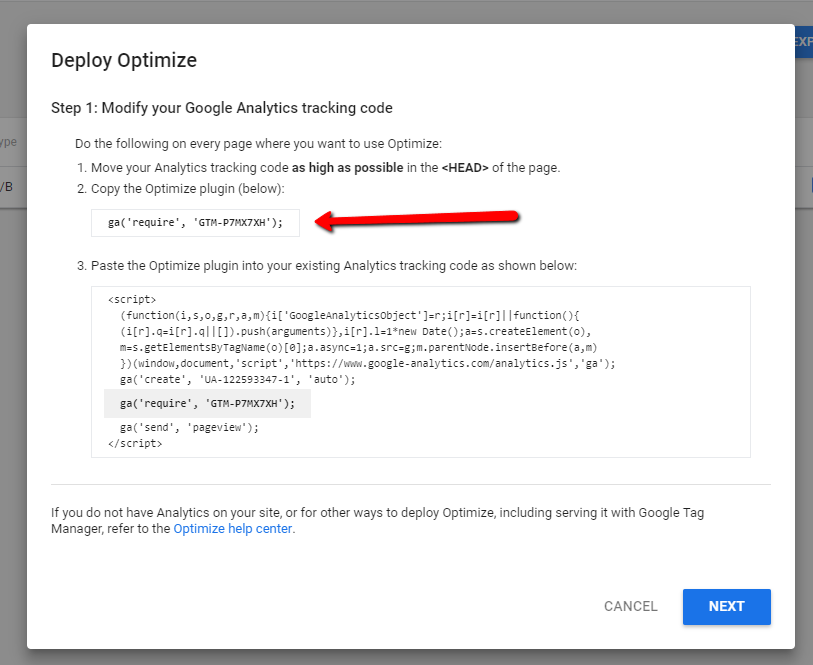 You also have the option to include some code that minimizes page flickering caused by the A/B testing. Google highly recommends this, but I was having some problems with my site after implementing this bit of code. So, try it out yourself, but remember that it's an optional step.
You also have the option to install the Google Optimize Chrome extension, which has more helpful tips on working with these bits of code.
After these steps, navigate back to the Google Optimize dashboard. Locate the Configuration heading to find the Objectives. Click on the link that reads Link to a Google Analytics View.
This part is for specifying the type of data you want to collect from this Google Analytics account. So, click on the dropdown to select a view and choose All Web Site Data.
Creating the Landing Pages You Want to A/B Test
An A/B test would be nothing without two similar, yet slightly different, variations of one webpage. For instance, you might change the location or color of a Call to Action button.
As mentioned, I'm using the Elementor free landing page builder to construct a landing page, and I'd like to see if the Call to Action button location affects my conversion rates.
With Elementor, you can Add a New Template directly from the WordPress dashboard.
Choose the type of template you'd like to work on (in this case, a Page,) then name your template. Click on the Create a Template button to move forward.
Alternatively, you have the option to use one of the many professionally designed templates already loaded in Elementor. You can add templates directly from the builder, but I also encourage you to browse through the options in the
Elementor Template Library
. For this test, I uploaded a premade template from Elementor. It's a one page landing page layout for a tech company. For this example, let's say I'm trying to sell a new smartwatch.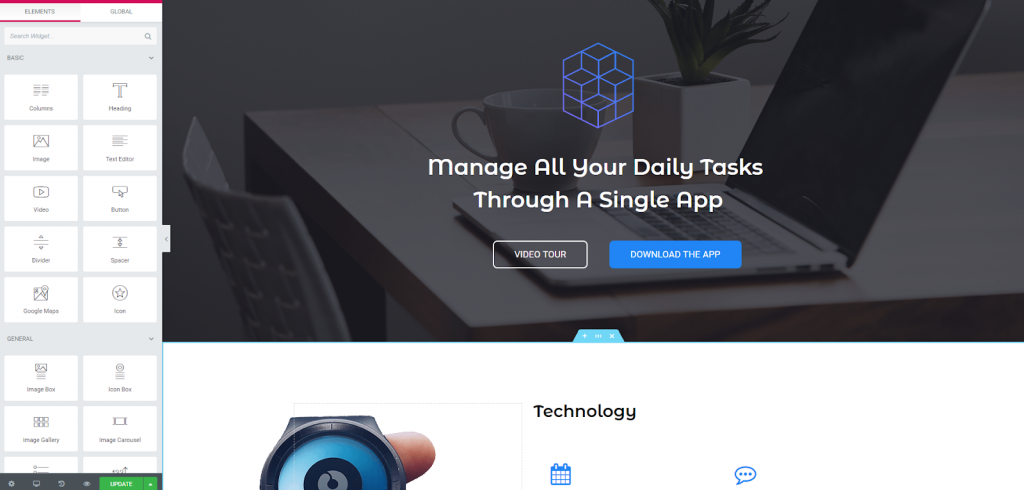 What's great about Google Optimize is that it has a visual builder for making adjustments to your website. These smaller changes are great for making tweaks, then running the different layouts in the A/B test. To set this up, go to the Variants section in Google Optimize. You can create as many variants as you want, but for this test I have the original webpage variant and one that will have the product information before the call to action buttons.
Once you create and click on one of the variants, it lets you edit them in Google Optimize.
For instance, in the screenshot below you can see that I moved the product information to the top of the landing page. The Call to Action buttons are out of the frame but they are located below the product information.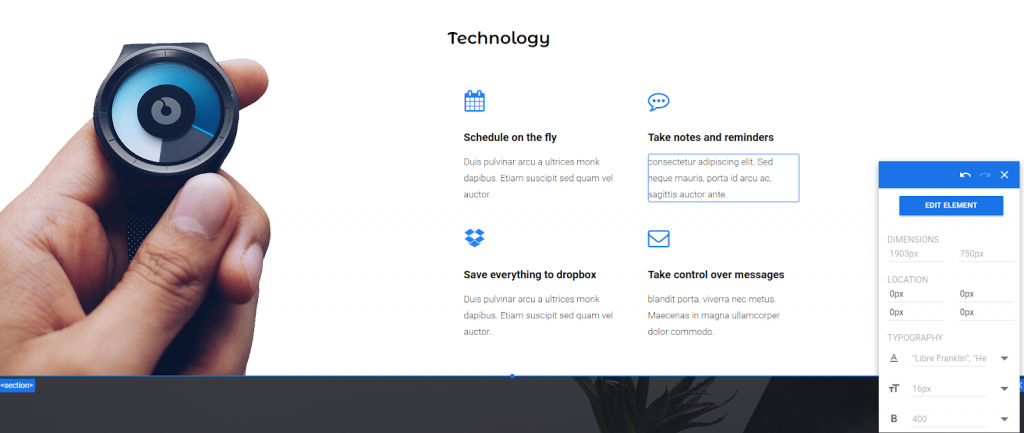 There are plenty of adjustments you can make in this section, such as changing the location or color of buttons.
Finally, go to the Objectives tab in Google Optimize. Click on the Add Experiment Objective.
This is where you specify what you'd like to measure with the test. Google Optimize has a few default objectives that you can choose from (like comparing page visits). I'm measuring the number of bounced visitors for each layout, since I want to see if having product information before the Call to Action is more likely to keep users around longer.
You can also create extremely customized objectives, which are great for seeing which buttons are getting clicked on more, or whether or not people view your videos.
After all of these elements are configured, the Start an Experiment button should become active. Once you click on that, the experiment will begin when you specified. There's an option to stop an experiment prematurely, but once again, we recommend running it for a full two weeks or more.
While the experiment is running, Google Optimize shows how many active visitors are on each of the page variants.
You can also view the Reporting tab to reveal the results of your testing. Since my test hasn't been going on for long there's not much to see, but eventually it'll start populating with the performance from each variant and how many bounces are being recorded.
The Next Level of WordPress A/B Testing
A/B testing is an essential part of figuring out which elements on your website are working the best. It takes the guesswork out of converting more customers and ensures that you're making the right decisions in the future.
I like combining Google Optimize with Elementor, since you're able to launch a landing page within minutes, then see which variants of that landing page are most likely to get the best results.
If you have any questions about running an A/B test or creating a landing page, let us know in the comments section below.