Choosing WordPress hosting is a big decision that will have an effect on your WordPress site's performance and reliability, as well as your day-to-day maintenance activities. And while you can always migrate your site at a later date, it's much easier to just pick the right WordPress hosting from day one.
To give you the insights you need to make that decision, we'll dig into some information and tips on how to choose WordPress hosting, including both general WordPress sites, as well as specific hosting requirements for Elementor.
The Main Types of WordPress Hosting Explained
Before we dive into the specifics of choosing a WordPress host, let's briefly touch on the different types of WordPress hosting. Understanding these can help you make a more informed decision. The main types of WordPress hosting include Shared, Cloud, VPS, and Dedicated hosting. Each type has its own set of advantages and disadvantages, and the best choice depends on your specific needs and budget.

Shared – this is typically the cheapest form of WordPress hosting. You "share" server resources with other sites/accounts on that server, which is how the prices are so low.
Cloud – while it's a newer technology, cloud hosting has become a super popular way to host your site. Essentially, your site lives "on the cloud", rather than a specific physical server. The upside is that it's usually very easy to "scale" cloud hosting up and down depending on your site's resource needs.
VPS – you get a virtual portion of a server all to yourself. It's kind of in between shared hosting and dedicated hosting (next).
Dedicated – you get your own physical server all to yourself. You can do whatever you want with it, and fully customize it to your needs. Nowadays, cloud hosting probably makes more sense than dedicated hosting for most people.
Then There's the Whole Managed WordPress Hosting Thing
Contrary to what you'll see a lot, managed WordPress hosting is not its own "type" of hosting. That is, it doesn't fit in the list of "shared" or "cloud" hosting.
Instead, managed WordPress hosting is more about adding a set of optimizations and concierge features on top of whatever underlying infrastructure the host decides to use.
Some managed WordPress hosts use shared infrastructure, others are powered by cloud platforms (like Google or AWS), and still others might use dedicated servers or a VPS.
So do you need managed WordPress hosting if you're running a WordPress site?
No, but it's certainly nice.
A good managed WordPress host will take care of a lot of important maintenance and optimization tasks for you, including:
Backups – ensuring automatic daily and manual backups.
Updates – some just update the core software, while others upgrade plugins, too.
Security – general features like malware scans, as well as WordPress-specific security rules and firewalls.
Sounds pretty great, right? Are there any downsides?
Well, basically, the downside is price. For that convenience, you're going to pay more than you would for a less feature-rich host.
Is that worth it? Well, it depends on your budget.
But if you don't like dealing with things yourself, paying a little more for less hassle might be a good choice. Additionally, time is money, and every second you spend fiddling with backups or caching is time you could be designing or growing your site. 
Elementor Hosting: Managed WordPress Hosting, Elevated
Elementor Hosting takes the concept of managed WordPress hosting a step further. Powered by Google Cloud's highest tier of C2 servers, it ensures your website loads quickly and runs smoothly, even during high-traffic periods.
But it's not just about speed and performance. Elementor Hosting also includes a range of professional hosting features that give you complete control over your website's management and optimization. These include:
Elementor Pro – Every Elementor Hosting plan includes a free license for Elementor Pro, the premium version of the popular website builder.
Staging and Cloning – Test changes and updates in a safe environment before pushing them live.
phpMyAdmin and SFTP Access – Gain direct access to your website's files and databases.
Email Hosting – Elementor Hosting partners with top email providers to ensure seamless email integration.
With Elementor Hosting, you're not just paying for a hosting service. You're investing in a comprehensive web creation solution that includes a premium website builder, robust security features, and exceptional customer support. Plans start from a competitive price point of just $9.99 per month, offering excellent value for the comprehensive services provided. This holistic approach can save you time and effort, allowing you to focus on what matters most: designing and growing your site. For the most current pricing, please visit the Elementor Hosting page.
Five Other Things to Consider When You Choose WordPress Hosting
Beyond the "type" of WordPress hosting itself, here are some other things to consider when you choose WordPress hosting.
1. Usage Restrictions and Scalability
Despite what many shared hosts advertise, there's no such thing as a host that supports "unlimited" traffic.
So the first big consideration is just "can this host handle the average amount of traffic I get/plan to get?"
If you go with a managed WordPress host, they're usually pretty explicit and bill based on the actual traffic your site gets:
For cheap shared hosts, you might encounter something like this:
And while "unlimited" certainly seems attractive, there ain't no such thing as a free lunch, and there's always some type of limit in place. Typically, you get what you pay for, and a high-traffic or high-resource site is going to require more high-powered (and expensive) hosting.
Beyond meeting your traffic needs right now, you also want to find a host that's scalable. Basically, scalability means the ability to easily adapt to an increase in traffic.
For example, if your site goes viral on social media, the last thing you want is for it to go down because your host can't keep up with the increased load. Some hosts will just crash if they get overloaded, while others can scale up to keep your site available.
Cloud hosting, like Elementor Hosting, usually gives you the easiest scaling options.
2. Technology and Data Center Locations
The technology that powers websites is always changing (and usually improving). For example, newer versions of PHP offer big performance improvements over older versions, and the web server that your host chooses also has an effect.
Some hosts are always pushing forward and using the latest technology, while others sit back and wait.
Here are some of the bare minimum technologies you should look for when you choose WordPress hosting:
The latest version of PHP: Currently, that's PHP 7.4, but this will change as newer versions are released.
An SSL certificate: HTTPS/SSL is essential for securing your website's data.
SFTP: This is a more secure version of FTP, providing an extra layer of protection for your data transfers.
Beyond looking for the right technology, you'll also want that technology in the right spot in the world. That is, you want to be able to use a physical data center that's as close as possible to your target market.
For instance if your primary audience is in Germany, you'd want a host that allows you to use a server in Germany, not the USA. Elementor Hosting, for example, includes a high-end Content Delivery Network (CDN) with over 285 locations, ensuring your content is delivered quickly to your visitors, no matter where they are in the world.
No matter how great and reliable your host is, you're going to need support at some point.
How and when you can get help is going to depend on your host's policies.
Most, but not all, hosts offer 24/7 support (but you will want to double check).
Beyond that, think about which support channel(s) you prefer. Typically, your options are:
Some hosts offer all three, while others may only offer one or two. For instance, some hosts may only offer support via live chat, while others allow you to choose your preferred method.
With Elementor Hosting, you can expect top-notch customer support. A team of Elementor experts is available around the clock to assist you with any issues or queries you may have, ensuring a smooth and hassle-free hosting experience.
Whether you're hands-on or hands-off, there will certainly come a time when you need to dig into your hosting dashboard to administer something on your server.
Most budget hosts use something called cPanel, which is totally functional, but not always the most user-friendly. Here's an example:
On the other hand, many managed WordPress hosts, including Elementor Hosting, offer their own custom hosting dashboards. These dashboards are designed with user experience in mind, making it easy for you to manage your server even if you're not particularly tech-savvy.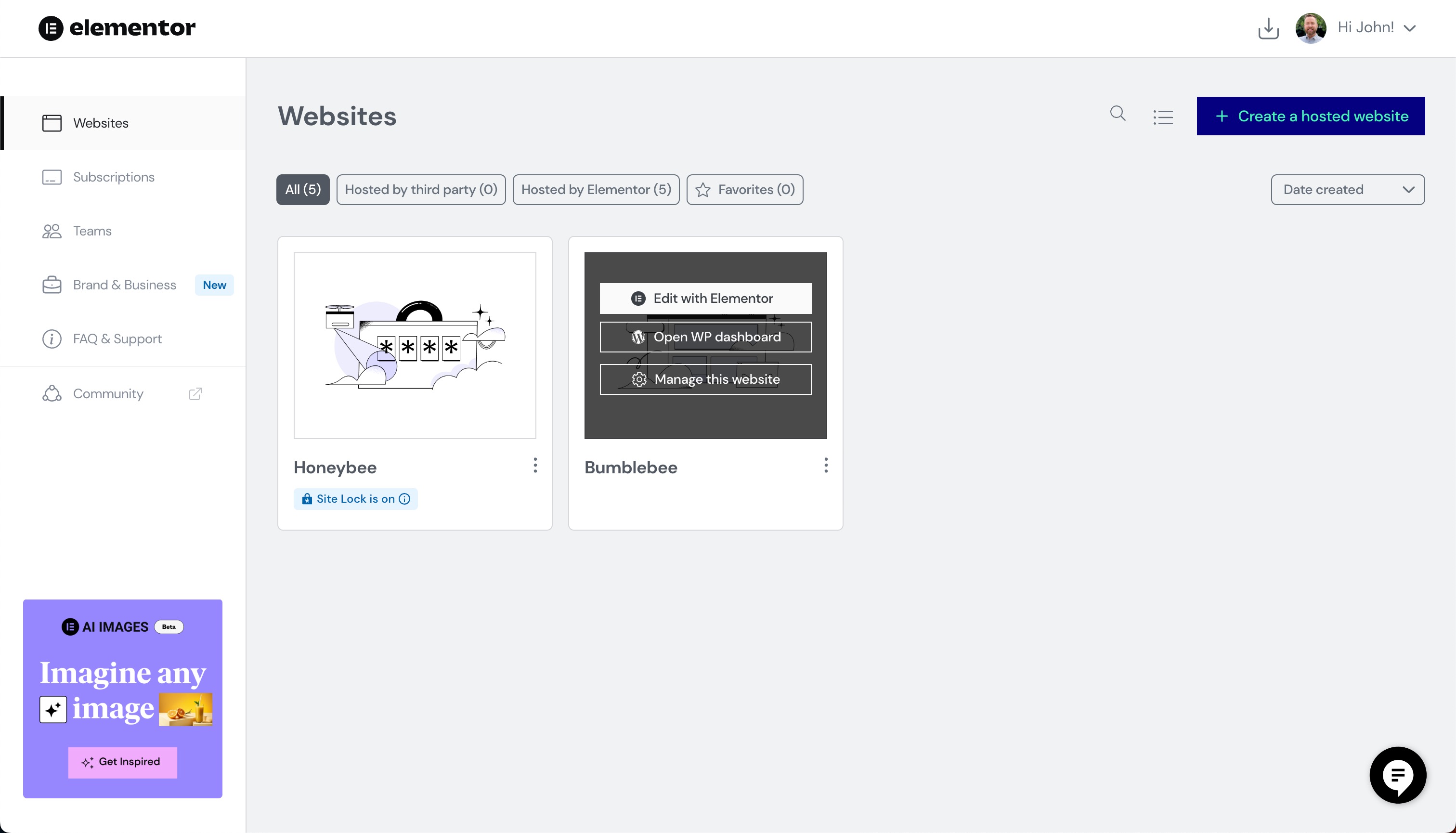 Some hosts also offer both a custom hosting dashboard and cPanel.
There's not really a right or wrong answer here, but you'll want to choose a hosting dashboard that:
You're comfortable with
Lets you perform the actions you deem important
With
Elementor Hosting
, you can expect a user-friendly dashboard that makes server management a breeze.
This is a smaller one, but it can surprise some people.
Email hosting is the ability to create your own email address – like [email protected].
While most shared hosts offer this service, many managed WordPress hosts do not focus solely on providing top-notch website hosting.
However, with Elementor Hosting, you're not left in the lurch. Elementor has partnered with top email providers to ensure you can still have a personalized email address that matches your domain. This means you can enjoy the benefits of a managed WordPress host while still maintaining a professional email presence. This integration provides a seamless experience, allowing you to manage your website and email under one roof.
Important Hosting Considerations for Elementor
Elementor is built to work with most hosts that support WordPress. However, if you're using Elementor, there are specific requirements and considerations to ensure optimal performance:
Memory limit – You'll want a host that offers a minimum of 256MB of memory for Elementor and Elementor Pro only. For optimal performance, a memory limit of 512MB is recommended, and 768MB is considered the best.
PHP 7.4+ – We recommend a host that supports PHP 7.4 or greater. This is not only good for Elementor but also beneficial for your site's overall performance and security.
MySQL or MariaDB Version: Your host should support MySQL version 5.6 or greater OR MariaDB version 10.0 or greater.
Selecting the right hosting for your WordPress site is a crucial decision that can significantly impact your website's performance, security, and growth. While there are numerous hosting options available, managed WordPress hosting solutions like Elementor Hosting offer a comprehensive set of features and services designed to enhance your website's performance and simplify its management.
With Elementor Hosting, you're not just investing in a hosting service. You're choosing a complete web creation solution that includes a premium website builder, robust security features, and exceptional customer support. This holistic approach can save you time and effort, allowing you to focus on what matters most: designing and growing your site.

Remember, the best hosting solution for your site is one that meets your specific needs and goals. So, take the time to evaluate your options, consider your requirements, and choose a hosting solution that best supports your vision for your website.
Looking for fresh content?
Get articles and insights from our weekly newsletter.