Choosing WordPress hosting is a big decision that will have an effect on your WordPress site's performance and reliability, as well as your day-to-day maintenance activities. And while you can always migrate your site at a later date, it's much easier to just pick the right WordPress hosting from day one.
To give you the insights you need to make that decision, we'll dig into some information and tips on how to choose WordPress hosting, including both general WordPress sites, as well as specific hosting requirements for Elementor.
The Main Types of WordPress Hosting Explained
I think sometimes people put too much emphasis on the "type" of hosting for WordPress.
While there are certainly important differences between the various technologies, they don't often affect regular WordPress users.
That is, it's kind of a situation where "if the difference is important to you, you probably already know why".
Still, I think it is helpful to at least briefly touch on the different types of WordPress hosting so that you know what's going on underneath the hood:
Shared – this is typically the cheapest form of WordPress hosting. You "share" server resources with other sites/accounts on that server, which is how the prices are so low.
Cloud – while it's a newer technology, cloud hosting has become a super popular way to host your site. Essentially, your site lives "on the cloud", rather than a specific physical server. The upside is that it's usually very easy to "scale" cloud hosting up and down depending on your site's resource needs.
VPS – you get a virtual portion of a server all to yourself. It's kind of in between shared hosting and dedicated hosting (next).
Dedicated – you get your own physical server all to yourself. You can do whatever you want with it, and fully customize it to your needs. Nowadays, cloud hosting probably makes more sense than dedicated hosting for most people.
Then There's the Whole Managed WordPress Hosting Thing
Contrary to what you'll see a lot, managed WordPress hosting is not its own "type" of hosting. That is, it doesn't fit in the list of "shared" or "cloud" hosting.
Instead, managed WordPress hosting is more about adding a set of optimizations and concierge features on top of whatever underlying infrastructure the host decides to use.
Some managed WordPress hosts use shared infrastructure, others are powered by cloud platforms (like Google or AWS), and still others might use dedicated servers or a VPS.
So do you need managed WordPress hosting if you're running a WordPress site?
No, but it's certainly nice.
A good managed WordPress host will take care of a lot of important maintenance and optimization tasks for you, including:
Backups – usually you get automatic backups every day.
Updates – some just update the core software, while others upgrade plugins, too.
Security – general features like malware scans, as well as WordPress-specific security rules and firewalls.
Sounds pretty great, right? Are there any downsides?
Well, basically, the downside is price. For that convenience, you're going to pay more than you would for a less feature-rich host.
Is that worth it? Well, it depends on your budget.
But if you don't like dealing with things yourself, paying a little more for less hassle might be a good choice. Additionally, time is money, and every second you spend fiddling with backups or caching is time you could be designing or growing your site.
Five Other Things to Consider When You Choose WordPress Hosting
1. Usage Restrictions and Scalability
Despite what many shared hosts advertise, there's no such thing as a host that supports "unlimited" traffic.
So the first big consideration is just "can this host handle the average amount of traffic I get/plan to get?"
If you go with a managed WordPress host, they're usually pretty explicit and bill based on the actual traffic your site gets: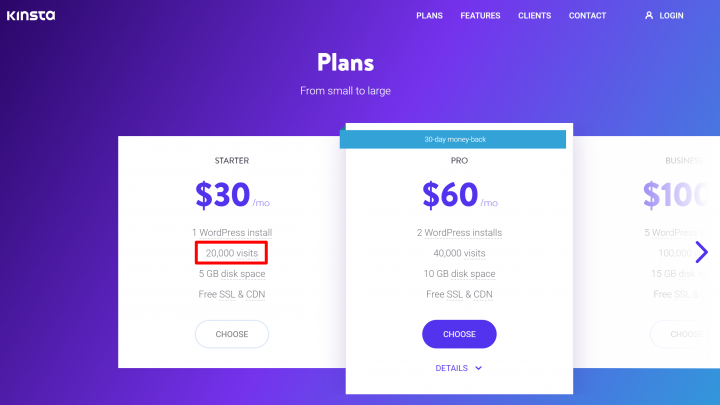 For cheap shared hosts, you might encounter something like this:
And while "unlimited" certainly seems attractive, there ain't no such thing as a free lunch, and there's always some type of limit in place. Typically, you get what you pay for, and a high-traffic or high-resource site is going to require more high-powered (and expensive) hosting.
Beyond meeting your traffic needs right now, you also want to find a host that's scalable. Basically, scalability means the ability to easily adapt to an increase in traffic.
For example, if your site goes viral on social media, the last thing you want is for it to go down because your host can't keep up with the increased load. Some hosts will just crash if they get overloaded, while others can scale up to keep your site available.
Because of the underlying technology, cloud hosting usually gives you the easiest scaling options.
2. Technology and Data Center Locations
The technology that powers websites is always changing (and usually improving). For example, newer versions of PHP offer big performance improvements over older versions, and the web server that your host chooses also has an effect.
Some hosts are always pushing forward and using the latest technology, while others sit back and wait.
Here are some of the bare minimum technologies you should look for when you choose WordPress hosting:
Latest version of PHP. At this time, that's PHP 7.3, but that will obviously change in the future.
Free SSL certificate via Let's Encrypt (or similar service). HTTPS/SSL is a must-have nowadays, and there's no excuse for a host not to offer a free SSL certificate in 2019.
SFTP. This is the more secure version of FTP.
Beyond looking for the right technology, you'll also want that technology in the right spot in the world. That is, you want to be able to use a physical data center that's as close as possible to your target market.
For example, if you're targeting Germans, you want a host that lets you use a server in Germany, not the USA.
No matter how great and reliable your host is, you're going to need support at some point.
How and when you can get help is going to depend on your host's policies.
Most, but not all, hosts offer 24/7 support (but you will want to double check).
Beyond that, think about which support channel(s) you prefer. Typically, your options are:
Some hosts offer all three, while others only offer one or two.
For example, Kinsta intentionally only offers support via live chat, while SiteGround lets you choose your preferred avenue.
Finally, support is definitely one area where you'll want to consult user reviews. Even with 24/7 support, there's a big difference between "I had to wait 15 minutes and they didn't even solve my problem" and "They responded right away and fixed the issue".
User reviews will help you figure out which situation applies to your host.
Whether you're hands-on or hands-off, there will certainly come a time when you need to dig into your hosting dashboard to administer something on your server.
Most budget hosts use something called cPanel, which is totally functional, but not always the most user-friendly. Here's an example:
On the other hand, many managed WordPress hosts create their own custom hosting dashboard. For example, here's Kinsta's custom dashboard: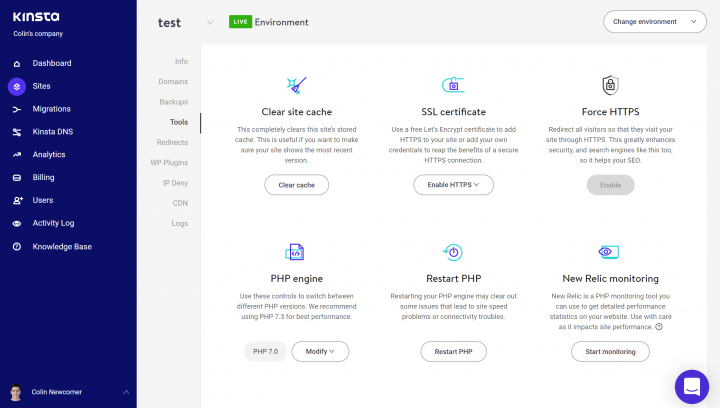 And some hosts – like Bluehost – do both, giving you a custom hosting dashboard on top of cPanel.
There's not really a right or wrong answer here, but you'll want to choose a hosting dashboard that:
You're comfortable with
Lets you perform the actions you deem important
This is a smaller one, but it can surprise some people.
Email hosting is the ability to create your own email address – like [email protected].
Most shared hosts offer this service, but a lot of managed WordPress hosts do not, opting instead to just focus on hosting your site itself.
Don't worry – you can still use your own email address even if your host doesn't offer email hosting. But you will need a third-party service to do it, which usually costs extra. For example, Google's G Suite service costs $5 per month.
Important Hosting Considerations for Elementor
Elementor is built to work with most hosts that support WordPress. But if you're using Elementor, you will still want to pay attention to a few things when choosing a WordPress host:
Memory limit – you'll want a host that offers 64MB of memory at a minimum. Ideally, you'll be able to use 128MB or higher.
PHP 7+ – while Elementor should work all the way back to PHP 5.4, we recommend a host that lets you use the latest versions of PHP. Not only is this good for Elementor, but it's also just generally good for your site's performance and security.
Control over security protocol – sometimes you might want more granular control over how your host treats Elementor.
Check Out These WordPress Hosts to Get Started
Want to skip doing the research yourself and just go to the best hosts?
We have a list of recommended WordPress hosts right here. All of those hosts are guaranteed to work great with WordPress and Elementor – all you need to do is find the one with the price, features, and performance that you desire.
Looking for fresh content?
Get articles and insights from our weekly newsletter.